More Than 1 Million Coronavirus Cases Have Been Diagnosed in the U.S.
More than one million people in the United States have tested positive for a new coronavirus, according to a tracker maintained by Johns Hopkins University.
The U.S. is dealing with the largest outbreak of the novel coronavirus worldwide. Compared to Spain, which has seen the second-largest outbreak with 232,128 cases, 1,002,498 people in the United States have become infected with the virus that causes COVID-19 as of Tuesday afternoon.
While the coronavirus outbreak varies from one state to the next, on a national level, cases have been trending downward since Saturday. Officials confirmed about 32,800 cases on Saturday, down from about 36,200 new cases on Friday. About 27,600 new cases were confirmed on Sunday and Monday saw an increase of about 22,400 cases, the lowest daily increase since March 31.
As of Tuesday, 5,628,374 people in the U.S. have been tested for the virus, giving America a positive test rate of about 17 percent. It's possible the actual number of positive cases is higher, though, as people with mild or no symptoms may not have gotten tested.
To get a better understanding of how many people have been infected and the size of the outbreak, states and local governments have started to conduct antibody testing. After sampling about 3,000 people from 19 counties in New York, Governor Andrew Cuomo said about one in seven people had unknowingly recovered from the virus. In New York City, the epicenter of the outbreak, one in five people tested positive.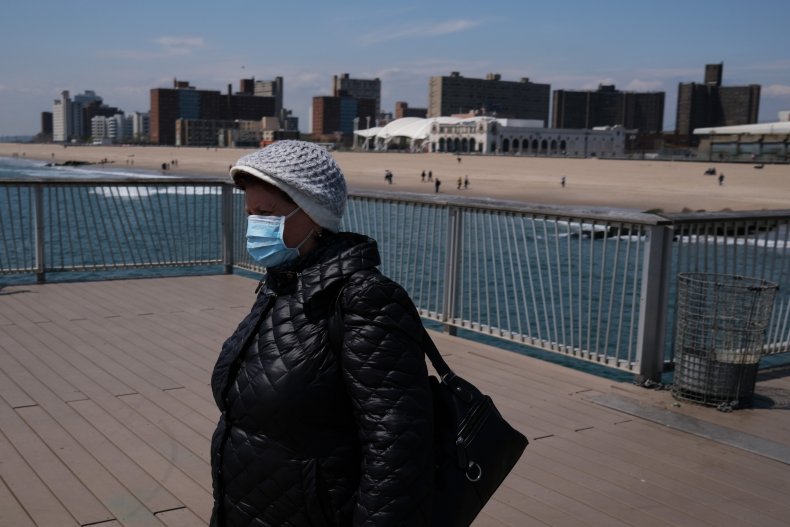 Cuomo acknowledged that the sampling was preliminary and a broader study was needed to determine the true scale of the recovered population. However, if the sample is indicative of the broader New York state population, case counts could be about 14 percent higher.
As of Tuesday morning, New York has had 291,996 cases, more than double any other state. Cuomo applauded residents for adhering to strict mitigation measures, as it's helped flatten the curve. But, it hasn't been flattened enough to ease up measures statewide and on Monday, the governor announced restrictions will still be extended in some areas after the May 15 expiration date.
"We have to learn the lessons, we have to move forward and we have to be smart because if you are not smart you will see that infection rate go right back to where it was," Cuomo said. "We will be right back to where we were 58 days ago and nobody wants to do that."
The first round of a study conducted by the University of Southern California found about 4.1 percent of the adult population in Los Angeles County has an antibody to the virus. Accounting for the statistical margin of error, USC said that translates to between 221,000 and 442,000 adults, up to 55 times higher than the confirmed cases.
Of the 1 million people who have been confirmed to have the virus, 57,266 people have died and 112,065 have been deemed "recovered," according to the tracker.
President Donald Trump has left the reopening of businesses to the governors, who have each been tasked with making the proper decision for their state's circumstances. Some governors, such as Georgia Governor Brian Kemp, have issued state-wide orders allowing businesses to reopen under certain conditions. Other state leaders, such as South Carolina Governor Henry McMaster, have lifted executive orders prohibiting businesses from being open, further passing the decision making responsibility onto local leaders.
Under the White House Coronavirus Task Force's guidelines, states should see a sustained downward trend in new confirmed cases before they start to reopen. Some states, including New York, Massachusetts and Illinois, where there have been some of the largest outbreaks, have experienced multiple days of a decrease in new cases. However, no state has had a sustained downward trend in cases for 14 days, as recommended by the guidelines.
Regardless of where the state falls in the guidelines, officials at every level are looking at how and when easing restrictions, as the closing of businesses has taken a significant toll on the economy. But, officials have warned that easing mitigation measures too soon could foster a resurgence of the virus.