More Than 10 Times As Many People Have Already Voted in 2020 Election Compared to This Time in 2016
There have already been over 5.6 million votes cast for the 2020 election, which is more than 10 times the amount of votes cast at the same point in 2016.
As of October 7, there have been at least 5,618,155 ballots cast, according to data compiled by the U.S. Elections Project, which is run by Michael McDonald, a political science professor at the University of Florida.
The number of votes already cast is based on 25 states that have released early voting data, which means it does not indicate the entire U.S. "These states are those where I have recent data on mail ballot activity. More states will be added as state reports become available," McDonald wrote on the election project's site.
In comparison, early voting data compiled by McDonald from 2016 showed that there had been at least 429,337 votes for the week ending on October 9, indicating that there have been slightly over 13 times the amount of votes cast in 2020, compared to the same point in 2016.
McDonald's U.S. Elections project shows that while significantly more votes have been cast in 2020 than the same point in 2016, overall, voters have only cast around 4.1 percent of the total votes counted in the 2016 general election.
Additionally, the elections project shows that there have been over 69 million mail-in ballots requested among 33 states reporting voting data.
McDonald's election project also shows party registration for mail-in ballot requests in 12 states and Washington D.C. This data shows that among the states reporting this data, "Registered Democrats have a 9,072,254 ballot request lead over registered Republicans."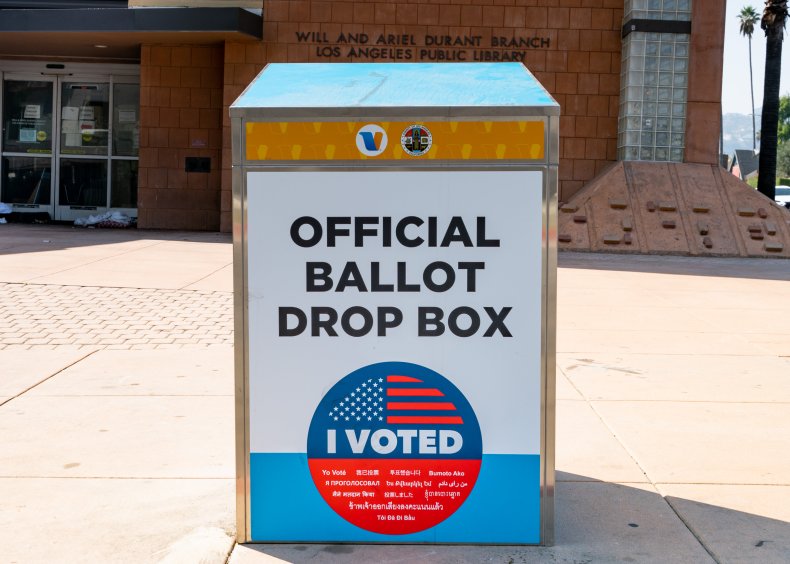 These 12 states include California, Colorado, Florida, Indiana, Maryland, Maine, North Carolina, New Jersey, Nevada, Oregon, Pennsylvania and Utah.
In the election project, McDonald notes that "Party registration statistics are for states that have party registration. These statistics are not actual votes. By federal law, election officials do not begin counting ballots until Election Day, although they may start the process of preparing ballots for counting in advance."
The election project data comes less than a month from the November 3 presidential election between President Donald Trump and Democratic candidate Joe Biden.
Monday marked the deadline to register to vote for 12 states, including Arizona, Arkansas, Florida, Georgia, Hawaii, Kentucky, Mississippi, Ohio, South Carolina, Tennessee and Texas, while the deadline for Alaska and Rhode Island ended on Sunday. All other states have different registration deadline dates and a full list of each specific state can be found here.
Newsweek reached out to McDonald for comment on his election project but did not receive a response in time for publication.