More Than 100 Lawmakers From Nearly 30 States Arrive in D.C. to Rally for Voting Rights
More than 100 lawmakers from across the country will arrive in Washington D.C. on Monday to rally for voting rights legislation.
The legislators, who represent nearly 30 states, will participate in a "week of action" calling for the Senate to abandon its summer recess and immediately pass the For the People Act—a sweeping, 800-page bill that would touch on nearly every aspect of voting and elections in the United States.
"The freedom to vote is under unprecedented attack by extremist lawmakers in states across the country, including in Arizona," Arizona State Representative Jennifer Longdon said in a statement. "Every Democrat in the US Senate should feel urgency to pass legislation protecting the right to vote. We're here to demand the Senate deliver the For the People Act, even if that means delaying recess. Recess can wait​​—but our democracy can't."
As of July, 18 states have enacted more than 30 new laws that restrict access to voting, according to an analysis by the Brennan Center. The center reported that the laws make mail voting more difficult, create harsher voter ID requirements, and make faulty voter purges more likely.
The group of state legislators are joining the coalition of 50 Texas Democrats who've been camped out in the nation's capital for weeks in an attempt to block their Republican-led legislature from passing a bill that makes it harder to vote.
The Lonestar State lawmakers are calling on Congress to pass voting rights legislation before Texas can.
"Texas has always been a hotbed for the worst anti-voter laws in the country, but this time it's worse than ever," Texas State Representative Trey Martinez Fischer said in a statement on Monday. "That's why my Texas colleagues, risking our livelihoods and positions, took a stand to deny Republicans the quorum they needed to trample over our communities."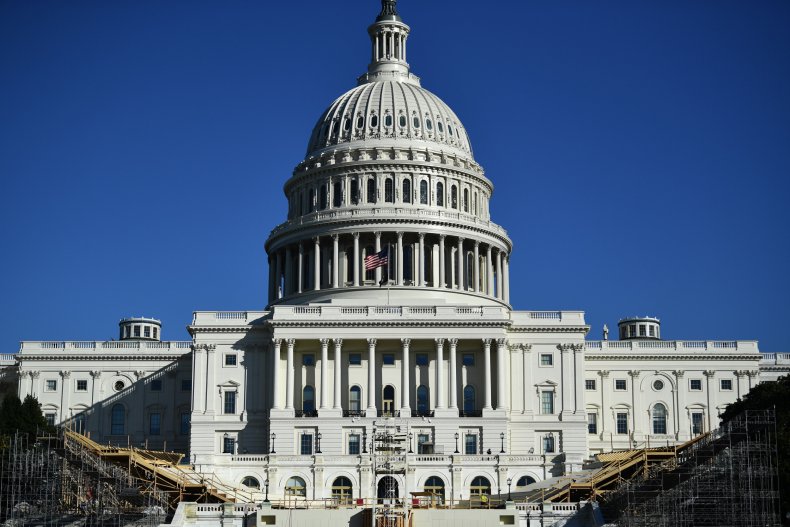 The For the People Act, also known as H.R. 1, includes provisions for 15 days of early voting, same-day registration and limiting the ability of states to curb the use of mail voting and ballot boxes. It would also rewrite federal campaign finance rules and establish nonpartisan redistricting commissions to end partisan gerrymandering.
The bill passed the U.S. House of Representatives in March, but has yet to be taken up for a vote in the Senate. At least 10 Republicans would need to join all 50 Democrats and independents in order for the legislation to pass.
The White House said last week that President Joe Biden, Vice President Harris, House Speaker Nancy Pelosi and Senate Majority Leader Charles E. Schumer had "agreed on the importance of advancing legislation reflecting the priorities and values" of the For the People Act as well as the John Lewis Voting Rights Advancement Act.