More Than 100 of Ruth Bader Ginsburg's Former Clerks Guard Casket at Supreme Court
More than 100 of the law clerks who served under late Justice Ruth Bader Ginsburg stood guard outside of the U.S. Supreme Court building in Washington, D.C. as Ginsburg's casket arrived Wednesday morning.
Ginsburg died September 18 at age 87 from complications of pancreatic cancer. Memorial services commenced Wednesday, with her casket arriving at the building just before 9:30 a.m. ET. NBC reporter Jake Whittenberg tweeted four pictures showing hundreds of people, all dressed in black, standing in neat lines which trailed down the front steps of the Supreme Court.
A private service began inside the building at 9:30 a.m. for Ginsburg's family, friends and fellow justices. Rabbi Lauren Holtzblatt spoke at the ceremony, saying of Ginsburg: "To be born into a world that does not see you, and despite this, to be able to see beyond the world you are in, to imagine that something can be different—that is the job of a prophet."
Ginsburg will lie in repose on the steps through most of Wednesday and Thursday. Her former clerks will continue to stand guard and won't leave the casket, according to CNN.
Former clerk Lori Alvino McGill spoke to CNN about Ginsburg's legacy as a champion for women's rights. The justice won five cases in front of the Supreme Court, causing it to articulate for the first time that the 14th Amendment, which states "No State shall...deny to any person within its jurisdiction the equal protection of the laws," could be involved to achieve gender-based equality, according to The Conversation.
"She was among the first mentors to tell me I could do anything—but she also told me that it would be foolish to think I could do many things well at the same time," McGill said. "The life lessons she imparted gave me the courage to take a step back from my own career and choose, for this moment in time, to be more present for my three children."
Lisa Blatt, who clerked for Ginsburg at the U.S. District Court for the District of Columbia, spoke to the justice's thoughtful nature. "With a marriage, new birth or a new job, a note from the Justice followed," Blatt told CNN. "And when visiting with the Justice, she always asked about our kids and how the job was going."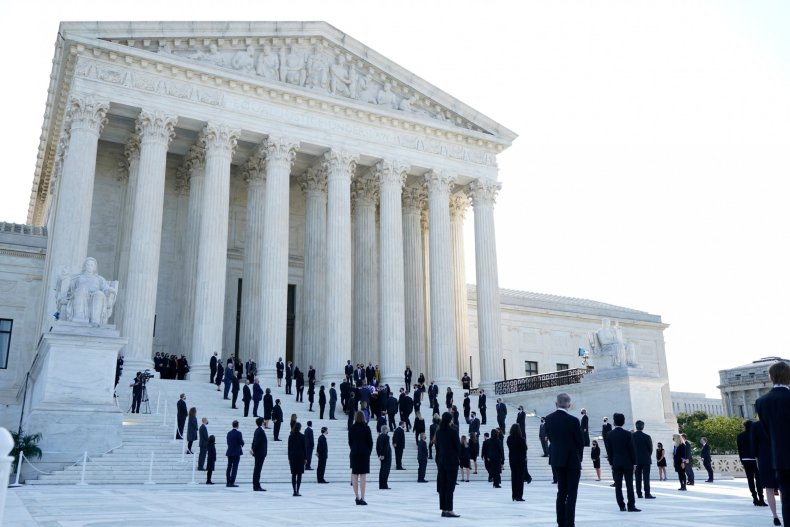 Following the public viewings outside the Supreme Court, Ginsburg will lie in state Friday in the National Sanctuary Hall at the Capitol building. A private interment service for Ginsburg will take place next week at Arlington National Cemetery.