More than 250 students and staff in Nashville schools have tested positive for COVID-19—with more than 1,000 who are in quarantine or isolation—less than one week from when schools opened.
According to the Metro Nashville Public Schools COVID-19 tracker, 207 students and 52 staff members have tested positive for the virus, and 980 students and 95 staff are either in quarantine or isolation.
The data, tracked by the Student Health Services department, includes both virtual and in-person cases reported to the district. Quarantines include any students or staff who have reported symptoms of COVID-19.
Sean Braisted, a spokesperson for the school district, said in a statement to Newsweek that the numbers are consistent with their experiences in the past school year.
"The numbers are consistent with our experiences last year considering the rate of spread of COVID-19 in the community and the fact that nearly all students are in-person, whereas last year 45 [percent] chose to remain virtual," the statement said. "We will continue to require universal masking of students and staff, along with other public safety protocols recommended by health officials."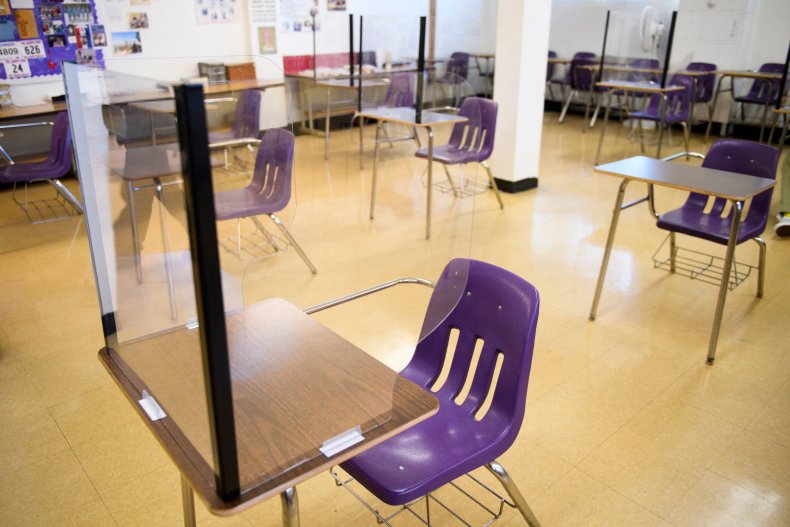 Staff who quarantine or self-isolate are given remote work opportunities, and students are able to be counted present for attendance if they participate in remote instruction, the statement said.
The district's 86,000 students returned to school last Tuesday, August 10. Ahead of the reopening, the district announced several protocols to limit the spread of the virus.
Masks are required in all indoor spaces, including buses "until further notice," but are not required outdoors, according to the school district's website.
The school district is encouraging and promoting social distancing "whenever possible." School nurses are also conducting contact tracing and are able to conduct rapid COVID-19 tests.
COVID-19 cases in Tennessee have risen in recent weeks due to the highly transmissible Delta variant. On Sunday, the state reported a 7-day-average of 2,539 new cases per day, up from an average of 562 new cases per day one month earlier. Just over 40 percent of the state's population has been fully vaccinated against the virus, according to data from John Hopkins University.
Students across the United States have returned to school in recent weeks, with many either testing positive for the virus or entering quarantine.
National Institutes of Health Director Francis Collins warned that kids are "very seriously at risk" from the virus, saying that more than 400 kids have died from the virus and that nearly 2,000 kids were in the hospitals with the virus Sunday.
"I think traditionally people kind of considered, 'Well, you know, kids aren't going to get that sick with this. The virus won't really bother them.' That's not the evidence," he said during an appearance on Fox News.
One school district in Georgia has halted the school year after 76 students who tested positive for the virus attended school during the exposure. A teenager in Mississippi died just hours after testing positive for the virus after attending school.