More Than 10,000 Firefighters Are Battling a Dozen Active Wildfires in California
More than 10,000 firefighters are on the ground in California as the state contends with a dozen active wildfires.
The California Department of Forestry and Fire Protection, or Cal Fire, announced Wednesday that more than 10,300 firefighters remain on the frontlines of 12 large wildfires tearing through the Golden State.
Approximately 766 engines, 172 hand crews, 272 bulldozers, 269 water tenders and 48 helicopters are working to extinguish the flames.
The fires have burned roughly 1.3 million acres of land so far, according to Cal Fire.
The largest fire officials are working to contain is the Dixie Fire, which is burning in the densely forested Sierra Nevada region. The fire broke out above the Cresta Dam on July 14 and has since spread to four counties: Butte, Plumas, Lassen and Tehama.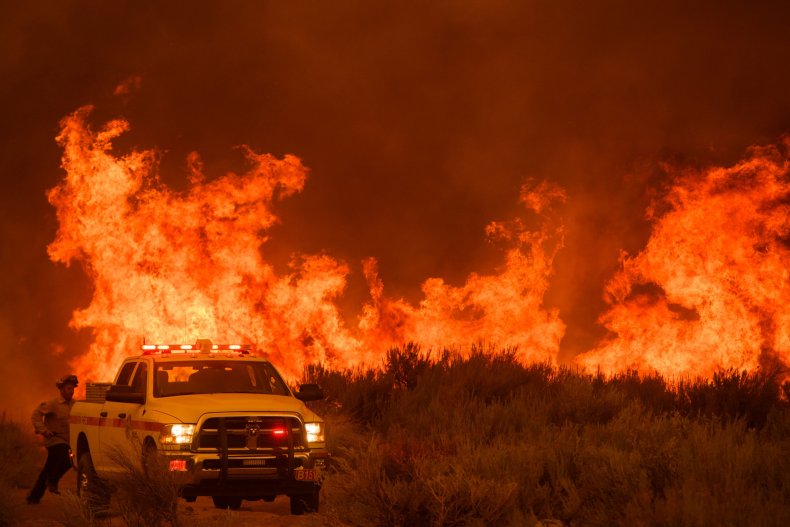 Shifting winds have presented a challenge to crews battling the fire in the west zone, prompting spotting and continued fire growth. In the east zone, firefighters are dealing with critically dry fuel conditions and other weather patterns that can result in extreme fire behavior.
As of Wednesday, the Dixie Fire consumed 635,728 acres, making it the second-largest wildfire in California history. The blaze is 33 percent contained.
Over 1,200 structures have been destroyed, and another 16,000 remain threatened as the fire continues to spread. There have been three firefighter injuries so far. No civilian injuries have been reported, Cal Fire said Wednesday.
The Dixie Fire has already caused severe damage to Greenville, leveling the city's main street. Now, the fire is threatening the largest city in its path: Susanville, which has a population of 15,000 people.
The Monument Fire in Del Loma has grown to over 128,000 acres in northern California since erupting on July 30. As of Wednesday, the fire was just 10 percent contained. An evacuation warning has been put in place for Weaverville, Douglas City and Hayfork as winds propelled the fire east.
Governor Gavin Newsom on Tuesday proclaimed a state of emergency for El Dorado County due to the Caldor Fire, which ignited Sunday and has since decimated the city of Grizzly Flats. Two people with serious injuries were airlifted from the Grizzly Flats area.
California and the rest of the Western United States are experiencing longer and more severe fire seasons amidst climate change. Record-breaking temperatures and historic droughts have made the blazes more difficult to combat, with fires behaving more dangerously than crews have ever seen before.
Climate scientists previously told Newsweek that the Dixie Fire could burn until winter rain and snows arrive.