More Than 100,000 U.S. Lives Could Be Saved by February if Universal Mask Use Is Achieved, Study Shows
Over 100,000 American lives could be saved by February if universal mask use is achieved, according to a new study.
Released by the University of Washington's Institute for Health Metrics and Evaluation (IHME) and published in Nature Medicine, the study found that universal mask use—or 95 percent mask use in public—could save an additional 129,574 American lives who are at risk amid the novel coronavirus pandemic.
According to the study, researchers evaluated COVID-19 case and mortality data from February 1 to September 21, and a "deterministic SEIR (susceptible, exposed, infectious and recovered) compartmental framework" to model possible trajectories of COVID-19. It also looked at "the effects of non-pharmaceutical interventions in the United States at the state level" from September 22 to February 28, 2021.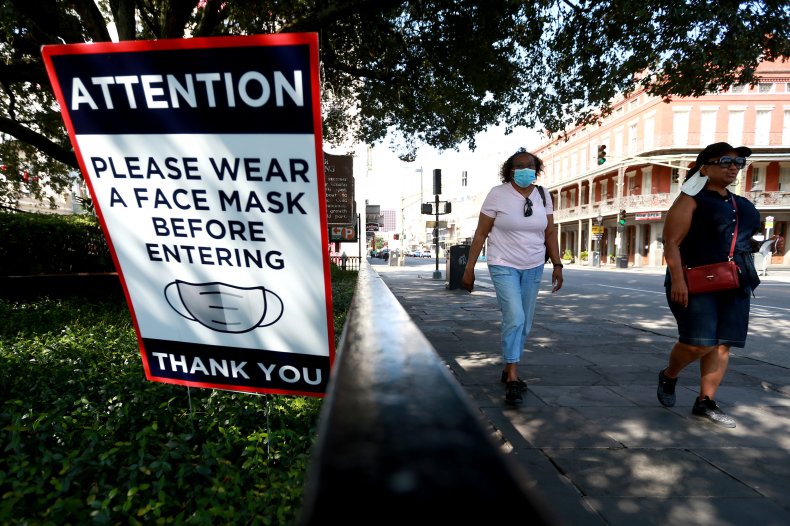 The study noted that its projections of current mitigation strategies at a state level, "with social distancing mandates reinstated," suggests that 511,373 American lives could be lost to the novel virus by February 28, but universal mask use cuts this number down by nearly four times.
Additionally, the study also projected that if the U.S. assumes a lesser adoption of mask wearing—or 85 percent mask use in public—approximately 95,814 lives could be saved, with numbers ranging from a low of 60,731 to a high of 133,077.
The study's authors noted: "The potential life-saving benefit of increasing mask use in the coming fall and winter cannot be overstated."
"It is likely that US residents will need to choose between higher levels of mask use or risk the frequent redeployment of more stringent and economically damaging SDMs [social distancing mandates]; or, in the absence of either measure, face a reality of a rising death toll," the authors wrote.
The novel coronavirus has continued to spread and kill Americans on a daily basis. According to a tracker from Johns Hopkins University, there are currently over 8.4 million cases in the U.S. as well as at least 223,437 fatalities.
Across the U.S. current mask use and mandates varies widely on a state-by-state basis, as New York has stricter rules compared to Florida, which has recently removed all of its COVID-19 restrictions.
During a recent press briefing, one of the study's co-authors, Dr. Christopher Murray, stated that "the key observations that we take from this analysis are that we are heading into a very substantial fall/winter surge, so the idea that the pandemic is going away, of course, we do not believe is true."
"The turn, essentially this week, where deaths and cases are now going up at the national level, is very much in line with what the paper is suggesting," Murray said. "In the scenarios where we explore, we show that expanding mask use can be one of the, sort of, easy wins for the United States."
Newsweek was directed to the press briefing after reaching out to IHME for comment.