More than 100K Lose Power as 'Life-Threatening' Winter Storm Slams Northeast
More than 100,000 people lost power as a massive winter storm pummeled the northeastern United States on Saturday.
The nor'easter brought heavy snow, strong winds and freezing temperatures to much of the northeast, with much of the region being placed under a blizzard warning. Areas near the coast—including major population centers such as Boston and New York, home to millions of people—already reported more than 18 inches of snow by the early afternoon, according to the National Weather Service.
The storm left many without power. By the early afternoon, Massachusetts experienced the highest number of outages, where about 115,000 people lost power, according to poweroutage.us. Areas along Cape Cod and southeastern Massachusetts reported the highest number of power outages.
Some areas in other New England states including Maine and Rhode Island reported only a few outages Saturday afternoon, but the number of outages is expected to increase—and expand to other states—as the storm continues throughout Saturday, according to AccuWeather.
AccuWeather Chief Meteorologist Jon Porter warned that the storm is "dangerous" and "life-threatening." He also warned that "travel is likely to be nearly impossible in parts of southeastern New England into Saturday night."
The blizzard is expected to be the strongest experienced by parts of New England in years, according to Accuweather.
The storm forced thousands of U.S. flights to be cancelled Saturday, according to FlightAware. Airports in Boston, New York, Newark, Providence and Portland, Maine all experienced more than 80 percent of their departing or arrival fights being cancelled due to the storm. Amtrak also canceled its Acela service between Boston and New York due to the storm on Saturday.
Officials urged residents to use caution during the storm.
Boston Mayor Michelle Wu declared a snow emergency for the city on Friday ahead of the storm, warning that road conditions will be dangerous due to the fast-falling snow.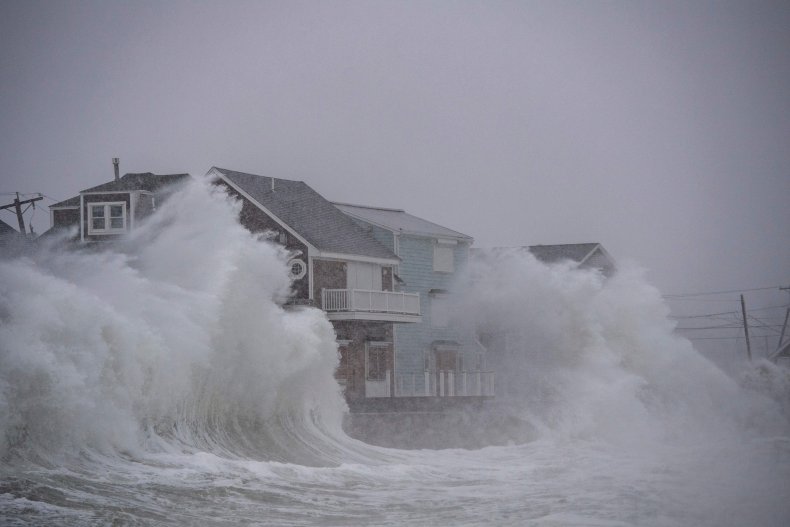 "The safest place to be is in your home or in your apartment," she warned during a press conference.
New York City Mayor Eric Adams also advised residents to stay off the roads while the city's sanitation department worked to clear roads. "It's a good day to stay home if you don't have to go out," he said in a video posted to Twitter.
New York Governor Kathy Hochul warned, "This is a very serious storm, very serious."
"We've been preparing for this," she said. "This could be life-threatening. It's high winds, heavy snow, blizzard conditions—all the elements of a classic nor'easter."