More Than 1,300 COVID Cases Reported in Arkansas Children Just Weeks Into School Year
Arkansas public schools reported 1,347 active cases of COVID-19 among its students as of August 16, according to the Arkansas Department of Health. The case count comes as school districts throughout the state have opened for the year.
The health department also announced colleges in the state reported 202 COVID cases, while private schools added another 39.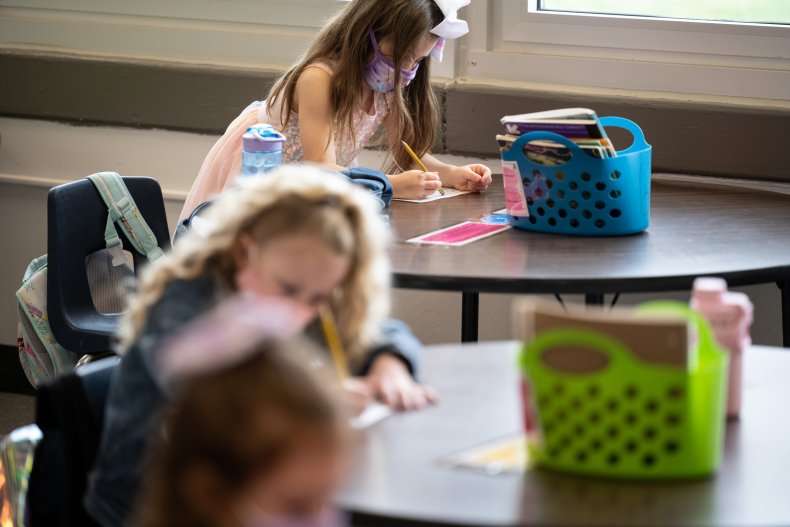 The state is still facing widespread debates regarding masks between the health department and elected officials weeks. On August 10, the Arkansas Department of Education officially recommended students wear masks in schools to limit the spread of COVID-19, stating its guidelines followed the suggestions of the Centers for Disease Control and Prevention (CDC). The department's new recommendations include wearing masks in situations when social distancing cannot be enforced.
Arkansas Governor Asa Hutchinson has said he won't reinstate a statewide mask mandate that ended in May and signed a law in April that banned mask requirements by government entities. He also recently resisted calls for delaying the start of the school year as COVID infections mounted among Arkansas youth.
Numerous school districts announced their own mask requirements after Pulaski County Circuit Judge Tim Fox issued a preliminary injunction against against Hutchinson's mask ban.
Of the 1,347 active cases of COVID-19 reported by the Arkansas Department of Health, the most cases were found in the Marion School District, which had 74. Over 900 students were quarantined in the district in the days following the first day of school in late July, and Marion School District Superintendent Glen Fenter testified before a legislative committee on August 4, asking the state to change the mask mandate ban for schools.
Of the the most populous districts in the state, Bentonville, Fort Smith, Springdale, Rogers and Fayetteville each had 25 or more cases and were ranked in the top 10, according to local ABC-affiliated station 40/29.
The station also reported that the University of Arkansas had 46 cases, which it said was the most of any secondary institution in the state.
Children below age 12 are not currently eligible to be vaccinated. The Arkansas Center for Health Improvement (ACHI) said only about one in five of those ages 12 to 18 is fully vaccinated.
On August 10, the ACHI Health Policy Board called on school boards to adopt indoor mask requirements for 30 days for all students, teachers and staff, regardless of vaccination status. It stated this recommendation was consistent with guidelines from the American Academy of Pediatrics and the Centers for Disease Control and Prevention.
"Mask requirements should be subject to extension based on viral spread within the school or the school's community," the ACHI Health Policy Board wrote in a statement. The center also said schools should invest in better ventilation, as well as in cleaning and disinfection to prepare for the school year.