More Than 1,300 Russians Killed in Last Two Days of War: Ukraine
One day after Russia and Ukraine passed the 1-year mark of war, Russia lost another 660 soldiers, according to the Ukraine Ministry of Defense. Russia has lost 1,310 soldiers and 18 tanks in the last two days.
Ukraine's Ministry of Defense stated Sunday that Russia has now lost an estimated 148,130 soldiers since the war began February 24, 2022. The number of Russian deaths has not been independently verified, and Ukraine's estimates have typically been higher than estimates from other Western countries. Russia hasn't updated its own death toll since late September 2022 when it said 6,000 soldiers had been killed.
Sunday also marks the 9-year mark of Russia began another war against Ukraine, eventually occupying the Crimean peninsula.
"Today, we are reminded that russia waged war against Ukraine 9 years ago. Today, we reiterate - the resistance has never stopped and Crimea will be liberated," the Defense of Ukraine tweeted Sunday.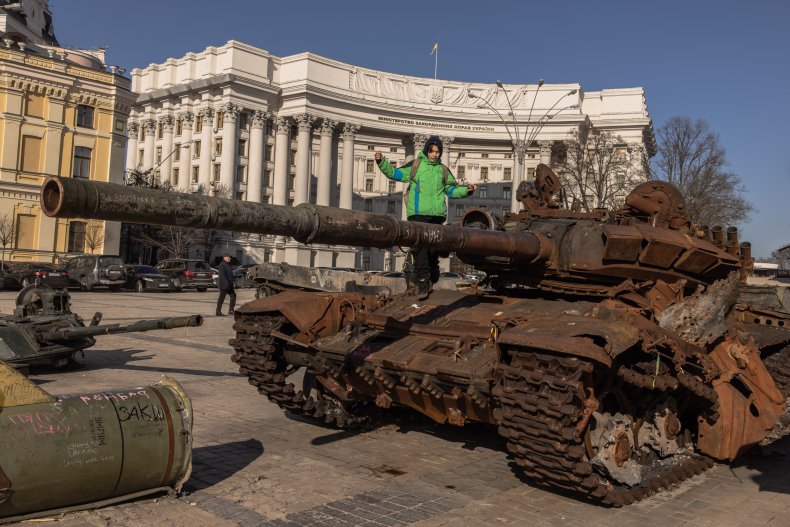 Ukraine officials stated Saturday that it had taken out 12 Russian tanks the previous day, and Sunday they said six more had been destroyed.
Destroyed Russian tanks in city squares have become popular attractions for Ukrainian residents who often take photos with the disabled machines.
In addition to Russian deaths and lost tanks over the last two days, Ukraine stated that Russia had big losses in other equipment. That includes 15 armored combat vehicles, 17 artillery vehicles, four drones and 18 other vehicles and fuel tanks between Friday and Saturday.
Russia has failed to take the capital of Kyiv in the last year, getting pushed back by Ukrainian fighters, who've also shown staunch defense in northern cities like Kharkiv, where they have pushed Russian troops back toward the nearby border.
Russia, despite many losses in the war now in its 13th month, has shifted focus to eastern and southern Ukraine. That includes a recent strong presence in the Black Sea.
Ukraine President Volodymyr Zelensky has successfully gained a plethora of tanks and some air defense systems from western allies that will soon arrive, and now he has reportedly asked the West for fighter jets.
Ukraine began looking for more support to protect itself from things like Kh-22 missiles, which destroyed Dnipro last month.
Ukraine's office of the Prosecutor General said it was Russia's 52nd Guards Bomber Aviation Regiment.
"According to preliminary information, the Kh-22 missile was used. This type of missile leads to the greatest human casualties, because the missile is extremely inaccurate, has a huge deviation. Therefore, the use of such weapons for targets in densely populated areas is clearly a war crime," the Ukraine office stated. "This type of rocket was used in Sergiivka and Kremenchuk. It can be launched by a single Russian unit - the 52nd Guards Bomber Aviation Regiment."
Newsweek reached out to the Russian Defense Ministry for comment.