More Than 14,000 Immigrants to Be Sworn In as New U.S. Citizens During Independence Day Celebrations
More than 14,000 new citizens will be sworn in to celebrate the nation's 242nd birthday in nearly 175 naturalization ceremonies across the country, U.S. Citizenship and Immigration Services (USCIS) announced. The ceremonies will be held between June 28 and July 10.
The first naturalization ceremony of the Independence Day celebrations occurred at the Bexar County Courthouse in San Antonio, Texas, on Thursday.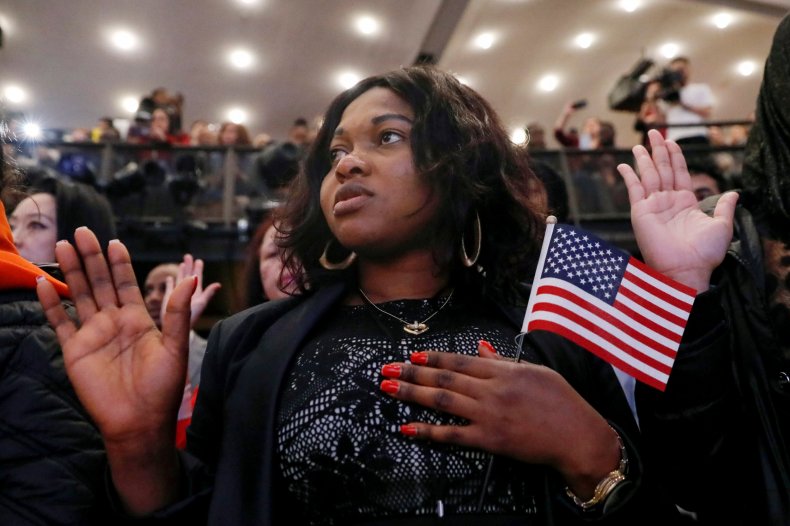 "The naturalization ceremony marks the end of the journey toward citizenship, just as it marks the start of new lives as American citizens," said USCIS Director L. Francis Cissna, who spoke at the ceremony, said in a statement. "We are humbled to be able to share in this moment of pride, joy and personal triumph."
There will be 27 naturalization ceremonies on July Fourth itself, according to the USCIS. Several of the ceremonies will be held at historic locations, including Thomas Jefferson's Monticello, Battleship New Jersey, George Washington's Mount Vernon and the Independence National Historic Park.
In Las Vegas, the oldest person to become a naturalized U.S. citizen said she did it to fulfill one important civic duty. Virginia Delapena, 95, who is originally from the Philippines, told KSNV that she wanted to become a U.S. citizen "because I wanted to vote."
New citizens are also taking to social media to share their status as Americans with the hashtag #newUScitizen. Mike Meyer posted a photo from his naturalization ceremony on June 26. "First order of business? Registered to vote. November is coming," he wrote.
"Today I am proud to have become a Naturalized United States Citizen!" tweeted Alan Gibson.
On Instagram, the country's newest citizens shared photos of their citizenship certificates and America-themed outfits.
"I am proud to become an American citizen! A beautiful day of celebration!" wrote Luiz Pamplona on Instagram. "Let's keep America great for all who really love this country! God bless all and God bless America!"
In order to become a U.S. citizens, individuals must have had a Permanent Resident Card, otherwise known as a green card, for at least five years or at least three years if filing as a spouse of a U.S. citizen. Individuals must also be at least 18 years old, be able to read, write and speak basic English and go through a 10-step naturalization process, which includes a test and interview.