The novel coronavirus has killed hundreds of doctors, nurses and other health care workers around the world, including more than 100 in Italy. Indonesia also reported the death of at least 24 infected doctors, more than in China, where the virus was first detected.
The virus, which was first reported in Wuhan, China, has spread to over 1.5 million people across at least 184 countries and regions, according to the latest figures from Johns Hopkins University.
Speaking to Newsweek, the chief executive officer of the International Council of Nurses, Howard Catton, said: "We have been concerned for some weeks now about how many nurses and other healthcare staff have become infected with the coronavirus. Nurses around the globe are working under extreme pressure for long hours without breaks and without days off, and it is taking its toll."
"We have no doubt that the rate of infections is related in part to the lack of personal protective equipment. We know there is a global shortage, but nurses are the frontline, they are heroes and they must be protected if they are to continue with the unique lifesaving work that they are doing," he added.
"Sadly there have been deaths among nurses there [in Italy and Spain] and in Iran and Indonesia, some nurses have died by suicide," he added.
Number of doctors and nurses who died after COVID-19 infection
(as of April 9)
Italy — at least 120
Indonesia — at least 24
U.K. — at least 19
China — at least 13
Iran — at least 12
Spain — at least 11
France — at least 5
U.S. — at least 2
Greece — at least 1
Poland — at least 1
Pakistan — at least 1
Here we take a closer look at some of the recent deaths reported among doctors and nurses.
U.S.
Lisa Ewald, aged 54, nurse who worked for the Henry Ford Health System in Detroit
Ewald believed she was exposed to the virus around March 24 after interacting with an infected patient, she told Alexis Fernandez (a friend who lives next door), Michigan Radio reports.
Known as a "huge animal lover" who was passionate about travel, gardening, and nursing, Ewald "always stepped up to the plate...[she was] just a dedicated employee and healthcare worker...she just loved everyone and everything," Fernandez said.
Ewald is survived by "a great group of family and friends, and eight nieces and four nephews," as well as a sister, Ewald's niece, Aubree Farmer, said.
Ewald was a compassionate nurse with years of experience who you would want to look after you if you were sick at a hospital, a co-worker described.
Fernandez believes Ewald was tested a few days after exposure as she received a text of the positive test result from Ewald on Monday, March 30. She was found dead in her home by Fernandez, who (using a spare key she'd been given) opened her door for a nurse from Henry Ford visiting to check on Ewald.
Fernandez said: "The moment she [Ewald] was exposed, she should have been given the test. Instead of having to wait until symptoms appeared...she wasn't given the test [immediately] despite having worked at the hospital in that capacity. And it cost her her life."
A statement from the Henry Ford Health System said: "Regarding employee testing, we adhere strictly to CDC guidelines. Currently, the CDC recommends testing employees only when they become symptomatic. Whether at work or at home under self-isolation, if an employee begins experiencing symptoms, they are urged to contact Employee Health and arrange for immediate testing."
Italy and Spain
Italy has seen the highest number of fatalities, including 94 doctor deaths across the country, Italy's National Federation of Orders of Surgeons and Dentists (Federazione Nazionale Degli Ordini dei Medici Chirurghi e Degli Odontoiatri) confirmed on Tuesday.
At least 26 Italian nurses have died after contracting the virus and 6,549 nurses have been infected so far, according to the latest report from Italy's nursing federation (Federazione Nazionale Ordini Professioni Infermieristiche).
There are now at least 12,681 infected medical workers in Italy, according to the Italian National Institute of Health.
Spain has seen at least 10 doctors, one nurse and one nurse assistant die from the virus.
Doctors from Lombardy, the country's worst-hit region, have recently criticized the government's management of the outbreak, "absence of strategies" and highlighted the lack of protective gear available for medical staff in a letter posted on the website of the doctors federation, Reuters reports.
"This determined the death of many colleagues, the illness of many of them and the probable and involuntary spread of the contagion, especially in the early stages of the epidemic," the letter said.
The doctors also criticized the lack of data and limited testing as the virus spread, noting this "greatly underestimated the number of patients and, to a lesser extent, the number of dead," the letter said.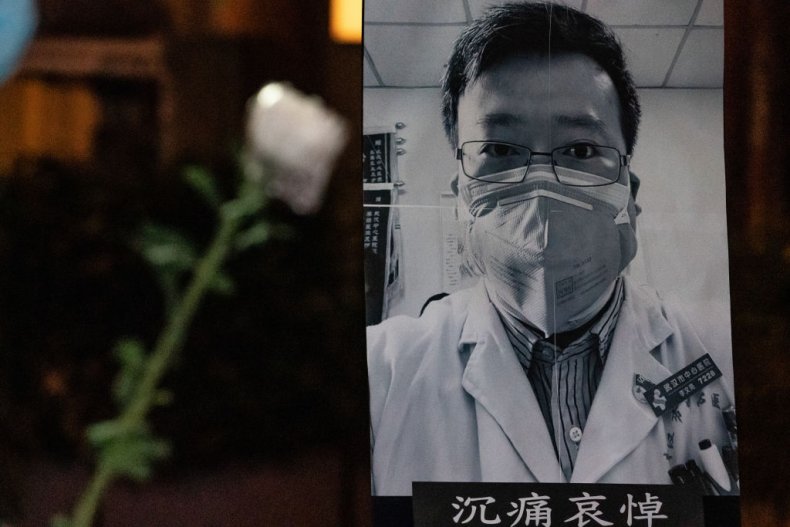 Indonesia
Indonesia has seen at least 24 doctors die after contracting the virus, the Indonesian Doctors Association confirmed.
The latest figure came as Indonesia saw its highest daily rise in infections, reporting 218 new cases on Monday, Reuters reports.
"The trend of (doctors dying) is heading for the sky," said a spokesperson for the association, Halik Malik.
"The risk of medical workers getting infected is always there...but the point is medical workers need to be protected in any way," he added.
Various human rights groups, including Amnesty International, have raised concerns over the "emergency situation" of Indonesia's high death toll among health care staff.
"The death of medical workers is not just a number, but an alarm for the country to fix their health system in an emergency situation," a coalition of the groups said in a statement on Saturday.
U.K.
John Alagos, aged 23, a nurse at Watford General Hospital
Alagos is believed to be the youngest medic in the U.K. to die from the virus.
He died earlier this month after returning home following a 12-hour work shift at the hospital where he treated COVID-19 virus patients. He was said to have had a high temperature and headache throughout the night before he died.
"John was very popular and will be missed greatly," a spokesperson for the hospital said.
His mother, Gina Gustilo, claimed her son was not allowed to leave the hospital any earlier than when his shift had ended due to staff shortage.
Gustilo told The Mail on Sunday: "I asked [him] 'Why didn't you come home?' He said he had asked other staff but they said they were short of staff and they did not let him go...after a few minutes, I found him turning blue in his bed."
She also added that his son's colleagues noted he wasn't wearing adequate protective gear while working. "They wear PPE [personal protective equipment], but not totally protective of the mouth. They wear the normal masks," she said.
Watford General Hospital said in a statement: "Our staff are fully briefed on the symptoms of COVID-19 and we would never expect anyone to remain at work if they were showing these symptoms or indeed were unwell in any way.
"We have always kept our staff updated on the latest PPE guidance to make sure they have the right level of protection," the statement added.
Alice Kit Tak Ong, aged 70, a nurse in London

She was working full-time at two surgeries and running two baby clinics before she fell ill with the virus. Her family believes she contracted the virus while working at the surgery without wearing protective gear, The Guardian reports.
Ong traveled from Hong Kong to London in the 1970s to study nursing at the age of 23. She worked as a nurse in London for 44 years.
She was a "wonderful woman" who was "generous to everyone else before herself," describes her daughter, Melissa Ong.
"She loved her job... that was her life... she loved the NHS [National Health Service].
"My mother came here from Hong Kong to work for the NHS because she believed it was the best in the world.
"It's only now people are kind of realising the strength of the NHS... You see people clapping on the streets, but it shouldn't take something like this to bring the nation together to be thankful.
"We should value healthcare workers in good times and bad times."
Dr. Anton Sebastianpillai, aged in his 70s, a geriatrician at Kingston Hospital in London
Sebastianpillai died earlier this month following four days of being in intensive care due to infection. His last shift at the hospital was completed on March 20, the Kingston Hospital NHS Foundation Trust confirmed.
Sebastianpillai studied at the Peradeniya Medical School in Sri Lanka where he qualified as a doctor in 1967. He was described as an "distinguished alumnus" who had authored a book on the history of Sri Lanka in an obituary notice by the school.
"The loss of a doctor who spent his professional life caring for older people is heartbreaking news. Dr Sebastianpillai had worked for more than forty years in geriatric medicine and was a devoted and respected geriatrician," the president of the British Geriatrics Society, Professor Tash Masud, said in a statement.
Ed Davey, a member of U.K. Parliament and acting co-leader of the Liberal Democratic Party, said he had been "privileged" to meet the "hugely respected" consultant and author, in a post on his official Twitter account.
Abdul Mabud Chowdhury, aged 53, a urologist at Homerton University Hospital in London
Chowdhury died a few weeks after he warned British Prime Minister Boris Johnson that health workers in the country were in need of protective equipment.
The doctor wrote in a post on Facebook: "People appreciate us and salute us for our rewarding job which are very inspirational but I would like to say we have to protect ourselves and our families/kids in this global disaster/crisis by using appropriate PPE and remedies."
He was a "life-loving person," said Dr. Golam Rahat Khan, a family friend who knew Chowdhury for nearly 20 years.
"He liked singing and liked our own Bengali culture and loved English heritage. He was so caring, he would call us very often to come to his house," he added.
Chowdhury is survived by a wife and two children, aged 18 and 11.
The Muslim Doctors Association said in a statement: "Our thoughts and prayers are with them [his family]. Two weeks before his admission to hospital he wrote a message to the [U.K.] Prime Minister urging for better PPE. May he rest in peace."
Dr. Jitendra Rathod, aged 62, a senior surgeon at the University Hospital of Wales in Cardiff
Rathod, a father of two, died in the hospital's intensive care unit this month after infection.
He was an associate specialist in cardiothoracic surgery at the hospital for nearly 25 years.
He is believed to be the first health worker in Wales to die after contracting the virus.
The chief executive of the Cardiff and Vale University Health Board, Len Richards, said: "He was a great surgeon who really provided support to his colleagues as well.
"Over the course of the last couple of days, I've had lots of texts and lots of messages from our staff, telling me how loved he was and how people are going to really miss him," he added.
"Just heard very sad news a wonderful cardiothoracic surgeon I worked with in Cardiff has died from Coronavirus. I'm absolutely gutted. A talented, skilled and kind clinician. My heart goes out to his family. Such a massive loss," noted Dr. David Hepburn, who previously worked with Rathod, in a post on Twitter.
Thomas Harvey, aged 57, a nurse in London
Harvey was reported to have died while "gasping for air" in his home in east London earlier this week. He was not tested for the virus but showed symptoms of the disease weeks before his death, according to his son, Thomas Harvey Jr.
The father of seven and grandfather to three worked as a nurse for 20 years at Goodmayes Hospital in Ilford, England.
His son noted his father was only given "gloves and a flimsy apron" as protective gear at work. He isolated himself at home after beginning to show symptoms of the virus a few weeks ago, ITV News reports.
He was not admitted to hospital, even though his condition appeared to have deteriorated and paramedics were called in nearly a week before his death.
"At that point he wasn't eating for eight days, he wasn't breathing properly, which you could hear. He was very weak and was complaining about pains but they had told us that his case was mild so he wouldn't be taken into hospital for treatment," his son said.
His daughter, Tamira Harvey, said: "My dad was definitely let down. I don't feel that they [NHS staff] are safe at the moment, I don't think that they would think that they're safe," she told ITV News.
"The government could have prevented this. If they invested some money into protective equipment for nurses, because they are really on the frontline and putting their lives at risk every day."
Lynsay Coventry, aged 54, a nurse at Princess Alexandra Hospital Trust (PAHT) in Essex, England
Coventry died earlier this month after working as a midwife at the hospital for 10 years.
A statement from her family noted Coventry had "followed her dream" to become a midwife in later life and was "very well respected."
"As a family, our hearts are broken at the loss of our loving, wonderful and caring mum, sister, daughter and grandmother...her love for us all was unfailing and her strength in the way she cared and supported us will fill our memories. What we also know is how proud she was to be an NHS midwife," the statement said.
"Lynsay was clearly a highly regarded midwife whose dedication to women, babies and their families will be remembered and cherished by her own family and her colleagues," the chief midwifery officer for England, Jacqueline Dunkley-Bent, said.
"She was a very kind, gentle person and a committed midwife; she will be missed by everyone who knew her," said Dr. Louise Jenkins, the head of the School of Nursing and Midwifery at Anglia Ruskin University in Cambridge, where Coventry studied until 2009.
Liz Glanister, a staff nurse at the Aintree University hospital in Liverpool, England
Glanister died in the same week as Coventry after testing positive for the virus.
"It is with great sadness that I can confirm that Liz Glanister, a long-serving staff nurse at Aintree University hospital, sadly passed away at the Royal Liverpool University hospital on Friday after being tested positive for Covid-19," Liverpool University hospitals NHS foundation trust chief nurse, Dianne Brown, confirmed.
"Liz will be sadly missed by all those who knew and worked with her," she said.
Dr. Habib Zaidi, aged 76, a GP (general practitioner) at Southend Hospital in Essex, England
Zaidi hadn't seen any patients in person for about a week after he began self-isolating before he died. He died while he was in intensive care.
Zaidi was a GP in the town of Leigh-on-Sea for over 45 years. He was a managing partner of Eastwood Group Practice with his wife Dr. Talat Zaidi. He is survived by four children, all of whom are in the medical profession. His son is a hematologist consultant in London, while his daughters include a trainee surgeon, a dentist and a GP.
One of his daughters, Dr. Sarah Zaidi, told the BBC: "For that [the COVID-19 virus] to be the thing that took him is too much to bear. It is reflective of his sacrifice. He had a vocational attitude to service."
One patient noted on Facebook: "A kinder, more caring gentleman, doctor and friend you would be hard to find."
Dr. Zaidi was previously issued an award from the NHS Southend Clinical Commissioning Group, which described him as a "legend" who was "highly revered by staff and patients alike."
"We are deeply saddened to hear of the passing of Dr Zaidi. Dr Zaidi and his family are well known and well loved within the community," the leader of Southend Council, Ian Gilbert, said.
Iran
The official figure of the death toll among doctors and nurses in Iran has not been released. But around 40 doctors and 130 nurses have reportedly been infected so far, according to the head of Qom Medical Sciences University.
Iran Human Rights Monitor, an activist group, claimed in a post on its official Twitter account: "Dozens of #Iranian health workers have died of #coronavirus since the onset of the #COVID19 outbreak in #Iran. The regime's mismanagement & incompetence has left millions of people defenseless against the virus. More than 9,000 people have died so far."
At least 12 doctors have reportedly died from the virus, including:
Dr. Abbas Tusan, a 60-year-old ENT (ear, nose and throat) specialist in Babol, Iran;
Dr. Mehdi Variji in the Iranian capital Tehran;
Tahmineh Adibi, a nurse in Anzali;
Hanieh Edalati, a nurse in Takestan;
Dr. Seyed Mozafar Rabiei, former head of the Babol Medical Sciences University, who died in Amol;
Dr. Samadi in Amol;
Dr. Nirouie in Amol;
Dr. Ibrahim Nejad in Amol;
Dr. Tusan in Amol;
Dr. Samad Babazeh, a 53-year-old doctor in Babol;
Dr. Ali Shojaie in Kerman;
Dr. Shirin Rouhani Rad, who treated patients at Masih Daneshvari Hospital in Tehran while reportedly receiving IV therapy, because there were not enough doctors.
The graphic below, provided by Statista, illustrates the spread of COVID-19 across the globe.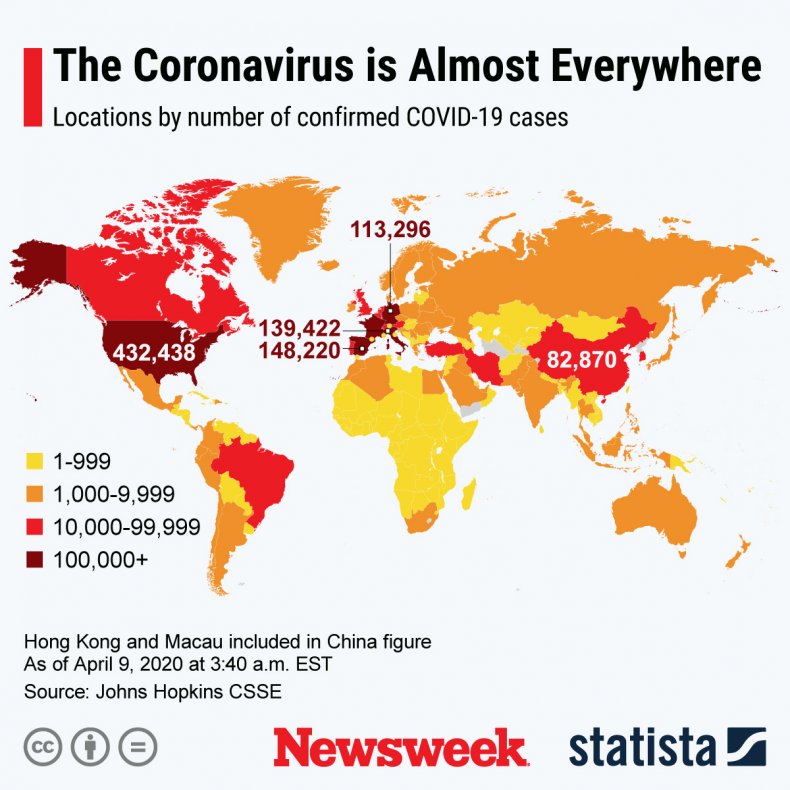 Centers for Disease Control and Prevention Advice on Using Face Coverings to Slow Spread of COVID-19
CDC recommends wearing a cloth face covering in public where social distancing measures are difficult to maintain.
A simple cloth face covering can help slow the spread of the virus by those infected and by those who do not exhibit symptoms.
Cloth face coverings can be fashioned from household items. Guides are offered by the CDC. (https://www.cdc.gov/coronavirus/2019-ncov/prevent-getting-sick/diy-cloth-face-coverings.html)
Cloth face coverings should be washed regularly. A washing machine will suffice.
Practice safe removal of face coverings by not touching eyes, nose, and mouth, and wash hands immediately after removing the covering.
World Health Organization advice for avoiding spread of coronavirus disease (COVID-19)
Hygiene advice
Clean hands frequently with soap and water, or alcohol-based hand rub.
Wash hands after coughing or sneezing; when caring for the sick; before, during and after food preparation; before eating; after using the toilet; when hands are visibly dirty; and after handling animals or waste.
Maintain at least 1 meter (3 feet) distance from anyone who is coughing or sneezing.
Avoid touching your hands, nose and mouth. Do not spit in public.
Cover your mouth and nose with a tissue or bent elbow when coughing or sneezing. Discard the tissue immediately and clean your hands.
Medical advice
Avoid close contact with others if you have any symptoms.
Stay at home if you feel unwell, even with mild symptoms such as headache and runny nose, to avoid potential spread of the disease to medical facilities and other people.
If you develop serious symptoms (fever, cough, difficulty breathing) seek medical care early and contact local health authorities in advance.
Note any recent contact with others and travel details to provide to authorities who can trace and prevent spread of the disease.
Stay up to date on COVID-19 developments issued by health authorities and follow their guidance.
Mask and glove usage
Healthy individuals only need to wear a mask if taking care of a sick person.
Wear a mask if you are coughing or sneezing.
Masks are effective when used in combination with frequent hand cleaning.
Do not touch the mask while wearing it. Clean hands if you touch the mask.
Learn how to properly put on, remove and dispose of masks. Clean hands after disposing of the mask.
Do not reuse single-use masks.
Regularly washing bare hands is more effective against catching COVID-19 than wearing rubber gloves.
The COVID-19 virus can still be picked up on rubber gloves and transmitted by touching your face.