More Than 2,000 U.S. Service Members Have Now Contracted Coronavirus
More than 2,000 military personnel have been infected with the coronavirus, with the number of confirmed cases more than doubling in the past week.
Department of Defense spokesperson Jessica Maxwell told Newsweek on Wednesday morning that there are 1,975 confirmed cases of the coronavirus within the military's ranks, while 144 individuals have recovered. As of now, 61 service members are hospitalized because of COVID-19, the disease caused by the virus.
In response to the pandemic, the Pentagon has quarantined thousands of troops, placed limits on domestic and international travel, shuttered recruiting centers and canceled many war-training exercises. The Army is also requiring all troops that return from abroad to quarantine for two weeks.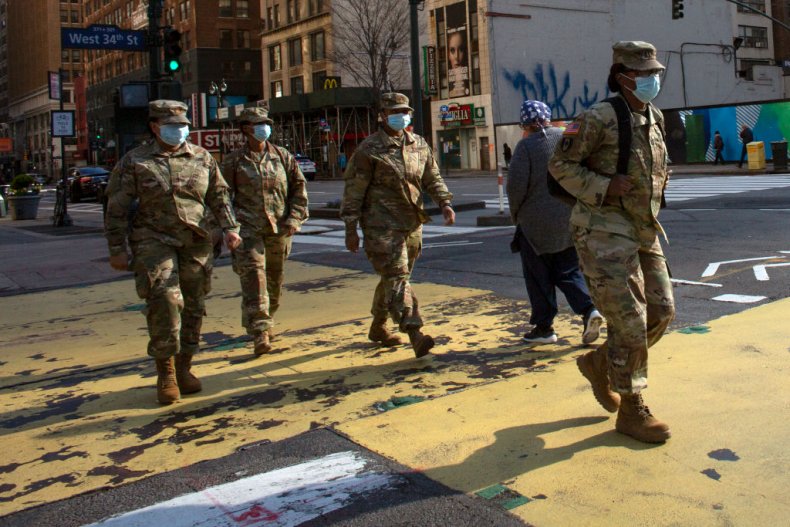 Army Chief of Staff General James McConville said during a Tuesday virtual town hall that the military hopes to begin testing soldiers to see if they've already contracted the virus and recovered without showing symptoms.
"Over the next couple months, we're going to be in a much more robust position to do more testing, which is going to help us manage the force better under these conditions," McConville said, according to Army Times.
"We may have had soldiers that already had it and had no symptoms, and we won't know," the general explained. "So there's testing that's coming out—not here yet—but it will show whether you've actually had the virus. That will help us manage risk in the force."
National Guard troops have been deployed in hard-hit regions of the country to rapidly construct medical facilities and respond to local needs as the pandemic continues to spread throughout the country. In March, Secretary of Defense Mark Esper insisted that the military was well prepared to defend the country in spite of the outbreak.
"I want to assure the American people that the United States military remains ready and capable of meeting all of our national security requirements," Esper said at the time.
Nationwide, more than 3,000 veterans have also been infected with the coronavirus, Military Times reported on Wednesday. Of those, 144 veterans have died, a significant increase from the end of March, when the number of deaths stood at just 20. The Veteran Affairs Department has seen about 11 percent of those tested turn out to be positive for the virus.
Across the county, there have been nearly 400,000 confirmed cases of the coronavirus as of Wednesday morning, according to a Johns Hopkins University tracker. Of those, more than 22,500 have already recovered, while almost 13,000 have died.
Globally, more than 1.4 million people have been confirmed to have contracted the new virus. More than 308,000 people have already recovered around the world, and over 83,000 have died.