More Than 23,000 National Guardsmen Currently Deployed to Help With COVID Surge
President Joe Biden announced on Thursday the deployment of more than 720 National Guard members amid the growing COVID-19 surge, adding to the more than 23,000 currently deployed.
Biden appeared to announce the deployment of six medical teams across six states. The teams will consist of around 120 National Guard members and will be deployed by the federal government across Michigan, New Jersey, New Mexico, New York, Ohio, and Rhode Island. According to data from the Centers for Disease Control and Prevention, these states are among the worst-hit states during this current surge.
"We were joking earlier that if you want something done, call the military," Biden said as he began his speech.
The new deployment is the latest that the federal government has enacted in recent months, the president explained.
"Just since Thanksgiving, over 800 military and other federal emergency personnel have been deployed to 24 states, tribes and territories including over 350 military doctors, nurses and medics helping staff the hospitals are in short supply," said Biden in his address. "This is on top of more than 14,000 National Guard members that are activated in 49 states."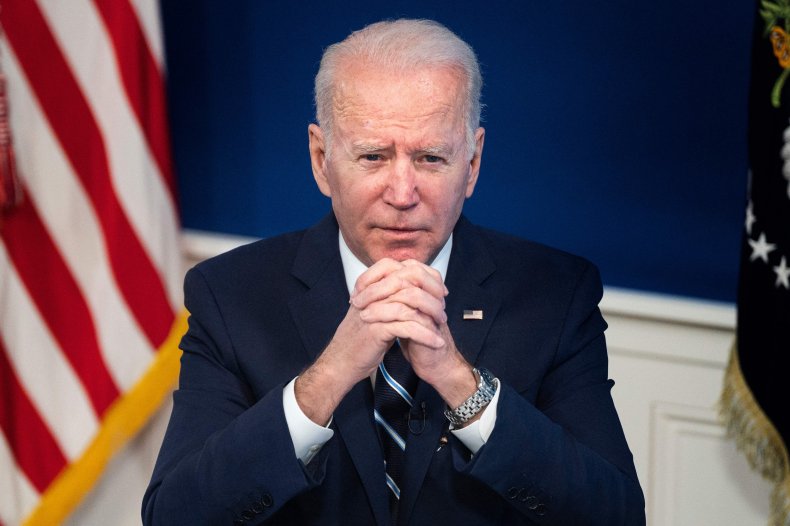 Biden also continued to urge citizens to receive vaccinations, either with a regular vaccine or a booster shot. Furthermore, he said that a new batch of 500 million tests are ready for distribution throughout the country. A new website is expected to go live allowing people to have an at-home testing kit sent to them.
"We're on track to roll out a website next week where you can order free test shipped to your home," Biden added, also promising that N95 masks will become available to all citizens in the coming weeks. More information on this effort is expected to come next week.
The total number of deployed troops is comparable to the number of deployed troops across all military branches after the September 11 attacks. According to a National Guard spokesperson who spoke with Newsweek, 10,000 Army and Air Guard members were deployed around the world to assist in various recovery and combat operations. In addition to these troops, former President George W. Bush's Presidential Partial Mobilization called up to 50,000 Guardsmen and Reservists for potential service overseas.
"It's been a long road," said Biden, "but what's been clear is that we get through this if everyone does their part. No matter where you live, no matter your political party. We have got to fight this together."