More Than 28,000 Voters in Pennsylvania Receive Mail-in Ballots With Wrong Voter Information
More than 28,000 voters in Pennsylvania were sent wrong mail-in ballots because of a printing error, Allegheny County officials said Wednesday.
Election officials said the error was caused by an image mapping error that occurred during the printing process, which was handled by the printing and mailing company Midwest Direct.
"As an example, voter # 1 received voter #2's ballot," Midwest Direct President Sean Gebbie wrote in a letter to county officials that the county shared publicly on its website. An estimated 28,879 voters were sent the wrong ballots as a result of that error, the county said.
David Voye, the manager of the county's elections division, said in a statement that Midwest Direct identified the cause of the error on Tuesday and has already begun printing corrected ballots. The new ballots are expected to be delivered to the affected voters beginning next week, Voye said.
"The integrity of our election system is of utmost importance to me as the elections division manager and to our entire team. Voters in this county should be confident that their votes are accurately counted and protected," Voye said.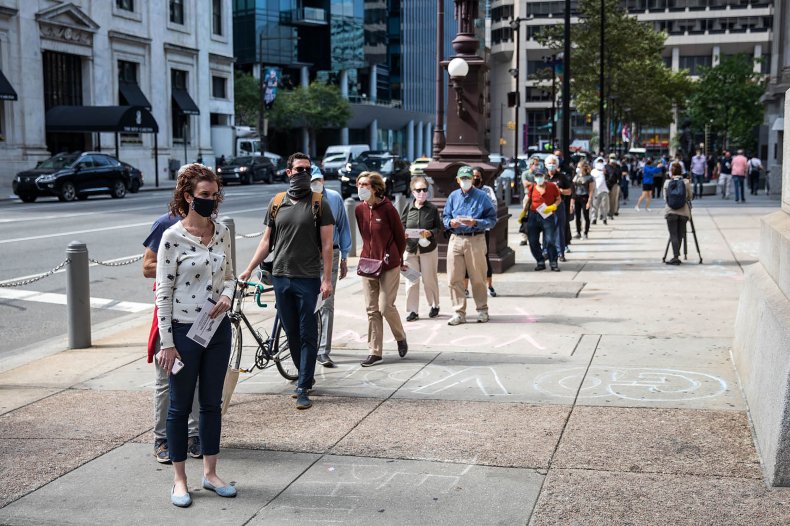 County officials said voters alerted them about the ballot problem last week, with less than one month remaining until Election Day. The problem occurred during an election in which more voters throughout the country are expected to vote by mail than ever before, a result of the coronavirus pandemic.
Election officials said they instructed Midwest Direct to pause its ballot printing operations once they learned about the problem. After the problem was identified on Tuesday, the county elections division began "manually locating and segregating all ballots" affected by the error on Wednesday morning, Voye said. By Thursday, voters will be able to confirm whether the mail-in ballot they received was affected by the printing error by visiting the county elections website, he added.
"I pledge to be fair and transparent in the work that we are doing, and about the work being done on our behalf," Voye's statement said. "This was a failure on behalf of our contractor that impacts too many of our voters. I apologize for it and commit to you that I will do everything in my power to ensure that we are not plagued by any other such issues."
Newsweek reached out to Midwest Direct for comment but did not receive a response in time for publication.
The county's elections division has approved more than 370,000 mail-in ballot applications for this election cycle, Voye said in his statement. Voters can still apply to vote by mail until 5 p.m. local time on October 27. All mail-in ballots must be postmarked by November 3 or returned in person by 8 p.m. local time on that date, according to the county's election website.
Allegheny County is located in southwestern Pennsylvania and had a 2019 population estimate of about 1.2 million people, about 300,000 of whom lived in Pittsburgh, according to the U.S. Census Bureau. Political experts have identified Pennsylvania as one of the key battleground states in the 2020 presidential election, with most state polls conducted in recent weeks saying Democratic nominee Joe Biden had a lead over President Donald Trump.
Though Trump won the state by a slim margin in 2016, his challenger, Hillary Clinton, won Allegheny County by more than 16 percent of the vote, according to The New York Times.