More Than 30 Pelicans Found Mutilated on Southern California Coast Within 8 Months
Within the past eight months, more than 30 brown pelicans have been attacked and mutilated along a 27-mile stretch of the Southern California coast, according to the local nonprofit Wetlands and Wildlife Care Center. In some cases, the seabirds were so badly injured their bones were protruding through their wings, the center stated in a press release. It is now asking for donations to help cover the cost of their veterinary care.
"These are very serious injuries that require emergency surgeries and long-term care," Elizabeth Wood, DVM, said in the release.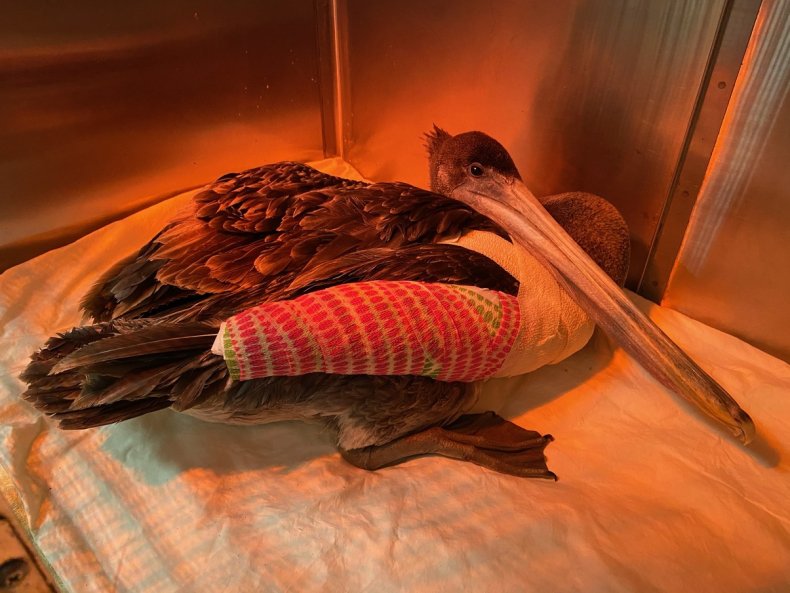 The injuries include compound wing fractures, breaks exposing the bones to the external environment. Of the 32-plus pelicans that have been brutalized so far, 22 sustained such fractures, according to the release. In a photo of one bird released by the center, bone ends are visible amid the feathers. The orthopedic procedures necessary to treat such wounds are "incredibly expensive and heavily impact our resources," the center wrote in a Facebook post on June 14. So far, it has raised more than $5,000.
In addition to donations, the center is soliciting tips that could potentially help the California Department of Fish and Wildlife identify and locate the person or people responsible for the horrific abuse.
"We need your help to find whomever is performing this atrocious act. Be OUR eyes and ears: Be on the lookout when you are on or near our oceans," the center stated in the release, providing the phone number of a department tip line in the next sentence. The bulk of the attacks have apparently taken place on the coastline between the cities of San Clemente and Huntington Beach, both of which are surfing hotspots.
The comeback kid of coastal bird species, the brown pelican, along with the osprey, the bald eagle, the peregrine falcon, and several other birds of prey, was almost wiped out by DDT before the United States government mandated the pesticide's retirement in 1972, according to the U.S. Fish and Wildlife Service. In the intervening decades, the bird has made an impressive recovery. Now found up and down the East and West Coasts of the United States, it is both a cultural symbol and an ecological staple of coastal life, according to the Audubon Society.
The center is hosting a press conference today at 8:30 a.m. PST to address the attacks.
Newsweek reached out to Wetlands and Wildlife Care Center for comment, but did not hear back in time for publication.