More Than 3,000 People in China Were Already Infected With Coronavirus by the Time Xi Jinping Warned the Public: Report
As China faces scrutiny and criticism for its management of the coronavirus pandemic in the early days of the outbreak, a new report showed that China's President Xi Jinping failed to warn the public until more than 3,000 cases had been confirmed—nearly a week after government memos warned that the situation was dire.
The Associated Press (AP) reported on Wednesday morning that internal Chinese government memos and documents raised alarm about the virus up to six days before Xi issued a formal public warning on January 20. Beijing knew that the situation was serious on January 13, when the first case of coronavirus outside of China was reported in Thailand.
Then, on January 14, Ma Xiaowei, the head of the East Asian country's National Health Commission, presented a somber assessment of the outbreak during a private teleconference with health officials from throughout China, according to a memo reviewed by the AP. But Xi wouldn't issue a national warning until six days later. By then, there were already thousands of confirmed cases within the country.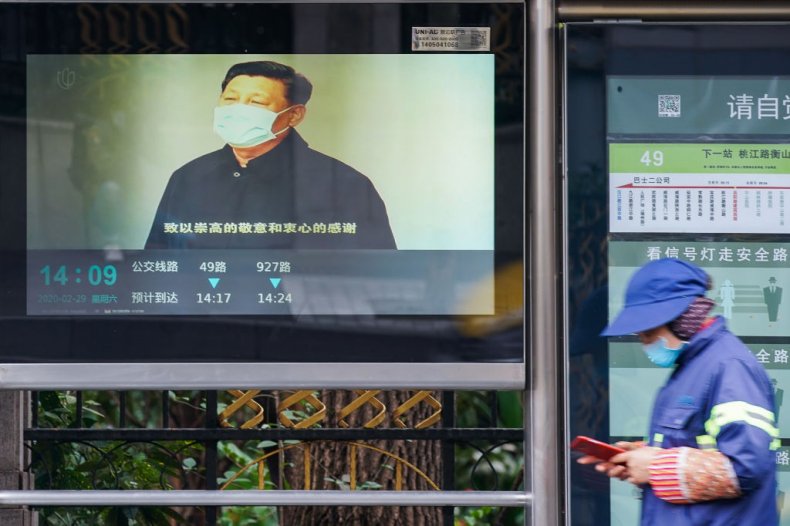 While some health experts told the AP that they felt the delay was a reasonable amount of time because leaders aimed to avoid panic and took serious action behind the scenes, others argued that this was just another sign of China's lack of transparency and bungled response to the crisis. Many nations' leaders, including within the U.S., have faced accusations of failing to act quickly enough to curb the spread of the virus. But as the original global epicenter of the pandemic, China has faced added scrutiny as many have argued its inaction and early efforts to cover up the coronavirus fueled a global catastrophe.
"We should never forget that China's Chernobyl moment was a self-inflicted wound. The CCP [Chinese Communist Party] silenced Chinese doctors who wanted to warn other health professionals during the early stage of the outbreak," a group of more than 100 international policy experts, academics and politicians wrote in an open letter published by Canada's Macdonald-Laurier Institute in Mandarin and English on Tuesday.
"The global pandemic forces us all to confront an inconvenient truth: by politicizing all aspects of life including people's health, continued autocratic one-party rule in the People's Republic of China has endangered everyone," they wrote.
Chinese officials have publicly dismissed allegations that their government covered up the outbreak.
"Allegations of a cover-up or lack of transparency in China are groundless," Zhao Lijian, a spokesperson for China's Foreign Ministry, said at a Thursday press conference.
Li Keqiang, premier of China, claimed in a speech Tuesday that his country had put people first in its response to the pandemic.
"China puts the life and health of all its people front and center. It has adhered to the principles of shoring up confidence, strengthening unity, following a science-based approach and taking targeted measures, and has all along been open and transparent," Li said
"Thanks to the painstaking efforts of the whole country and society, China has achieved major progress in containing the outbreak, and life and work is returning to normal at a faster pace in our country," the premier added.
But China appears to have begun censoring academic research into the origins of the coronavirus pandemic. Web pages posted by Chinese universities, which have since been deleted, have said that all research on the origins of the coronavirus must be reviewed and approved by China's Ministry of Science and Technology before it can be published. China has also been accused of hiding the actual number of confirmed cases and deaths from the virus.
As of Wednesday morning, China had reported 83,355 confirmed cases of the coronavirus. Of those, 78,307 had recovered while 3,346 had died.