More Than 4 Million Americans Have Recovered From COVID as Medications, Doctor Management Improves
More than 4 million Americans have recovered from the new coronavirus, as medications, treatments and doctor's management has continued to improve throughout the ongoing pandemic.
According to data from Johns Hopkins University, approximately 4,527,000 Americans have recovered after contracting COVID-19, the respiratory disease caused by the new coronavirus.
Despite the large number of recoveries, the virus has continued to spread throughout the U.S. and has infected over 12.2 million Americans as well as causing at least 256,934 deaths.
The number of Americans that have recovered from the virus comes as treatments and hospitals preparedness continue to improve, following the previous worst phase of the pandemic in March and April.
On November 21, the Food and Drug Administration (FDA), issued emergency use authorization for casirivimab and imdevimab to help treat the virus.
"In a clinical trial of patients with COVID-19, casirivimab and imdevimab, administered together, were shown to reduce COVID-19-related hospitalization or emergency room visits in patients at high risk for disease progression within 28 days after treatment when compared to placebo," the FDA wrote in its announcement. "For patients at high risk for disease progression, hospitalizations and emergency room visits occurred in 3% of casirivimab and imdevimab-treated patients on average compared to 9% in placebo-treated patients."
Additionally, on November 19, the FDA approved emergency use authorization "for the drug baricitinib, in combination with remdesivir."
"In a clinical trial of hospitalized patients with COVID-19, baricitinib, in combination with remdesivir, was shown to reduce time to recovery within 29 days after initiating treatment compared to patients who received a placebo with remdesivir," the FDA wrote in their announcement.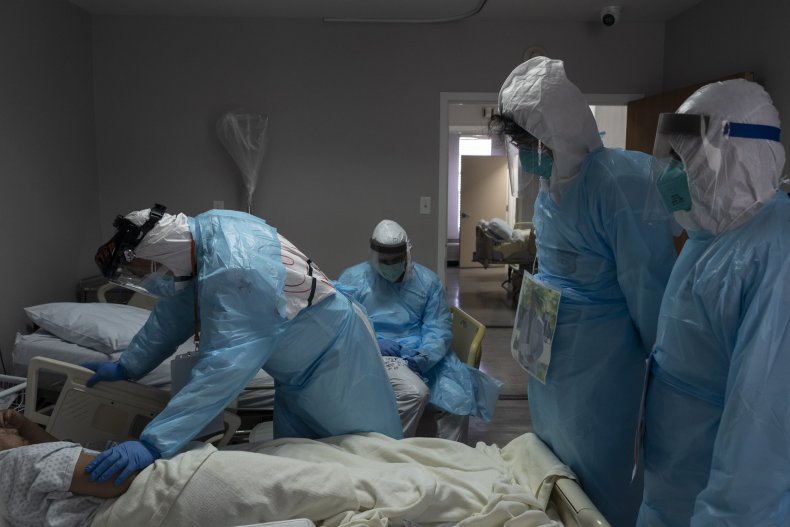 In an effort to combat the spread and severity of the virus, the FDA created the Coronavirus Treatment Acceleration Program (CTAP), which is a "special emergency program for possible coronavirus therapies."
According to the CTAP, there are currently more than 560 drug development programs in the planning stages, over 370 trials reviewed by the FDA, at least five COVID-19 treatments authorized for emergency use and one treatment currently approved by the FDA for use in COVID patients.
In addition to the different treatments currently being administered to COVID patients across the U.S. many health care professionals have expressed heightened preparedness in combating the virus in the coming months.
When the ongoing pandemic first hit the U.S. many hospitals and medical facilities were not prepared for the influx in patients as well as the fact that they did not fully understand the virus, but as months have gone by, doctors and hospitals have had time to prepare for another wave of COVID-19 patients.
In September The Wall Street Journal reported that hospitals across the U.S. have been stockpiling masks and other personal protective equipment (PPE) to be prepared for a surge in cases.
Donald Landry, the head of Columbia University's Department of Medicine, told the Journal that the spring "was ultimately baptism by fire," but "we understand the illness; we have a variety of treatments."
Doctors in Pennsylvania and Colorado have made similar comments about being prepared to combat the virus.
"We've done a pretty good job of learning how to deal with this disease as we go, learning early on about how to position patients and how to treat them," said Dr. David Steinbruner, the chief medical officer at UCHealth Memorial, said in October, according to KKTV News in Colorado. "Early on in this disease, when we were first experiencing it, people would go on the ventilator and it was extremely hard. Often times they had a pretty poor prognosis. Now if we can keep you off the ventilator, we know that you will have a better prognosis, but we're not afraid to put you on, as we know we can wean you off if we are careful."
Similarly, Dr. Rachel Sackrowitz, chief medical officer of UMPC ICU Service Center in Pennsylvania, recently spoke about the rise in hospitalizations across the state and said, "We hope that this rise will plateau but we're are prepared that it won't and with having all these months to prepare is that we have plans that can be implemented as the situation changes," according to WHTM-TV News.
Newsweek reached out to the Department of Health and Human Services for comment but did not receive a response in time for publication.