More Than 4 Million Ballots Already Returned in California Recall Election
More than 4 million voters in California have already returned their ballots with less than two weeks remaining until the September 14 special gubernatorial recall election.
Early ballot return results assessed by the political data firm Political Data Inc. (PDI) indicate Democrats have so far outpaced Republicans and independent voters, a factor that could be positive news for Governor Gavin Newsom, the incumbent Democrat who is defending his seat.
If more than 50 percent of recall ballots returned are cast in favor of recalling Newsom, he will be replaced by the recall candidate who receives the greatest number of votes.
Despite the early ballot return results, Paul Mitchell, the vice president of PDI, told The Los Angeles Times it would be a "big mistake" for Newsom's campaign to be "overly optimistic" by the numbers. Voters have nearly two weeks left to return their ballots, time that could alter the data's current trends.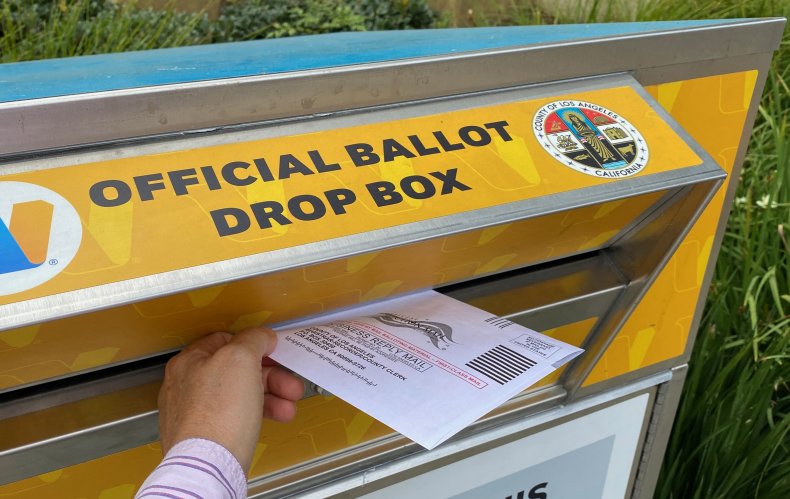 According to state data, nearly 4.6 million vote-by-mail ballots were received and accepted by August 31. By Wednesday, PDI's updated results showed about 21 percent of the total ballots distributed to the state's more than 22.3 million voters had been returned.
There are far more registered Democrats than Republicans in California. According to voter registration data updated in mid-July by the California secretary of state's office, 46.5 percent of registered voters are Democrats and 24.1 percent are Republicans.
Of the voters who returned their ballots by Wednesday, PDI's data showed about 2.5 million were Democrats and 1.1 million were Republicans. An additional 1 million ballots were returned by independents and third-party voters. So far, about 24 percent of registered Democrats and 21 percent of registered Republicans have returned their mail-in ballots.
Young voters and voters in the Latino, Asian and Black communities are thus far lagging behind older and white voters in returning their recall ballots, PDI's data shows. These groups could shift the results for an off-year special election that is expected to be significantly impacted by voter turnout.
While polls conducted in July and early August suggested traction was gaining for the recall effort among likely voters, two recent polls conducted by Change Research and SurveyUSA found more than half of likely voters said they would vote to keep Newsom in office to complete the rest of his first term as governor.
Polling averages compiled by FiveThirtyEight showed a nearly 6-point gap between those in favor of and against the recall effort, with voters in favor of keeping Newsom ahead at 51.1 percent.
Newsweek reached out to Newsom's campaign for comment and will update this article with any response.