Hundreds of suckermouth armored catfish, also known as "plecos," were removed from a river in Texas over the past few weeks. Officials said this will provide information on how best to control the population of the invasive species, which are most commonly found in waterways after they are dumped from a person's home aquarium.
According to a Facebook post published by the Texas Rivers and Streams—a branch of Texas Parks and Wildlife—researchers from Texas A&M University and Texas State University removed 406 invasive suckermouth armored catfish from the San Marcos River at a dewatering event. These types of events help maintain the river's infrastructure.
Monica McGarrity, Texas Parks and Wildlife Department's senior scientist for aquatic invasive species, told Newsweek the two universities are working on research as it relates to the suckermouth armored catfish and its population.
The Texas Parks and Wildlife Department is helping to fund this research, and McGarrity said the agency is supportive of these projects.
Texas Parks and Wildlife officials said these aquarium fish compete with native fish and dig burrows in banks, which can cause bank destabilization.
The removed fish were humanely euthanized, and McGarrity said researchers will examine methods of effective population control.
"They want to look at the age and growth rate of the individuals in the river to get information about population dynamics," she explained.
McGarrity also said researchers are monitoring the suckermouth armored catfish to get an idea of how large of an area they occupy.
The Texas Invasive Species Institute noted that these fish can outnumber the native species of fish, which poses a threat to the population.
"This could lead to a collapse of freshwater fisheries in addition to the obvious ecological dangers," the institute stated.
Primarily found in South America, Panama and Costa Rica, suckermouth armored catfish have made their way into the United States. Officials with the Texas Invasive Species Institute said they have gotten into the waterways of Florida, Nevada, Texas and possibly Wisconsin.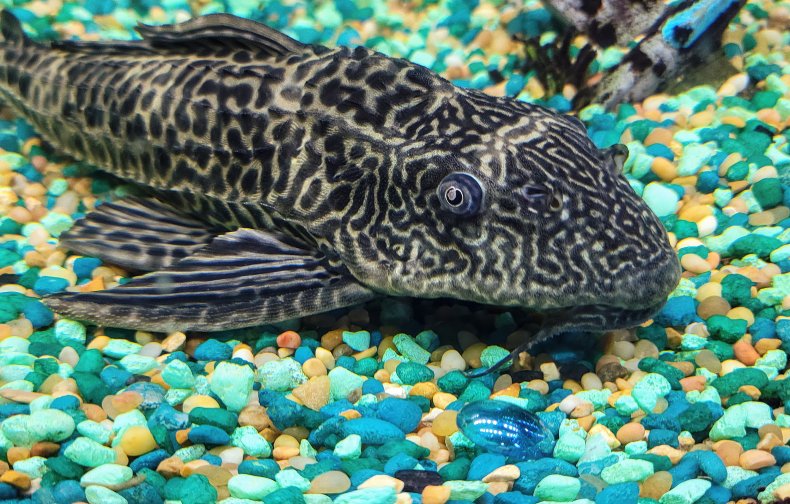 In order to address the population of the suckermouth armored catfish and other invasive species, the "Never Dump Your Tank" initiative was launched. This movement urged people to avoid dumping anything—including fish, animals and plants—out of an aquarium and into the Texas waterways or down a toilet.
The initiative pointed out that if an invasive species is introduced to the wild, they may bring a disease with them or kill off native species.
There may come a time that someone is unable to keep their aquarium fish, plants or animals, but they are advised to find a more "responsible" way to dispose of them.
Some of the suggestions included finding a new family for the fish if it is healthy by giving it to a friend with an aquarium or to the store where it was purchased from.
People can also sell or trade their fish to someone who is interested in adding to their aquarium.
The "Never Dump Your Tank" initiative noted there are ways to humanely euthanize the fish if the owner does not have any other option. However, it urged against flushing the fish.
"It's inhumane because the conditions in the sewer can cause the fish to suffer," the initiative's website stated. "The septic system is filled with gases and chemicals that will ultimately poison your fish."
McGarrity told Newsweek that before purchasing any aquarium pet, like the suckermouth armored catfish, it is essential for people to do thorough research and consider whether they will be able to care for it.