More Than 50 Current, Former Military Members Have Been Charged in Capitol Riot
More than 50 current or former military service members have been charged for crimes in relation to the January 6 riot at the U.S. Capitol, according to the Department of Justice.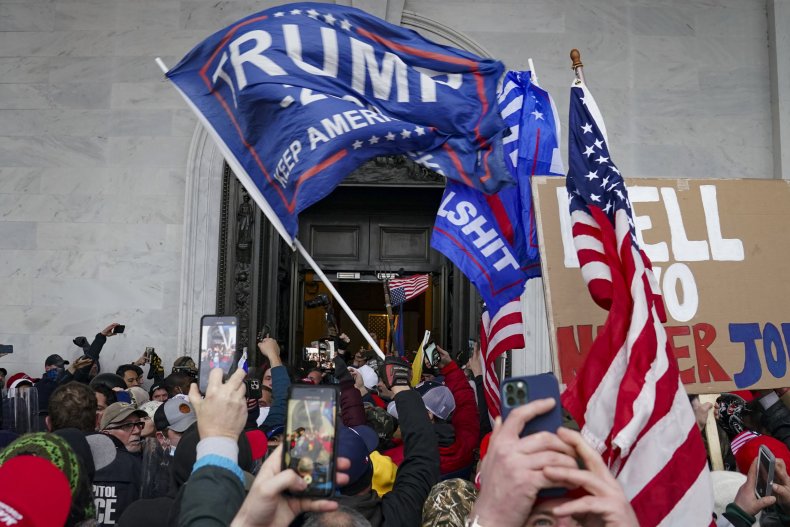 Marshall Cohen, a reporter for CNN, tweeted about the findings from the Justice Department on Wednesday. He noted that most of those charged are veterans and that "many have ties to far-right extremist groups."
Cohen's report about the Justice Department's statistics is consistent with a recent CBS News investigation, which found that at least 51 of those arrested for taking part in the insurrection were current or former military members.
Included in the group are current or former members of the Army, Marine Corps, Navy and Air Force. Some are or were members of the reserves. One was a member of the Green Berets, a unit in the U.S. Army Special Forces. They come from states across the country—all the way to Hawaii.
Commissioned officers, troops and decorated soldiers were included in the arrests, along with members who were dismissed from service because of misconduct, according to an earlier story by Cohen.
Court documents show that some of the veterans reportedly have ties to far-right, extremist groups such as the Proud Boys and the Oath Keepers. One is Joseph Biggs, a Proud Boys leader who served in Iraq and Afghanistan before retiring from the Army with the rank of staff sergeant. Another is Jessica Watkins, an alleged Oath Keepers member and a veteran of the war in Afghanistan in the Army infantry unit.
On Monday, the Justice Department said 465 people have been arrested so far and accused of participating in the riot. On Tuesday, the White House released a fact sheet detailing a national effort to crack down on domestic terrorism.
The Pentagon has made rooting out extremism a priority after individuals arrested in connection with the Capitol riot were found to have military backgrounds, Defense Secretary Lloyd Austin said in a statement following the White House's announcement Tuesday regarding domestic terrorism.
"While domestic law enforcement agencies take the lead, the Department of Defense will do our part to support this important strategy," Austin said. "That includes maintaining the Department's robust relationship with federal law enforcement as well as refining our policies to better address this issue within the Department."
Newsweek reached out to the Justice Department for comment but did not hear back before publication.