More Than 600 'Don't Let Trump Steal the Election' Protesters Arrested in Minneapolis
More than 600 demonstrators protesting President Donald Trump were arrested late Thursday and early Friday for blocking Interstate I-94 in Minneapolis.
Nearly 1,000 marchers gathered in downtown Minneapolis to join the "Don't Let Trump Steal the Election" protest, as its been called by local organizers. Protesters walked down to I-94, where they then closed off the freeway.
According to the Minnesota Department of Public Safety (DPS), 646 people were arrested, cited and released by State Patrol troopers and Minneapolis police officers. Six vehicles were also towed.
The protest, organized by Twin Cities Coalition for Justice for Jamar, was "focused on protesting Trump's unconstitutional theft of the election, but also recognized that much work needed to be done to secure our rights even if Biden took the presidency."
In a press release, the DPS said that the arrests were necessary to clear the interstate and that "[n]o force or chemicals were used, and no protesters or law enforcement officers were injured during the incident."
However, organizers have a different account of events. The Twin Cities Coalition for Justice for Jamar said that officers "moved in, without any warning, and refused to let them leave the freeway exit."
"Despite the intimidation by police, protesters stayed calm and organized, holding the space with speeches, chants, and a marathon dance party," the release read. "Many live-streamed the incident and made calls to local politicians to question the glaring First Amendment violations."
Organizers are demanding that all charges against demonstrators be dropped.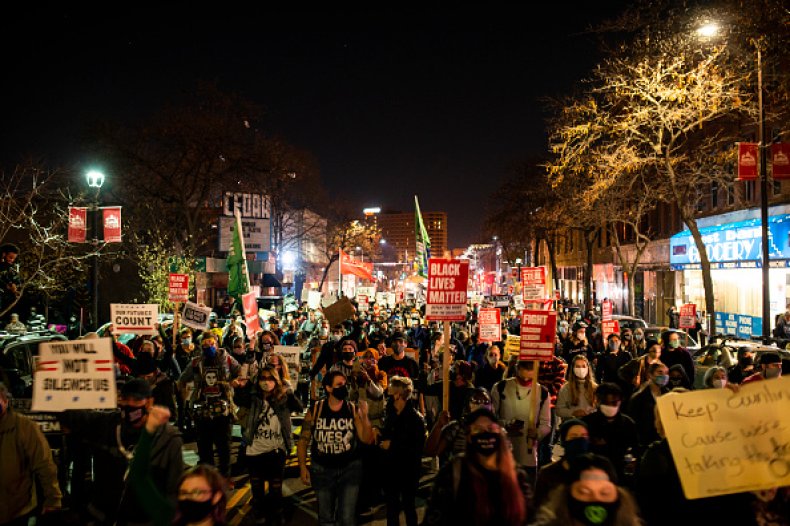 Grover Hogan, a protester who attended the march, told Newsweek that while there were no chemicals deployed on demonstrators, many were trapped by walls of Minneapolis police and state troopers.
Meredith Aby, a member of Minnesota's Anti-War Committee, an activist group present at Wednesday's demonstration, also previously told Newsweek that protesters were being closed in on by officers.
"They wouldn't let us go forward. They wouldn't let us go back," Aby said.
Hogan, who was arrested, said officers were also disorganized in detaining protesters, many of whom were not read their rights.
"We wanted to make it known that every vote should count and that voter suppression will no longer be tolerated," Hogan said.
Trump has filed multiple lawsuits in several key battleground states in efforts to stop ballot counting as election results draw near.
While Minnesota and its 10 electoral votes have been widely called for Democratic nominee Joe Biden, Trump is hoping to win the tight races in Pennsylvania, Georgia, North Carolina, Arizona and Nevada.
Protesters across the nation marched in "Count Every Vote" demonstrations on Wednesday night, calling for ballots to continue being counted despite the president's messaging.
Newsweek reached out to the DPS for comment but did not hear back before publication.