More Than 600,000 People Sign Petition Demanding Hazard Pay for U.S. Postal Service Employees
As President Donald Trump rejects attempts to bail out the U.S. Postal Service, more than 600,000 people have signed a petition urging the government to provide additional hazard pay for postal workers amid the coronavirus outbreak.
The petition, which was launched on Change.org, notes that USPS workers are essential workers during pandemic but claims they have not been given proper protective equipment. The agency employs some 600,000 people across the country and is facing a significant budget shortfall, with the White House unwilling to provide significant relief.
"As we get deeper and deeper into this coronavirus epidemic, postal employees are being forced to work and do overtime upwards of 12 hours a day. As of this present time, there have been upwards of more than 40 confirmed cases of coronavirus within the United States Postal Service," the petition for hazard pay said.
The petition claimed that the USPS management had not "sent any supplies such as hand sanitizer or masks for employees' protection," but said that USPS Postmaster General Megan Brennan made a "vague" statement urging employees to follow guidelines laid out by the U.S. Centers for Disease Control and Prevention.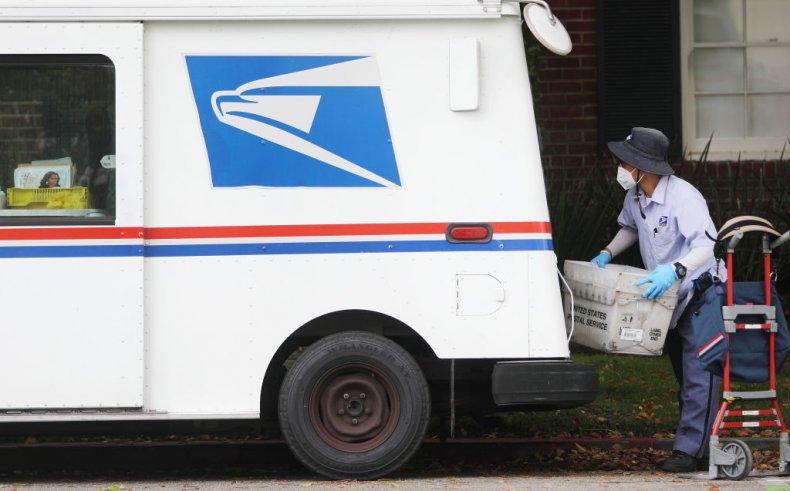 "We are demanding hazard pay for working during coronavirus. Considering we are essential during this epidemic we should at [least] be paid for it," the petition explained. "The union is no help to employees during this at all. They should be fighting for this hazard pay or threatening for another shutdown."
Dave Partenheimer, a spokesperson for the USPS, told Newsweek that the information in the petition "is very outdated and lots has changed since that petition was posted."
He said that USPS was "ensuring millions of masks, gloves and cleaning and sanitizing product are available and distributed to more than 30,000 locations every day through our Postal Service supply chain." He added that the USPS has "opened up local purchasing authorities and sourcing options so that our employees can access additional supplies within the communities they serve."
The spokesperson said cleaning policies have been updated and workplace behaviors have been reinforced "to ensure that contact among our employees and with our customers reflects the best guidance regarding healthy interactions, social distancing, and risk minimization."
"The Postal Service has a dedicated Coronavirus Disease 2019 (COVID-19) Command Response leadership team that is focusing on employee and customer safety in conjunction with operational and business continuity during this unprecedented epidemic," Partenheimer said.
As part of the $2.2 trillion economic stimulus package passed in March, Congress tried to provide the USPS with a $13 billion grant that would not need to be repaid. But the White House made clear to lawmakers that the president would not sign the legislation if the funds were included, according to The Washington Post.
Instead, Senators Gary Peters (D-Michigan) and Ron Johnson (R-Wisconsin) were able to add a $10 billion loan for the USPS to the package, which garnered Trump's approval. However, the $10 billion is awaiting approval from the Treasury Department. Currently, the USPS projects that it will lose billions of dollars per month as the pandemic continues.
"We now estimate that the COVID-19 pandemic will increase the Postal Service's net operating loss by more than $22 billion over the next eighteen months, and by over $54 billion over the longer term, threatening our ability to operate," Brennan said in an April 10 statement.
According to the Post's report, which was published this past Saturday, at least 19 USPS workers have died of COVID-19, the disease caused by the coronavirus. Additionally, nearly 500 of the agency's workers have tested positive for the virus, while more than 400 others are suspected to have contracted it.
In addition, over 6,000 USPS workers are in self-quarantine because they were exposed to someone with the virus.