More Than 70 Women 'Marry' Trees to Save Them From Being Chopped Down
In an effort to raise awareness around building plans in Bristol, England, more than 70 women "married" trees that were on the proposed site.
According to BBC, organizers said they were worried about the effects that building 166 apartments would have on the land in Bristol.
The "brides" donned dresses from a variety of cultures as the ceremony took place.
"To get married to a tree is an absolute privilege," Suzan Hackett, a campaigner and "bride," told BBC. "It's not just a sentimental gesture, it is highly significant and symbolic. Trees are pure examples of unconditional love, which fits in so beautifully with the whole idea of marriage. Marriage is for life, breathing is for life."
Event organizer Siobhan Kierans said she hoped the ceremony conveys that "trees are our partners for life," which, as she told Newsweek, was the phrase that inspired her to create the event.
Kierans said the goal was "to publicize the plight of the last green space on the Harbourside."
She went on and suggested that many empty buildings could be repurposed for the living spaces.
Kierans also told Newsweek the organizers were inspired by the Chipko movement in India. An article published in Right Livelihood explained that women mobilized in the 1970s to confront loggers in a non-violent movement. Their goal was to protect India's forests when there was an increase in deforestation for commerce. Protesters hugged trees to protect them from the loggers, which led to the name of the movement.
Bristol City Council declined to comment to BBC because the planning application is currently being reviewed, and did not respond to a request for comment from Newsweek at press time.
"It was done as an act of love because we appreciate trees so deeply," Kierans told Newsweek. "Women were inspired to come on the day [and] murmur their vows to the trees."
BBC noted that the planning application is for 166 homes, including 66 social and affordable housing units.
Professor of regenerative medicine at Bristol Veterinary School John Tarlton served as the best man at the event. He told BBC that once the planning application is approved, it will be too late.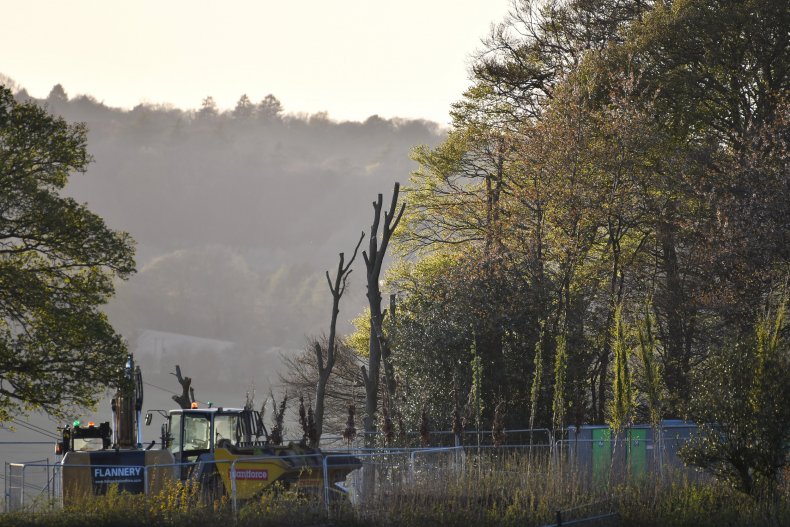 "Nobody is going to reverse that decision. That's it, the trees will go and there is very little we can do about it," he said. "We cannot afford to lose these 74 trees. It is an enormous number of mature trees and in a part of Bristol that needs them most."
According to a post in Save Baltic Wharf Trees, the Facebook group created for the event, the park is the only green space on the harborside.
"Instead of cherishing this refuge for its importance to wildlife and people, Council developers are planning to squander this vital ecological link by building high density, high rise flats, with the loss of 74 mature trees," the group's description reads.
Kierans shared a link to the group on Monday that outlined England's National Planning Policy Framework, pointing to the 131st paragraph, which stated "trees make an important contribution to the character and quality of urban environments, and can also help mitigate and adapt to climate change."
"Planning policies and decisions should ensure that new streets are tree-lined, that opportunities are taken to incorporate trees elsewhere in developments, that appropriate measures are in place to secure the long-term maintenance of newly-planted trees and that existing trees are retained wherever possible," the paragraph read.
Updated 09/08/2021, 3:46 p.m. ET: This story has been updated with statements from Siobhan Kierans.