More Than 7,000 U.S.-bound Hondurans Return to Home Country, Government Says
More than 7,000 Hondurans who had been making their way toward the U.S. border voluntarily returned to their country, Honduran officials reported.
A statement released by the Honduran government on Wednesday stated that a total of 7,029 Honduran migrants had returned to their country, mainly through Mexico and Guatemala.
It was unclear when exactly the Honduran nationals returned—or whether they had been traveling with the caravan of thousands of other Central American migrants headed toward the U.S.-Mexico border to claim asylum in the U.S.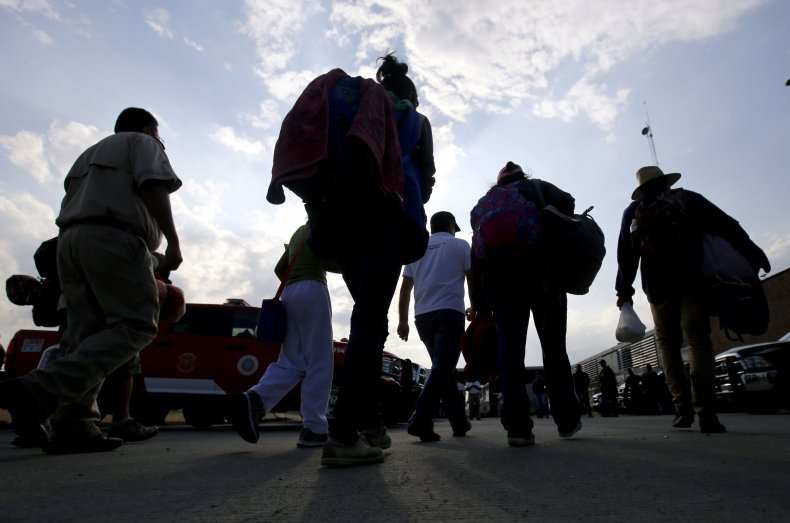 The government's statement warned of the Trump administration's recent policy change on asylum, asserting that those who were caught trying to cross into the country illegally would no longer be eligible for asylum.
The new policy, which took effect on Saturday, was part of the Trump administration's border crackdown in anticipation of the arrival of thousands of migrants traveling with the caravans.
In addition to instituting the new policy, the Trump administration had deployed thousands of military troops to the southern border, with soldiers spending recent days installing barriers and barbed wire at the San Ysidro port of entry in San Diego, where migrants were expected to make their asylum claims.
To address what it called an "emergency" at the U.S.-Mexico border, the government said it planned to install a mobile consulate in Mexico's Baja California Sur, which is just south of Baja, California.
It said it would be taking the measure to ensure that the human rights of Hondurans were respected and to ensure that their asylum applications were processed properly.
In recent days, around 400 migrants traveling with a caravan group that began its journey from San Pedro Sula, Honduras, on October 13, had reportedly started to arrive in Tijuana.
That number included around 80 LGBT migrants that Newsweek reported earlier this week had split with the caravan in Mexico City after allegedly facing discrimination from its members.
The LGBT members had planned to stay in Tijuana for several days in accommodations rented through Airbnb, before making their asylum claims at the border.
Thousands more Central American migrants were expected to arrive at the border in coming days, with border patrol officers and troops awaiting their arrival.
The Honduran government did not immediately respond to Newsweek's request for comment.