More Than 750 Protesters Arrested in Portland Since Protests Began 100 Days Ago
Law enforcement officers have arrested more than 750 protesters in Portland, Oregon, since the near-nightly demonstrations began 100 days ago.
Friday marks the 100th day of protests in the city since May 28, when two demonstrations occurred in front of the downtown Multnomah County Justice Center. They mirrored the protests that erupted up around the world in the wake of George Floyd's death on May 25 while in Minneapolis police custody.
Police kept their distance from protesters on that first night of demonstrations, The Oregonian reported. But more than three months have passed since then, and the situation in Portland has changed drastically.
An exact number of arrests is difficult to determine because of the number of different agencies assisting with the protests. In addition to the Portland Police Bureau (PPB), officers with the Oregon State Police (OSP), the Multnomah County Sheriff's Office (MCSO) and federal agents have all made arrests.
In an email to Newsweek, OSP Captain Timothy Fox said a total of 781 people have been arrested as a result of the protests, according to statistics gathered by a federal analysis.
Many of those people have been arrested multiple times, the analysis shows. Fox said he did not know when the study was conducted, as he was recently provided the numbers. Newsweek contacted Fox for OSP's specific arrest numbers but did not hear back in time for publication.
A timeline of events provided by the PPB shows that 675 people were arrested at protests from May 29 through August 31. It is unclear whether these tallies include people arrested only by PPB officers or if the bureau's numbers reflect those arrested by all the agencies involved.
Newsweek contacted the PPB for clarification but did not hear back in time for publication.
An MCSO database shows 53 protest arrests where the first or second arresting officer was an MCSO deputy, MCSO spokesman Chris Liedle wrote in an email to Newsweek. Liedle noted, however, that these arrests are conducted in a "mutual aid capacity" and are therefore "likely already figured into the numbers being publicized by PPB."
In the days following August 31, where the PPB timeline ends, local media reports suggest that at least five additional protesters were arrested.
Demonstrations occurring in the city Tuesday remained "relatively quiet," news station KOIN reported. But protests the next night resulted in the arrests of three people, a PPB press release said. Dozens of people marched again in Portland on Thursday night, resulting in two arrests, according to KOIN.
Portland Mayor Ted Wheeler told reporters Thursday that the city is preparing for possible weekend demonstrations and that he's concerned they could turn violent. "What we do not need is groups confronting each other violently. But we will be prepared for it," he said.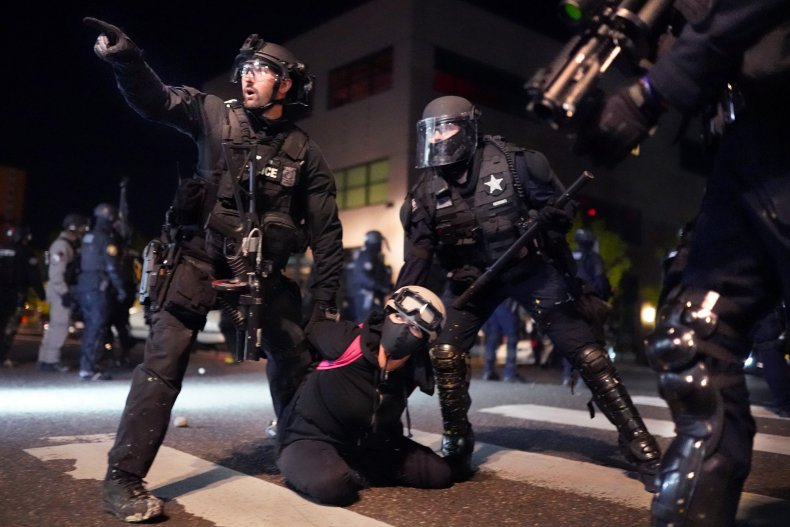 Since the PPB began its timeline on May 29, protests have occurred in Portland on at least 88 of the past 99 days. Hundreds have gathered, often in front of the Justice Center, to continue protesting systemic racism and police brutality.
There were only 19 documented days without incident in the city between May 29 and August 31, according to the PPB timeline. Riots were declared on 25 days. There were 54 days in which protesters lit fires, 67 days with reported acts of vandalism and 70 days where projectiles were thrown.
One man was shot and killed during a protest Saturday night, in which a caravan of President Donald Trump supporters clashed with counterprotesters in the city. Another man was violently assaulted August 16, with video footage showing a group of protesters chasing down the truck driver after his vehicle crashed and beating him.
The Department of Homeland Security (DHS) deployed Immigration and Customs Enforcement, U.S. Marshals Service and Customs and Border Protection agents to Portland over the July 4 weekend. The move was reportedly done to protect federal buildings from protesters, but it has since been heavily criticized following reports that agents used excessive force and other controversial tactics, including refusing to wear name badges and forcing demonstrators into unmarked vehicles.
Acting DHS Chief Chad Wolf said during a July 29 press conference that the federal officers had arrested at least 94 people since they arrived. Local media reports said the agents began pulling out of the city one day later, on July 30.
Wolf sent Wheeler a letter this week urging the Democratic mayor to "request federal assistance to restore law and order" in the city.
Wheeler's "inaction" has created an environment that has "fueled senseless violence and destruction night after night," Wolf wrote in the letter, dated August 31. Since July 31, one day after federal agents left Portland, "there have been 255 arrests made by local law enforcement," he added.
Wheeler maintains that he will do everything he can to stop the violence. "I absolutely, unequivocally, 100 percent condemn the violence, and I will do everything I can in my power to both de-escalate the situation and hold those accountable who are engaged in acts of violence and criminal destruction," he said Thursday.
Instead of requesting federal help, Oregon Governor Kate Brown responded to the uptick in arrests and violence by releasing a "Unified Law Enforcement Plan" this past Sunday night. The plan includes the various agencies within the state that might assist with the PPB during the ongoing protests, including OSP troopers and MCSO deputies.
Earlier this summer, U.S. marshals had cross-deputized some OSP troopers helping with the protests, effectively giving them power to arrest someone for a federal crime and then hand over the case to a federal prosecutor instead of a state prosecutor, KOIN reported Tuesday.
The governor requested that the Clackamas and Washington County sheriff's offices (CCSO, WCSO) and the city of Gresham Police Department support the PPB with personnel and resources. But all three said Brown's announcement caught them by surprise.
Both the CCSO and WCSO declined to send members of their staff into Portland, KOIN reported. Gresham Police Chief Robin Sells said that the department has "no plans at this time to assist with protests or crowd management in Portland."
CCSO Sheriff Craig Roberts' resistance, in part, had to do with Multnomah County District Attorney Mike Schmidt, who announced August 11 that his office would decline to prosecute protesters arrested on nonviolent misdemeanor charges.
"If we leverage the full force of the criminal justice system on individuals who are peacefully protesting and demanding to be heard, we will cause irreparable harm to them individually and to our society," Schmidt said in a statement.
The move angered many, who claimed that it fails to hold people accountable and could perpetuate violence in the city by allowing those accused of criminal acts to be let back on the street.
"It doesn't sit well by me," Wheeler said Thursday, "that the police make an arrest, somebody's processed in the jails, they're not held in, they're right back on the streets."
But Wheeler acknowledged that Schmidt told the mayor he would look at each case individually, and "that's the answer [Wheeler] wanted to hear."
PPB Chief Chuck Lovell had responded to Schmidt's announcement by saying that the new policy didn't change the law, and that PPB officers will continue to hold accountable any protesters who commit violent acts or intentionally damage property.
Lovell has called repeatedly for an end to violence in the city, reminding Portland residents after the August 31 riot that "the nightly violence is coming at increased cost."
"It is not only that occupied buildings are being targeted. Gun violence is skyrocketing. Emergency calls for service are not being answered," Lovell said in a statement Tuesday. "This is impacting the safety of our entire city, and urgent action is needed. Our elected officials need to do their part to draw a line in the sand and to hold people accountable. The violent behavior must end."