More Than 80% Of Americans Want Undocumented Immigrants To Have The 'Chance To Become U.S. Citizens'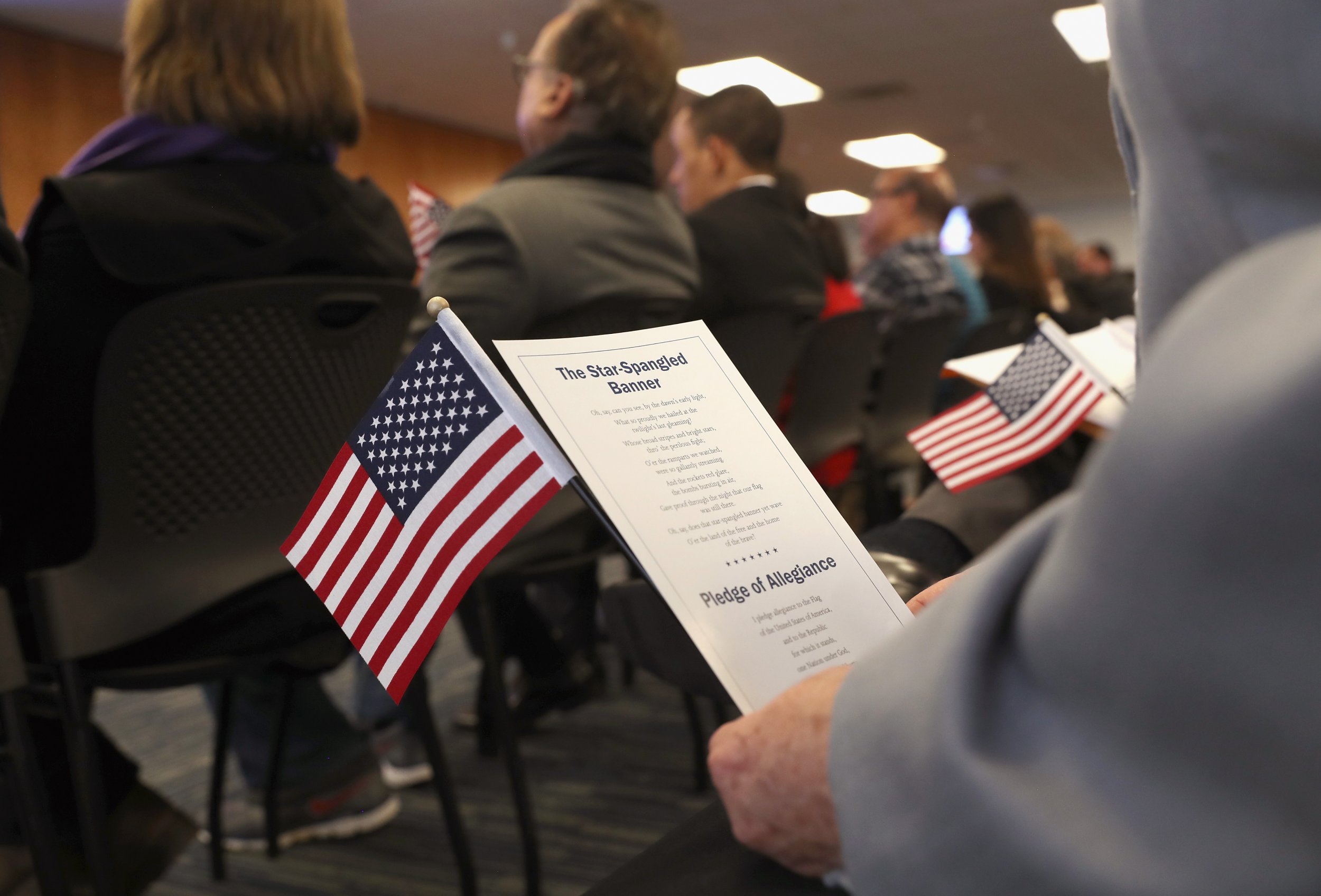 The vast majority of Americans want undocumented immigrants in the country to be given "the chance to become U.S. citizens" if they meet certain requirements over a period of time, a new poll has found. The poll, conducted by Gallup, found that at least 81 percent of Americans would like to see immigrants provided with a path to citizenship.
While that number may come as a surprise to some, it represents a three percent drop from 2016, the year President Donald Trump was elected, when roughly 84 percent of Americans expressed support for a path to citizenship for undocumented immigrants.
The Gallup poll, which saw a random sample of 1,022 people surveyed between January 21 and 27, also found a drop in the number of Americans against deporting undocumented immigrants back to their home country, with 61 percent of citizens saying they opposed deportations, compared with 66 percent in 2016.
In addition to the majority of Americans wanting immigrants to receive the chance to become U.S. citizens, most people also said that they are still opposed to Trump's proposal of building a border wall between the U.S. and Mexico.
With the majority of Americans wanting immigrants to be given the chance to become U.S. citizens, most also said that they are opposed to the construction of Trump's long-promised border wall between the U.S. and Mexico.
Sixty percent of Americans polled said that they oppose Trump's plan, marking a rise from June 2018, when 57 percent of people said they were against the idea. Meanwhile, 40 percent of people said they were in favor of the president's border wall bid, marking a small decrease from June 2018, when 41 percent of people said they supported the proposal.
While Americans were largely opposed to Trump's wall, the majority were in favor of increasing border security through the hiring of "significantly more" Border Patrol agents.
The survey's findings come as Trump and congressmembers on both sides of the aisle work to avoid another government shutdown in the wake of the recent record-breaking 35-day shutdown over funding for Trump's border wall.
The U.S. leader has suggested that he is prepared to declare a national emergency in mid-February, the deadline for funding talks, if Democrats do not agree to give him the $5.7 billion he has demanded for the construction of his border wall.
"As a House-Senate conference committee begins discussions on resolving the fight over immigration spending and Trump's border wall, there is little question of where public sentiment stands on such key issues as expanding border walls, treatment of immigrants already in the U.S. illegally and increasing the number of border patrol agents," former USA Today polling editor Jim Norman wrote of Gallup's findings.
Norman said that at this point, "most of the cards…seem to be in the hands of the Democratic negotiators, fresh off their victory over Trump on the government shutdown faceoff.
"The public is solidly against the expansion of the border walls and remains sympathetic toward immigrants in the country illegally. Both of these views seem to match previous Democratic proposals at a time when Republicans are unable to agree on how to handle immigration. Therefore, it is not hard to envision an outcome that will please far more Democrats than Republicans."