More than 80 guns have been stolen from cargo trains in the Lincoln Heights rail yards since August, according to the Los Angeles Police Department and the Bureau of Alcohol, Tobacco, Firearms, and Explosives.
Five people have been arrested on various charges relating to the theft of 82 guns, but officials have been able to recover only a handful.
​​"I've got 24 years in LAPD, ex-military, secret clearance and I have to wait 10 days to get a new firearm and these guys are going into these containers with no locks and getting guns," Capt. German Hurtado told the Los Angeles Times. "These guns were unguarded, unprotected. God knows how many guns have been stolen that way."
Authorities suspect that a gang from Eastside Los Angeles is responsible for the thefts.
"This is bigger than we thought," Hurtado said. "​​They aren't just stealing shoes and stuff. This is an organized crime to the level they are stealing guns."
Although they are among the most dangerous items taken from the trains over the past few months, guns are just some of the cargo that has been reported as stolen.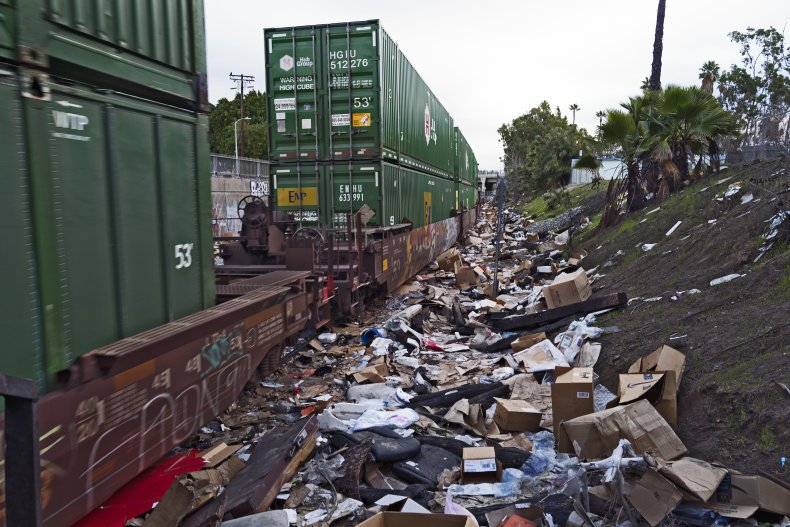 Lincoln Heights received national attention this month due to the hundreds of empty containers lining the railway, prompting a local and national outcry.
"We need strict accountability measures to stop these thefts, and we need them now," City Councilman Kevin de León said. "​​The families I represent have enough to worry about with gang violence, air pollution, and a high cost of living; they shouldn't have to worry about dangerous firearms flowing from federal railways into their neighborhoods."
When asked to comment last week by the Times, Union Pacific declined to address the gun thefts.
"We can tell you that, like all railroads, we carry a variety of goods and commodities, and we work closely with our customers, state and federal regulators and others to ensure the safety and security of all the commodities that we transport," a Union Pacific spokesperson said in an email.
"​​We need the support of our law enforcement partners, especially their expertise and investigative skills in addressing the rise of organized criminals targeting our trains in L.A."
Newsweek has reached out to the Union Pacific Railroad Police for comment.