More than 9 Million People Have Already Voted in 2020 Election—Six Times More Than at the Same Time in 2016
The 2020 election could see record voter turnout and with just three weeks left of the campaign, six times more voters have cast ballots than they did at the same time in 2016.
Since 2004, there's been a steady increase in the number of people who cast their ballots before Election Day, and 2020 is shaping up to be no exception. Amid the COVID-19 pandemic, states have increased availability for mail-in ballots and extended early voting to give voters more opportunities to cast ballots.
As of Sunday, 9.3 million votes had been cast in the 2020 election, compared to 1.4 million in 2016, according to the U.S. Elections Project. In five states—Minnesota, South Dakota, Vermont, Virginia, Wisconsin—early voting has already surpassed their total 2016 vote by 20 percent or more.
Since Sunday, the U.S. Elections Project recorded 1.4 million more ballots had been cast and in nine states that report early ballots with party registration, Democrats have a greater ballot return rate. Compared with the 11.8 percent of requested ballots that Democrats returned, only 8.4 percent of Republicans have done the same.
With three weeks to Election Day, 7.8 percent of the total votes counted in the 2016 general election have been cast.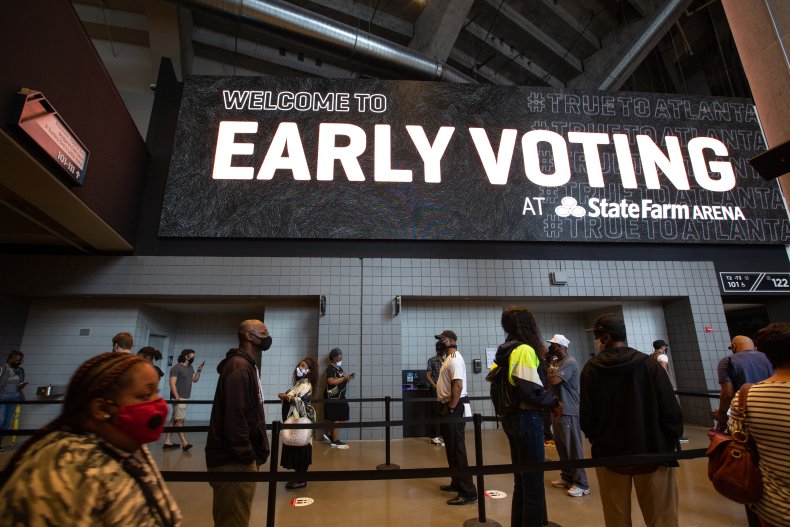 From 2004 to 2016, the U.S. Election Assistance Commission found the percentage of early voters more than doubled, going from 10.2 million ballots to 24.1 million. Absentee ballots also doubled and mail-in voting, which the EAC began tracking in 2008, tripled from 2.4 million to 8.2 million in 2016.
The new coronavirus pandemic has placed mail-in voting center stage. For some, it's a necessary measure to keep people safe and ensure that those who are most vulnerable can have their voices heard during the election. President Donald Trump, on the other hand, sees widespread mail-in voting as a means of sacrificing the safety of the election.
Trump, who casts an absentee ballot, drew distinctions between people filling out ballots they requested and everyone receiving a ballot in their mailbox. One method, absentee, is entirely proper, according to Trump, while the other will lead to widespread fraud. Several states already have universal mail-in voting and studies have yet to find it leads to an increase in election fraud. However, the 2020 election cycle has been littered with complications, giving ammo to Trump's claims of chaos.
In New York, results from the primary election took more than six weeks and thousands were disqualified. Four people in New Jersey, including Paterson Councilman Michael Jackson and Councilman-elect Alex Mendez, were charged with voting fraud related to the municipal election. Pennsylvania and California also experienced issues as well.
Voters who lean toward former Vice President Joe Biden are 42 percent more likely than Trump supporters to say they'll vote by mail in the 2020 election, a Pew Research poll found. Compared to 40 percent of Trump supporters, 55 percent of Biden's voters said they would vote in person ahead of Election Day, as well.
While Biden has the lead on Trump for early voting, Trump supporters are more than twice as likely to vote in person on Election Day, the poll found. The president urged his supporters to go to the polls as a test of the mail-in voting system and to "watch very carefully" as they cast their ballot.
Coming off 2016, when voter turnout hit a 20-year low, officials are looking toward a potential record percentage of voters casting ballots this year. But, it's possible a candidate won't be able to declare victory on November 3 or November 4 due to the extensive mail-in ballots that are cast. Some experts are also warning that litigation could further delay results.