More Than 90 Percent of People with HIV Diagnoses in New York City Receive Treatment, Mayor Says
Once an epicenter for HIV transmission in the United States, New York City reported Monday that more than 90 percent of HIV-positive residents are diagnosed and undergoing treatment.
Nationally, only 85 percent of the more than 1 million Americans with HIV are aware they're sick, according to the Centers for Disease Control and Prevention (CDC). As of 2015, 73 percent received treatment and only 60 percent achieved suppression of the virus.
New York City, the country's largest city, is home to the biggest HIV population, according to local health officials. But last year, new cases in the city dropped to less than 2,000 for the first time since annual reporting began almost twenty years ago, according to a Monday press release from Mayor Bill de Blasio's office.
"It is an international moment here that we're having," said Demetre Daskalakis, the city's deputy health commissioner for disease control, in an interview with Newsweek. "The city with the largest population of HIV has just demonstrated that with good policy, good programs and effective health care, you can control the epidemic," he continued.
It's the first U.S. city to reach the 90 percent threshold for diagnosis, treatment and suppression outlined in the global "Fast-Track Cities" initiative, according to the mayor's office. Since 2014, more than 300 municipalities have signed the 2020 challenge: 90 percent of people living with HIV will know their status; 90 percent of people with diagnoses will receive proper therapy; and 90 of percent those undergoing therapy will achieve viral suppression.
In fact, New York City is the only American city with more than 1 million residents that can tout these statistics, according to city-level data reviewed by Newsweek. Though San Francisco reported record-low HIV infections in 2017, only 74 percent had the virus under control, according to the San Francisco AIDS Foundation. More than 90 percent of people there began treatment after their diagnosis.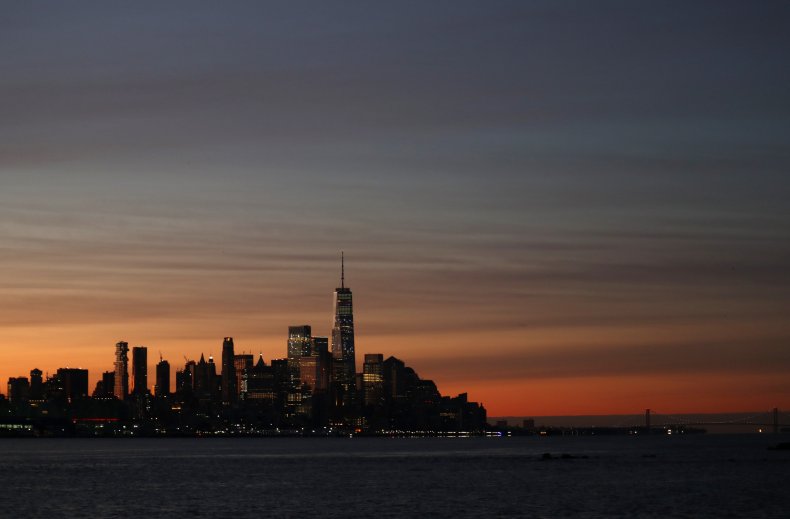 Over 2,800 New Yorkers passed away from HIV in 2001, compared to 402 in 2017, according to the city's annual surveillance reports. Since the start of the epidemic, more than 100,000 have died, according to city officials.
Today, more than 125,000 residents are living with the virus—up about 17 percent from a decade prior—but new HIV diagnoses have decreased in nearly every demographic group measured since 2001, according to the city's surveillance.
Behind New York's success: a coordinated web of treatment that typically starts with a citywide testing program. Since its conception in 2014, the city has provided more than 2.5 million HIV tests through community health centers, hospitals, colleges, businesses and churches, according to Monday's announcement.
If someone tests positive, he or she is assigned a case manager and a physician. More often than not, the necessary medication is covered by private insurance, Medicaid, or New York state's AIDS Drug Assistance Program (ADAP), according to Raul Perea-Henze, the deputy mayor of health and human services.
"If someone tests positive, we can immediately connect them to a continuum of services. And that's where the success is," he said in an interview.
It helps that, in 2010, New York amended its HIV testing law to require that providers offer tests to people 13 years or older as a routine part of health care, according to the city's department of health. In 2014, lawmakers also eliminated a requirement for written consent to conduct an HIV test.
Even with a record number of New Yorkers receiving treatment, according to de Blasio, certain communities remain very difficult to reach, Perea-Henze said.
Black and Latino or Hispanic residents comprised more than three quarters of total HIV diagnoses in 2017, according to city surveillance. Among males, black men who have sex with men were the most at-risk for HIV transmission, while black women who have heterosexual sex were the most susceptible among females.