More Americans Believe Joe Biden 'Very Responsible' for Capitol Riot Than Mike Pence: Poll
More Americans believe that President Joe Biden is "very responsible" for the January 6 U.S. Capitol riot than former Vice President Mike Pence, according to a new poll.
A poll released by Politico/Morning Consult on Tuesday found that 13 percent of respondents believed that Biden was very responsible, while only 8 percent said the same of Pence. Biden was deemed "somewhat responsible" by 11 percent. Another 18 percent said that Pence bore some responsibility. A 52 percent majority believed that former President Donald Trump was very responsible, with 12 percent saying that he was somewhat responsible.
Responses to the poll varied significantly depending on party affiliation. While 89 percent of Democrats said that Trump was at least somewhat responsible for the Capitol breach, 27 percent of Republicans agreed. Conversely, 45 percent of Republicans blamed Biden to some extent, compared to only 11 percent of Democrats. A slightly less striking partisan difference was seen for Pence, with 37 percent of Democrats and 14 percent of Republicans agreeing that the former vice president was at least partly responsible.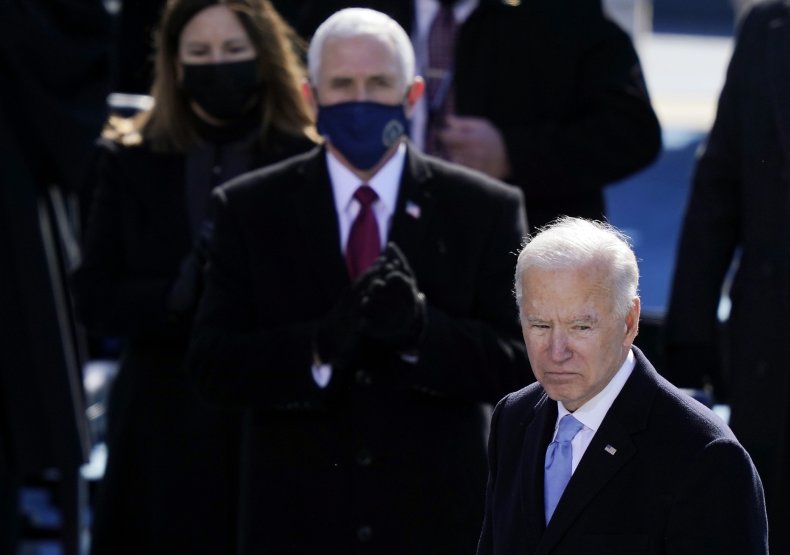 Nearly half of all Republicans, 49 percent, insisted that Trump was "not at all responsible" for the violent riot, while another 18 percent said that he was "not too responsible." Another 7 percent offered no opinion. Trump was impeached for allegedly inciting the insurrection by the House on January 13, becoming the only president in U.S. history to be impeached twice.
The former president was acquitted at the conclusion of a Senate trial on Saturday, with a 57 vote majority in favor of his conviction falling short of the required 67 vote supermajority. The 7 out of 50 GOP senators who voted to convict Trump falls roughly in line with the 14 percent of Republicans in the general population who, according to the poll, believed that he was very responsible for the insurrection.
The poll was conducted online among 1,984 registered voters between February 14 and February 15. It has a margin of error of 2 percent.
Both Biden and Pence were both decidedly unpopular figures for many Trump supporters at the time of the deadly breach of the Capitol. Many of those who took part in the riot believed false claims that Biden had "stolen" the election from Trump as part of a conspiracy involving massive voter fraud. Pence fell out of favor for refusing to help flip the election's outcome while Congress met to certify the results, something that he could not legally do. A group of rioters were heard chanting "hang Mike Pence" while entering the building.
Newsweek reached out to the White House for comment.