Almost 50% of Americans Say Donald Trump Will Go Down in History as 'Poor' or 'Below Average' President, Poll Finds
Most Americans don't think history will look too kindly upon President Donald Trump, according to a new poll.
The latest The Economist/YouGov survey asked 1,500 U.S. adults how they thought Trump would be remembered. Poll participants were asked to choose from the options "outstanding," "above average," "average," "below average" or "poor."
The largest share of respondents—40 percent—said they Trump will be described in the history books as a "poor" commander-in-chief. Another 9 percent of those polled said that Trump would go down as a "below average" president.
When it came to positive reviews of the 45th president, 22 percent of those polled said he would be described as an "outstanding" leader. Another 12 percent said Trump was "above average"
Less than 10 percent of those polled took the middle ground. Eight percent of U.S. adults said Trump would be described as an "average" president.
The Economist/YouGov poll was conducted via web-based interviews between December 22 and December 24. The margin of error for the poll was plus or minus 3 percentage points.
The survey period took place just days after Trump was impeached by the House of Representatives. On December 18, the chamber approved two articles of impeachment against him: abuse of power and obstruction of Congress. Trump is just the third president in history to be impeached, the others being Bill Clinton in 1998 and Andrew Johnson in 1868.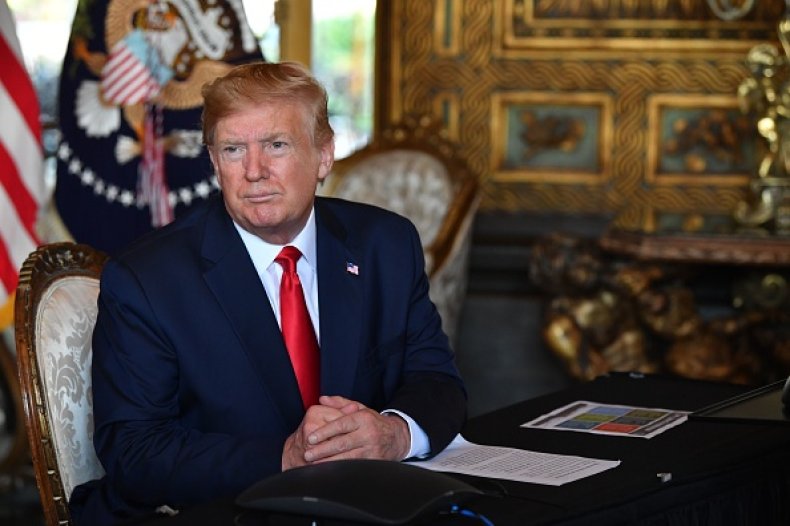 According to The Economist/YouGov survey, most Americans approved of the House's decision to impeach Trump. Nearly 50 percent of those polled "somewhat approve" or "strongly approve" of impeachment. Forty-one percent "somewhat disapprove" or "strongly disapprove."
Plus, Trump could be impeached for a second time. House Democrats said they are open to the idea on Monday. House Counsel Douglas Letter said in a court filing that a second impeachment could be necessary if lawmakers discover new evidence that Trump tried to interfere with probes into his conduct.
The president will face a trial in the Senate early in 2020. The exact date is not yet set and the proceedings have stalled as House Speaker Nancy Pelosi has refused to send the articles of impeachment to the Senate until Majority Leader Mitch McConnell sets out terms agreeable to the House for the trial. Democrats have pushed for the Senate to call witnesses to testify, which McConnell has deemed unnecessary. "We know how it's going to end," he said in a December 13 interview on Fox News.
Trump complained over the weekend that the holdup was "unfair" and argued that Democrats were violating the Constitution. He also accused Pelosi of "breaking all the rules" and appeared to suggest she could lose control of the House in the next election cycle.
A slight plurality of Americans think that Trump should be convicted and removed in the Senate trial, according to the Economist/YouGov poll. Forty-four percent of U.S. adults polled said Trump should be removed, compared with the 41 percent who said he should not be removed from office.