U.S. Is Winning War on Terror, More Americans Say Than at Any Point in Last 8 Years: Poll
More Americans today believe that the United States is winning the War on Terror than at any other point over the past eight years, a new poll has found.
A recent Rasmussen Reports survey, conducted days before the 17th anniversary of the 9/11 attacks on the World Trade Center, Pentagon and in Pennsylvania on September 11, 2001, showed that 56 percent of likely U.S. voters think that America is winning the War on Terror. Only 12 percent think that terrorist organizations currently have the upper hand.
Declared by the George W. Bush administration after 9/11, the War on Terror has involved spending trillions of dollars and deploying hundreds of thousands of troops in order to stop the growth of terrorist organizations like al-Qaeda and later the Islamic State group (ISIS.) The effort has lasted 11 years longer than World War II.
The poll also found that 47 percent of voters think that the country is safer today than it was before the 9/11 terrorist attacks. That number shows a significant spike from November 2017, when only 31 percent thought of the United States was safer than it was 16 years earlier.
One-in-three Americans said that the country is not safer than it was before 9/11, according to the poll, which is a decrease from two years ago when 60 percent of voters felt the country was more dangerous. According to Rasmussen, it's the lowest level of worry the nation has experienced since December 2012.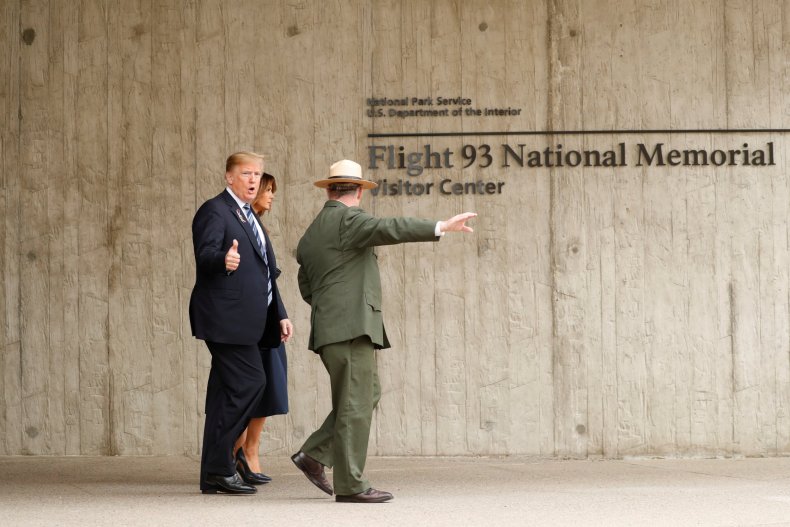 However, another survey recently conducted by The Hill and HarrisX polling company indicated that anxiety surrounding the events of 9/11 still looms large for many Americans. According to the poll, more than four-in-10 Americans say "too little" is being done to prevent another 9/11-style attack. Only 12 percent of those polled say that the government is doing "more than enough" to prevent a similar attack.
President Donald Trump recognized the 17th anniversary of 9/11 with a round of tweets, which began with praising his personal attorney Rudy Giuliani for his handling of the terrorist attack as the then-mayor of New York City.
"Rudy Giuliani did a GREAT job as Mayor of NYC during the period of September 11th. His leadership, bravery and skill must never be forgotten. Rudy is a TRUE WARRIOR!" Trump wrote on Tuesday morning.
Later in the day he tweeted: "17 years since September 11th!"
The president also made remarks at a Flight 93 September 11 Memorial Service in Shanksville, Pennsylvania, alongside first lady Melania Trump.
"This field now is a monument to American defiance," Trump said at the service, which took place near where one aircraft crashed on its way to Washington D.C. on 9/11 after passengers fought back against the attackers. "This memorial is now a message to the world: America will never, ever submit to tyranny."