More Americans See China as a Major Threat as Coronavirus Outbreak Continues
Americans across the political spectrum have shown an increasingly negative view of China as the coronavirus pandemic continues, with 62 percent of respondents in a new poll saying the Asian nation's power and influence are "a major threat."
A new survey from the Pew Research Center published Tuesday reveals that two-thirds (66 percent) of Americans now have an unfavorable view of China. Meanwhile, only 26 percent of Americans have a favorable view of the country. That's the highest level of unfavorability since the nonpartisan think tank began polling American sentiments toward China in 2005.
That's also a nearly 20-point rise in unfavorability since President Donald Trump took office in 2017. It's also 6 points higher than when the survey was conducted last year, when 60 percent of Americans viewed China negatively. The number of those viewing the Asian country positively remained the same over the past year but has declined dramatically from 44 percent at the beginning of Trump's term.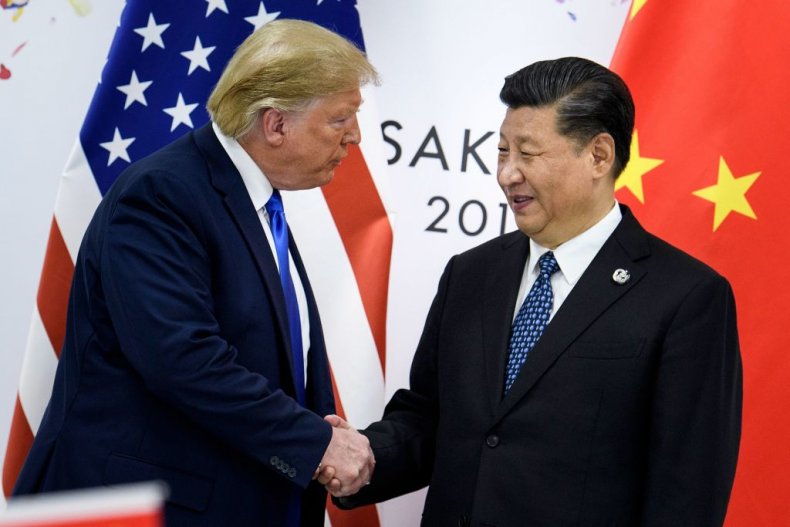 Trump repeatedly criticized China and U.S. policy toward the Asian nation during his 2016 presidential campaign. In 2018, the president launched an ongoing trade war with China that had been headed toward a resolution before the spread of the coronavirus pandemic within the U.S.
While Republicans and those who lean Republican are more likely to view China unfavorably, the majority of Democrats and those who lean Democrat also have an unfavorable view of the country. According to the Pew Research data, 72 percent of Republicans view China negatively, and 62 percent of Democrats do as well.
"Economic factors, such as job losses to China and the trade deficit, remain key concerns for the American public," Pew Research noted in an analysis of the new survey data. "But other issues—including Chinese human rights policies and environmental degradation—also worry Americans."
The trend observed by Pew Research aligns with separate polling conducted by Gallup. The Washington, D.C.-based analytics company's data, which was gathered in February, showed that 67 percent of Americans had an unfavorable view of China. Thirty-three percent of those respondents had a favorable view.
In addition, the number of Americans viewing China negatively jumped 10 points from when the Gallup survey was conducted in 2019. It was a nearly 20-point jump from 2017, when just 48 percent of respondents viewed China unfavorably.
As the pandemic has spread rapidly in the U.S., both Democrats and Republicans have criticized China for its lack of transparency as the crisis unfolded. Lawmakers have also warned that China appears to be trying to use its soft power to build global influence during the pandemic by providing medical supplies and support to a number of countries, including the U.S.