More Americans Trust James Comey Than President Trump, New Poll Finds
Americans find fired FBI Director James Comey "more believable" than President Donald Trump, a new poll on Friday revealed.
By a 16 percent margin, 48 to 32 percent, Americans trust the former FBI director, according to an ABC News-Washington Post poll. The poll was conducted April 8 to 11.
In the same survey, 47 percent of those surveyed "disapprove[d] of Trump's decision to fire Comey" last May.
In his forthcoming book, A Higher Loyalty—set to be released on Tuesday and already making headlines—former FBI Director Comey details his involvement with the Hillary Clinton email investigation and the events surrounding his firing.
Comey blasts Trump, chiding him as "unethical, and untethered to truth and institutional values.
At the same time, the ABC News-Washington Post poll also found Comey's standing and favorability "weak." Thirty percent view him favorably, 32 percent unfavorably and 38 percent had no opinion.
The poll also looked at the public's support for special counsel Robert Mueller, who has "majority support" regarding his investigation into alleged ties between Trump's 2016 campaign and Russia. As Mueller's probe widens, the special counsel is also looking to see if Trump obstructed justice in firing Comey. Trump has vehemently denied this.
Trump has said that the FBI's investigation into Clinton's emails was the reason for Comey's firing. He also alleged that Comey "lied and leaked" to protect Clinton.
The poll randomly surveyed 1,002 adults across the nation. The results had a sampling error of 3.5 points.
Comey, who is currently on a media blitz, is set to give his first interview since his firing with ABC News chief anchor George Stephanopoulos on Sunday. The interview is being billed as a "must watch." A teaser shows Comey being asked by Stephanopoulos, "How strange is it for you to sit here and compare the President to a mob boss?"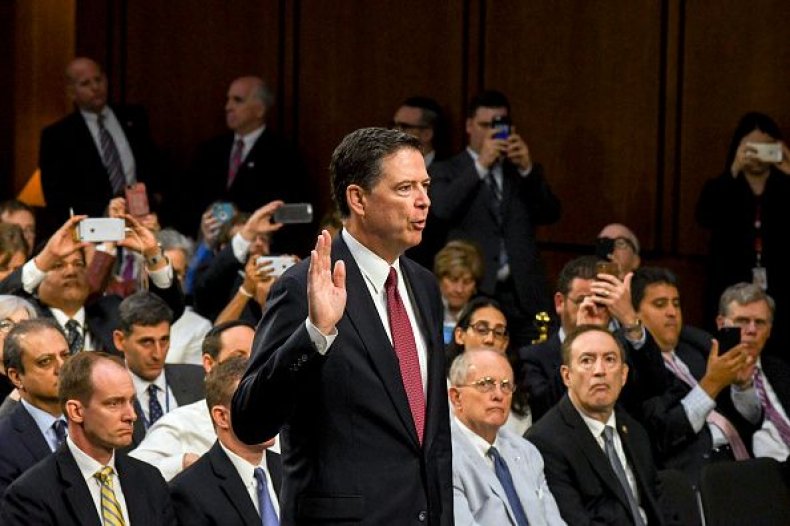 On Friday, Trump fired back in a series of tweets, calling Comey "a proven LEAKER & LIAR."
In another tweet, Trump declared, "It was my great honor to fire James Comey!"
More Americans Trust James Comey Than President Trump, New Poll Finds | U.S.