More Americans would blame Russia's Vladimir Putin than President Joe Biden if gas prices rise, according to a new survey.
The Politico/Morning Consult poll, released Wednesday, showed that 76 percent of Americans say Putin would be responsible if prices at the pump increase because of Russia's escalating conflict with Ukraine. That compares with 58 percent who said Biden would bear responsibility.
The findings come as experts and global leaders warn that the crisis between the two nations could very well strain the energy market, as Russia is one of the world's largest producers of oil and natural gas. Biden pledged to use "every tool" available to his administration to alleviate a spike in pump prices after he announced a first wave of economic sanctions against Russia's biggest banks and oligarchs.
Prices for a single barrel of oil have already been inching toward $100, the highest amount in roughly eight years. The national average for a gallon of gas as of Wednesday was $3.535—an increase of nearly $1 from a year ago—according to AAA.
"Since the price of a barrel of oil accounts for about 50 percent of what we pay at the pump here, the higher the cost of oil, the more expensive gasoline is for American drivers," Andrew Gross, a spokesman for AAA, told Newsweek on Wednesday.
Many states are already experiencing prices higher than the national average. In California and Hawaii, the price of a gallon of gas has surpassed $4.
"Will the rest of the country follow suit? It's really hard to tell," Gross said. "We just don't know. There's only one person who knows how this is gonna play out, and that's Putin."
The Biden administration's "first tranche" of sanctions came in response to Putin's decision to recognize two separatist regions in eastern Ukraine as independent and sent tanks rolling into both areas.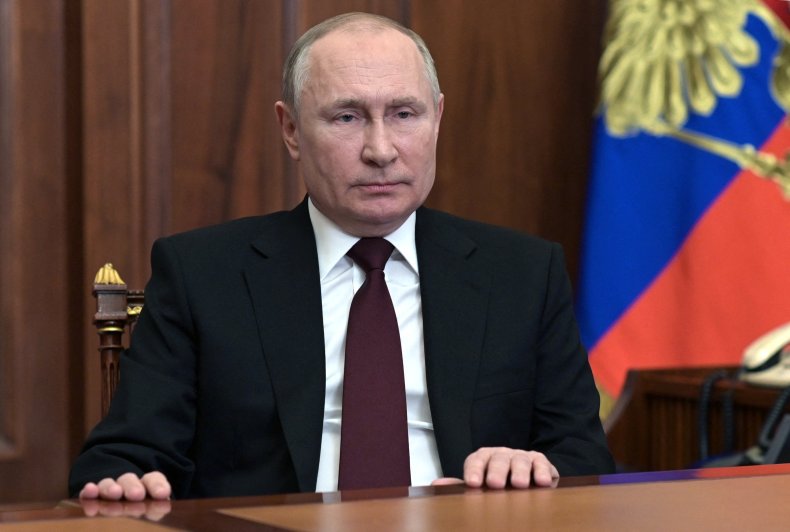 "As I said last week, defending freedom will have costs, for us as well and here at home," Biden said during a Tuesday address from the White House. "We need to be honest about that. But as we do this, I'm going to take robust action to make sure the pain of our sanctions is targeted at the Russian economy, not ours."
Biden added that it's also an administration priority to "limit the pain the American people are feeling at the gas pump."
The Kremlin, meanwhile, said it will have a "strong" response to the U.S. sanctions, which it called "counterproductive" to American interests.
Most Americans, nearly 7 in 10 respondents, said they'd support a federal gas tax holiday as one way to alleviate the financial stress of rising gas prices. The proposal has support from a majority of Republicans, Democrats and independents.
Politico/Morning Consult polled 2,005 registered voters between February 19 and 21. The poll's margin of error is plus or minus 2 percentage points.