More Californians Want to Keep Gavin Newsom as Governor Than Recall, Poll Shows
More Californians want to keep Governor Gavin Newsom in office rather than recall him, according to a new poll.
The poll, which was conducted by Nexstar Media Group for Emerson College Polling, found 42 percent of residents in the state saying that they'd vote to keep Newsom as governor amid the effort to recall him.
On the other hand, 38 percent said they'd vote to recall him, 13.9 percent said they are currently undecided and 6.1 percent said they would not vote.
The poll surveyed 1,000 adults across California from March 12 to March 14 and reported a margin of error of plus or minus 3 percentage points.
Across political parties, the poll found less than 12 percent of Democrats saying they'd vote to recall as well as 86.2 percent of Republicans and 39.4 percent of independents.
Democrats were much more likely to say they'd vote to keep Newsom, as 65.6 percent said so, while only 6.3 percent of Republicans agreed.
The poll also found that 26.6 percent of respondents said they are "extremely interested" in the recall efforts. 17.4 percent said they are "very interested," 23.1 percent said "moderately interested," 13.3 percent said "only a little interested" and 19.7 percent said they are "not at all interested."
The poll's finding comes as the recall effort against Newsom has continued to gain support. According to the petition's website, RecallGavin2020, the recall effort has garnered more than 2 million signatures as of March 10.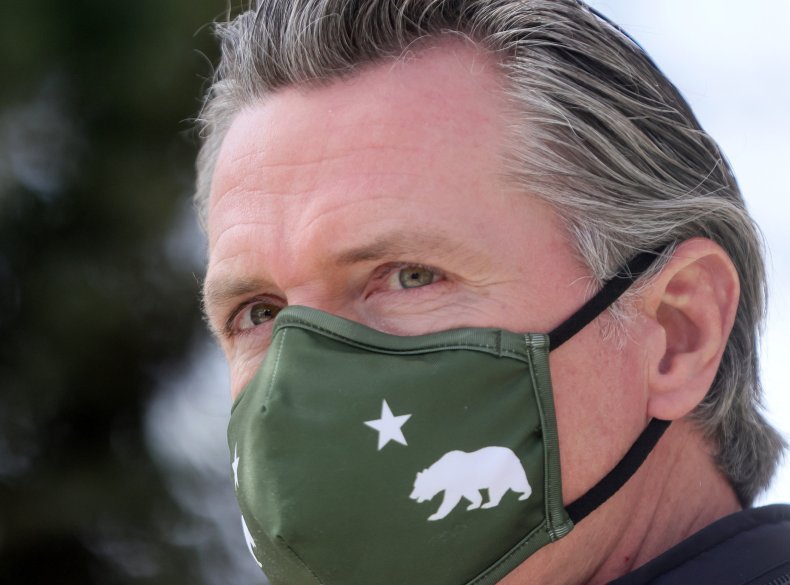 Of these signatures, 1,871,573 have been verified internally through a third-party vendor and 1,800,000 signatures have been turned into 58 different county registrar of voter offices.
"1,497,000 valid signatures are needed to force a special recall election per California Election Code," the recall effort wrote in a recent statement.
In response to the ongoing recall effort, Newsom announced a political committee asking supporters to oppose the recall.
"I won't be distracted by this partisan, Republican recall—but I will fight it. There is too much at stake," Newsom wrote in a tweet announcing the committee. "Getting Californians vaccinated, our economy safely reopened, and our kids back in school are simply too important to risk."
When reached for comment about the poll's results, Dan Newman, a consultant for Newsom's planned 2022 election campaign, told Newsweek via email that "Unsurprisingly, it shows the recall is supported at the same levels and by the same people who voted for Trump in 2020 and John Cox against Governor Newsom in 2018."
"That's because the Republican recall is driven by the same small partisan gang of Trump-supporting Republicans," Newman's email said.
Randy Economy, a spokesperson for the recall effort, told Newsweek that "like we've said in the past, polls aren't going to dictate the campaign, it's the people of California but I think these poll numbers are a dramatic shift, with regards to what we've seen in the past."
"I think this proves that Gavin Newsom is in for the political fight of his life," Economy said.