As new COVID-19 cases continue to uptick amid the spread of the Delta variant, a number of cities nationwide are reinstating mask mandates in indoor settings. But efforts to curb the spread of the virus could have an impact on local restaurants.
Restaurant owners and staff in some cities again have to make sure customers and staff are wearing masks and vaccinated.
In New Orleans, proof of vaccination and face masks will be required for customers to use indoor settings. The city announced that a vaccination card or a recent negative Covid-19 test will be needed for entry.
The new mandate for New Orleans is set to go into effect August 16.
Scot Craig, co-owner of Francesca by Katie's restaurant, told Newsweek that the vaccination requirement is better than going back to previous phases when restaurants had to reduce their capacity.
He said that his restaurant is now able to cater around 80 percent of a normal capacity of 155 customers and that 95 percent of his staff are fully vaccinated.
"I am not sure if [the vaccination requirement] can be good, but I am hoping that people can see it as a safer place," Craig said. "I think that people need to get vaccinated. It's not for the mere fact that it's destroying businesses but that people are dying."
He added that the restaurant will not let in anyone who refuses to show vaccination proof or/and wear a face mask.
Craig is not sure yet about how his restaurant will validate the vaccination cards, but he said that an extra host will stand at the restaurant door to check the cards through the Louisiana Wallet app. The app also shows an individual's driver license, ID, COVID status and vaccination status.
This week, concert promoter AEC said it will apply a vaccine mandate at all its upcoming shows. The company promotes the New Orleans Jazz & Heritage Festival, which was canceled again for the second year in a row with soaring COVID-19 cases in Louisiana.
The state has one of the lowest vaccination rates in the U.S. Only about 38 percent are fully inoculated.
Late last month, the mask mandate was reinstated in Kansas City, Missouri, spreading discomfort among business owners and staff who now have to avoid being reported in case of not complying with the mandate while again grappling with potentially losing customers who refuse to wear face masks or show vaccination proof.
In the Kansas City area, customers are required to show vaccination proofs to enter some bars, according to the Kansas City Star.
Some businesses are applying mandates differently with Hamburger Mary's and Woody's KC co-owner Jeff Edmundson requiring all customers to be vaccinated.
For Edmundson, reducing capacity is not an option. "I'd rather lose the people who are going to fight us about mask mandates and vaccinations than to have to go down to 50 percent capacity," Edmundson told the Star.
Edmundson is at risk of losing his license if the restaurant doesn't comply with mandates. He told the paper that he has been reported twice before and cited once by the health department for not abiding by the first face mask mandate.
Owner of the Historic Lincoln Building at 18th and Vine, Henry Service puts it: If people are asked to wear a mask they "take it as a personal attack," the Star reported. "And so they react very poorly when you ask them to comply with the law."
He said that his staff will now have to deal with the customers who refuse to wear face masks.
For David Lopez, a general manager of Manny's Mexican Restaurant of Kansas City, the return of mask mandates means that staff and customers will be required to wear face masks which Lopez thinks "is a tough deal, because it feels like a step back," KSHB 41 News reported last month.
Around 90 percent of Manny's staff are fully vaccinated, according to KSHB 41. Despite his disappointment about the mask mandate, Lopez is relieved that the city COVID guidelines are not limiting capacity or distancing.
In San Francisco, business owners are dealing with a similar scenario, worrying about the impact of the indoor vaccine mandate which the city announced on Thursday for people to enter indoor venues such as restaurants, bars and performance venues. Around 53.8 percent of people in California are fully vaccinated.
The vaccination mandate will go into effect in San Francisco on August 20 and people still have to wear a mask regardless of their vaccination status to enter bars, restaurants, clubs, gyms and large indoor events.
Restaurant co-owner of Il Casaro Pizzeria Francesco Covucci told KRON4 that he is worried that city officials were unclear about how to validate a vaccine card.
But, the city's order gave guidance to business owners and provided a list of approved private apps that the can use to verify vaccination status.
Laurie Thomas, an executive director at the Golden Gate Restaurant Association told Newsweek the association is currently sharing all of the information about the new health order.
She said the association reached out to reservation providers to make sure people are now aware of what they will encounter when they come to San Francisco to dine starting August 20 to avoid any potential conflicts with restaurants.
Thomas, who is also the owner and manager of Terzo and Rose's Cafe in San Francisco, said she will be meeting with her teams to change the reservations' language.
She said she wants to make it clear to customers "when [they] make a reservation that says 'proof of vaccination will be required for dining or eating inside' that [they] are welcome to book an outdoor table [instead]."
Thomas didn't reveal exactly how San Francisco restaurants will apply the vaccination mandate, but she said some of the viable options include having staff at the door, table, or bar who would check vaccination proof through an ID or an app before providing services.
In terms of vaccination card validity, Thomas believes that restaurants shouldn't have to verify vaccination proof.
"That's not our job. Our job is to try to make sure that we're encouraging everybody to be vaccinated, I mean we're not the police," she said.
Health officials said that staff will be required to get the COVID-19 vaccines starting October 13, according to the news outlet.
Newsweek contacted the Missouri Restaurant Association for comments but didn't receive a response by the time of publication.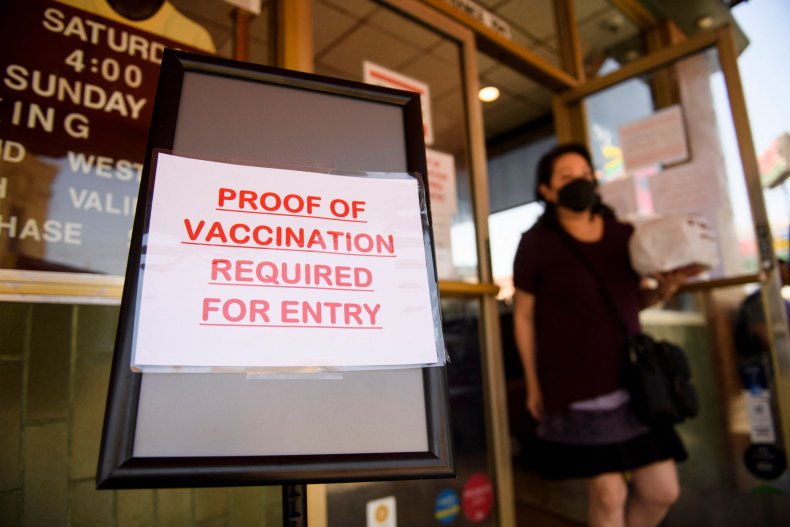 Updated 08/13/2021, 6:46 p.m. ET: This story has been updated with a statement from Laurie Thomas, an executive director at the Golden Gate Restaurant Association.