At least a dozen ATM machines exploded in Philadelphia Monday night, local news outlets reported on Tuesday morning.
One of the more recent explosions occurred around 6 a.m. ET and led to a 24-year-old man's death from injuries suffered in the blast, according to Fox 29's "Good Day Philadelphia." Updates shared to the public safety application Citizen, which compiles information from 911 calls, cited comments from police that said two half sticks of dynamite were identified near the machine.
At 7:30 a.m., it was unclear if the man killed had attempted to rob the ATM himself. Philadelphia police requested assistance from the department's bomb squad as they worked to evaluate the incident, according to the safety app's latest update.
Newsweek reached out to the Philadelphia Police Department for more information about ATM vandalisms overnight but did not hear back before publication.
Philadelphia residents who witnessed ATM machines explode in their neighborhoods posted photos and videos of the incidents to Twitter on Tuesday. One video showed a small group of people crowd around a machine before scattering while it explodes, returning a few seconds later. Police told local broadcaster ABC 6 that individuals responsible for the crimes destroyed ATMs with explosives in order to steal cash stored inside. Authorities said most incidents targeted machines located at convenience stores and marketplaces, according to the outlet.
ATM break-ins were reported amid demonstrations taking place in Philadelphia, and throughout the United States, to protest the death of Minneapolis resident George Floyd on May 25. His death in police custody during an arrest was captured on video and prompted a week of rallies condemning police brutality, some of which led to looting, destruction of property and injuries.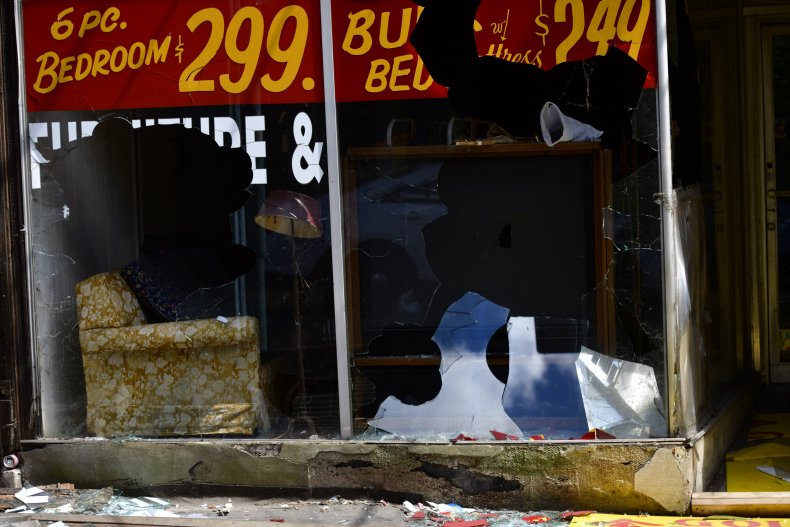 In many cases, law enforcement's response to protesters has included tear gas, stun grenades and rubber bullets to disperse crowds. An altercation between demonstrators and police in Louisville, Kentucky, early Monday morning resulted in a man's death after law enforcement personnel shot at a group that was protesting after imposition of a city curfew.
According to information from the Philadelphia Police Department shared Monday on Twitter, multiple assaults, firearm violations and burglaries were reported during demonstrations that took place on Saturday night. As in other U.S. cities where crimes were reported during demonstrations, city officials imposed a curfew, from 6 p.m. Monday through 6 a.m. Tuesday, to discourage citizens from gathering.
Philadelphia police said Monday night that anyone violating the curfew's terms, outside of essential workers, would be subject to penalties, including arrest and citation.