More Than a Dozen Cable Cars Plummet to the Ground in Canada, Police Suspect Lines Intentionally Cut
More than a dozen cable cars plummeted to the ground in British Columbia after the lines holding them aloft were cut.
The incident occurred early Saturday morning at Sea to Sky Gondola, a tourist attraction in Squamish, about 30 miles from Vancouver. Royal Canadian Mounted Police believe the cables were intentionally severed in an act of vandalism and are launching a criminal investigation.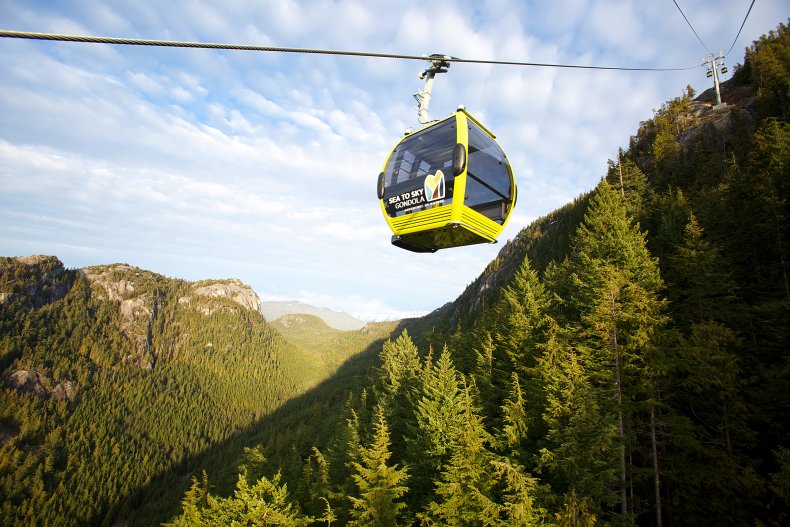 "We recognize the potential of what could have been and are thankful that no one was injured," Ashley MacKay of the Squamish RCMP told reporters at a press conference. "We are currently assessing the damage but our preliminary assessment suggests that a cable was cut."
The ride was closed at the time of the incident. Employees noticed the cars were on the ground when they arrived to work on Saturday morning. The police were immediately called and the area cordoned off.
"The entire gondola has been affected—there are 31 gondolas and approximately half of them are on the ground," Inspector Kara Triance told reporters. "At this time the location is a crime scene, and we need to make sure it's safe."
In addition to the perpetrators, police are also looking for climbers, hikers and campers who might have been in the area between 4am and 9am on Saturday morning for potential leads. Nearby trails may have been used to access the cable line, according to the police, who have closed three trails that go under the gondola route.
To access the cables, the perpetrator could have hiked underneath the gondola and climbed up one of the maintenance poles, which have ladders attached,
"They put themselves in extreme jeopardy," Triance told CBC News. "Not only the nature of the action of climbing up that pole and being in that position ... but also the velocity at which the cable would unravel at that point," she added.
The cars at Sea to Sky Gondola hold eight passengers each, with a trip typically lasting ten minutes.
It's unclear when the ride will resume normal operations: A notice on the website indicates, "the Sea to Sky Gondola is CLOSED for the foreseeable future due to a major lift incident."