Jared Kushner Says Florida Ex-Felons Are Part of 'the New Coalition That President Trump Is Building'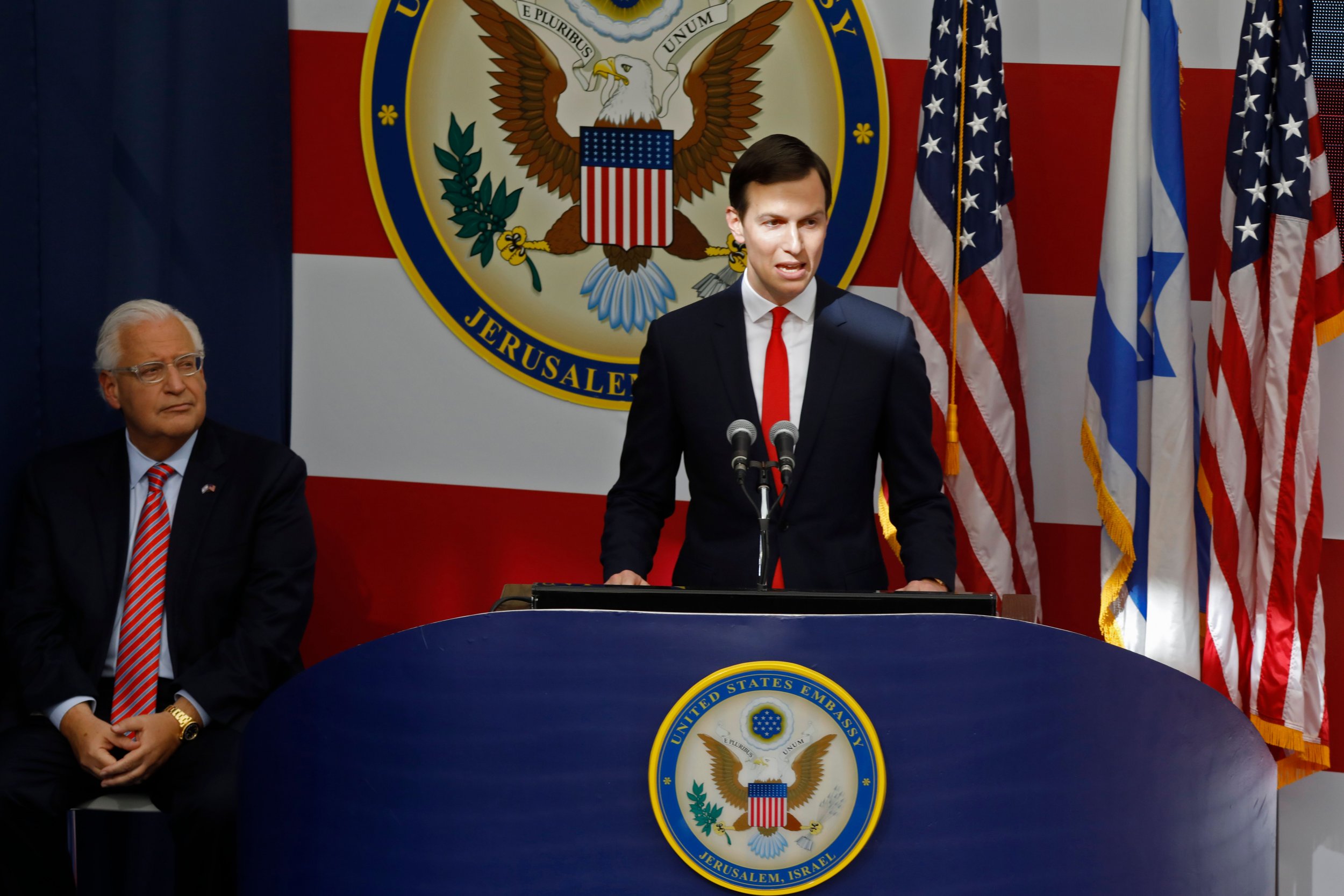 White House senior adviser Jared Kushner told Fox News that more ex-felons in Florida have registered as Republicans than those who are Democrats.
In a wide-ranging interview with host Laura Ingraham, President Donald Trump's son-in-law expressed his satisfaction at seeing the passage last year of the bipartisan criminal justice reform bill, called the First Step Act, which aims to reduce recidivism and help convicted felons reintegrate into society.
Ahead of the interview, a clip was played of an event hosted Monday at the White House celebrating the legislation, which Ingraham described as a "personal mission" of Kushner's.
She asked him whether his focus on the legislation was borne out of his seeing his father incarcerated. In 2005, Charles Kushner spent 14 months in prison after he pleaded guilty to making illegal campaign contributions, tax evasion and witness tampering.
"Well, that was a big part, that was why I was exposed to the issue. My experience with my family situation was...I met a lot of good people, they just made a mistake, the toll that it weighed on them and on their families was very disproportionate."
Kushner said that the president had wanted to stop offenders from reoffending because "he thought it was good for public safety.... That is something he did because he had a big heart."
After discussing Trump's position on the southern border, and the country's steel production, the issue of the 2020 election came up.
When Ingraham asked Kushner about it, he said: "One statistic that I found very pleasing, is that in Florida, they passed a law where former felons can now vote. We have more ex-felons registered as Republicans than Democrats."
Ingraham interrupted him to say, "Woah, you have had more ex-felons register as Republicans than Democrats?"
Kushner replied: "That is the data that I have seen. I think that will surprise a lot of people when they see the new coalition that President Trump is building for what the Republican Party has the potential to be."
It is unclear where Kushner got his data. In 2018, Florida's state constitution was am sexual offense, upon completion of their sentences, including prison, parole and probation," NBC News reported. This brought it into line with most other states.
The Orlando Sentinel reported that 1.4 million nonviolent ex-felons had already registered to vote in Florida after the passage of Amendment 4, but that there political affiliation was unclear. Darryl Paulson, an emeritus professor of government at the University of South Florida and a member of the conservative Heritage Foundation, told the Sentinel, "People are going to be surprised that it's not going to be as Democratic as they thought it was going to be."
Kushner could have also been referring to an NBC report, which, citing the Florida Department of Elections, said there were 717 felons who had registered as Republicans in the state's 10 most populous counties.
Allison DeFoor from Florida State University, said that ex-felons "were statistically more likely to register as independents.
"The historical evidence suggests, there's not a lot of evidence, but it's all we've got, that it slightly favors Republicans among people who've fit this model in the past in Florida," DeFoor told the Sentinel.
Some social media users mocked Kushner's claim. One tweeted: "Trump's tagline for re-election: Felons vote for Trump. What exactly does Kushner mean by ex-felon? Perhaps he means ex-convict or former prisoner. BTW: Kushner's father is still a felon, even if his prison sentence is completed."
Tom Hasan tweeted: "I think Kushner meant "more felons in the White House are Republicans".
One tweeted: "We're gonna need a verifiable citation from Kush on that claim," while another quipped: "Republicans and felons go together like bread and butter. And he's pleased."