The ebb and flow of gun debates following high-profile shootings has seemingly become rote in the United States: Vocal outrage, offers of thoughts and prayers, public attention fizzles, no federal legislation passes. Then the next mass shooting and the cycle repeats.
But the sustained activism following the mass shooting at Marjory Stoneman Douglas High School in Parkland, Florida, appears different. The student survivors there immediately seized their newfound national stage to issue Congress a call to action on stricter gun regulations. Social media campaigns like #EnoughIsEnough and #NeverAgain quickly sprang up.
"This time is different," Isabelle James, the political director at the gun control group Giffords, told Newsweek on Wednesday.
"These students have inspired the nation to have a conversation about the safety of our kids in a way that it hasn't since Newtown," she said, referencing the mass shooting at Sandy Hook Elementary School in Newtown, Connecticut, on December 14, 2012.
James said part of what makes this wave of student activism unique is the frequency of gun violence they've been exposed to. "These kids are tragically in the school shooter generation," she said. "They grew up with active shooter drills."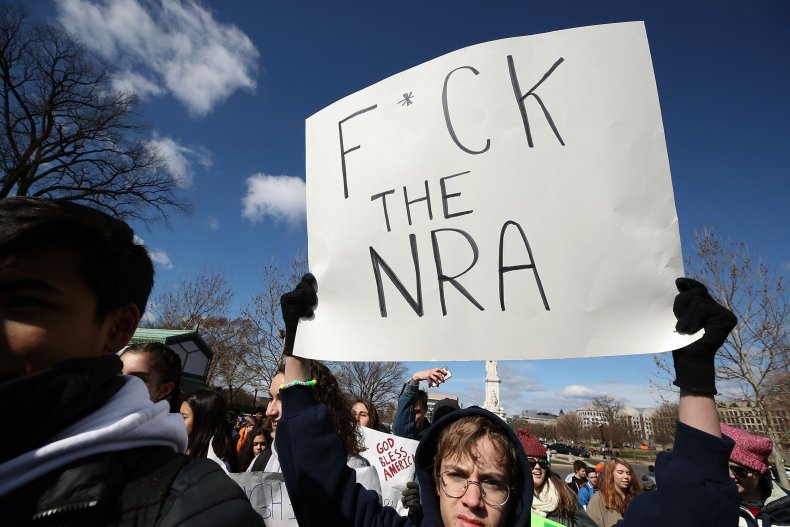 There has been a protracted push on gun control activism in the wake of the February 14 tragedy. The momentum spurred a CNN town hall one week after the shooting, which left 17 people dead and 14 wounded, putting Stoneman Douglas students on the same stage as Florida Senators Marco Rubio, a Republican, and Ted Deutch, a Democrat, and NRA spokeswoman Dana Loesch.
That day, President Donald Trump also hosted a listening session with survivors and parents of Stoneman Douglas students.
Two weeks after the shooting, the students got the opportunity to speak face-to-face with Department of Education Secretary Betsy DeVos when she visited on the first full day of classes since the tragedy.
On Tuesday, the eve of the Parkland shooting's one-month anniversary, the global advocacy group Avaaz placed 7,000 pairs of shoes on the lawn outside the Capitol Building to represent the number of children killed by gunfire since the Sandy Hook shooting.
The group, according to CNN, arrived at that figure using data from a 2017 American Academy of Pediatrics report that cited Centers for Disease Control and Prevention. The report found nearly 1,300 children are killed by gunfire in the U.S. every year.
The next day, students across the country walked out of their classrooms to protest gun violence. In Parkland, students staged a 17-minute walkout, one minute for each of the victims. At Cooper City High School, about a half-hour drive from Stoneman Douglas, students walked out and encircled 14 empty desks and three lecterns in remembrance of the students and faculty's lives taken nearby, WPLG reported. In South Brunswick, New Jersey, students cleared a path in the snow on the football field and placed 17 empty desks there in a circle.
Thousands of students nationwide held similar walkouts, some joined by elected officials. In New York, Governor Andrew Cuomo, a Democrat, participated in a "lie-in," also sometimes referred to as a "die-in" in Manhattan.
The national momentum over gun control appears to still be charging forward. Two more major demonstrations are slated to follow in the days and weeks ahead.
Stoneman Douglas survivors have organized the March for Our Lives rally on Saturday, March 24, when students and supporters will gather in Washington, D.C., to call for stricter gun legislation. The demonstration is scheduled to begin at noon and is permitted to host up to 500,000 people, according to The Washington Post.
With support from Everytown for Gun Safety, the country's largest gun violence prevention organization, hundreds of so-called "sibling marches" have also been arranged. At least 738 other marches are scheduled in cities around the world, including Hong Kong; Mumbai, India; and Buenos Aires, Argentina, according to the group's website as of Wednesday.
Then on April 20—the 19th anniversary of the Columbine High School shooting that left 13 people dead—activists have organized another school walkout.
The demonstration, called the National School Walkout, is to protest "congressional, state, and local failures to take action to prevent gun violence," according to its mission statement.
"In many states it's more difficult to register to vote than it is to buy a rifle. Apparently to some politicians, a vote is scarier than a gun," the statement continues. "We're changing that."
"We've seen kids walking out of schools, marching on the Capitol every day," James said. "This is a type of organic energy that we haven't seen ever or in a very long time."
"I think you're going to see this momentum continue all the way to election day," she added.
James added that Giffords has teamed up with Everytown for Gun Safety and the environmental advocacy group NextGen America to organize help to register young voters and pre-register 16- and 17-year-olds ahead of the 2018 midterms.