More Than Half of Americans Support NBA Strike, Poll Shows
The majority of Americans say they support NBA players who are striking in protest against the police shooting of Jacob Blake, a 29-year-old Black man in Kenosha, Wisconsin.
A new poll from YouGov found that 57 percent of Americans support the decision made by six NBA teams—the Milwaukee Bucks, the Orlando Magic, the Los Angeles Lakers, the Portland Trail Blazers, the Oklahoma City Thunder and the Houston Rockets—on Wednesday to not play in their scheduled NBA playoff games.
Twenty-eight percent of the 7,525 participants surveyed said they opposed the strike. Notably, the strike was overwhelmingly supported by Democrats, at 82 percent. Comparably, almost 70 percent of Republicans said they were against the move.
On Wednesday, the Milwaukee Bucks refused to step onto the court for what would have been Game 5 in their playoff series against the Orlando Magic. Other NBA teams scheduled to play that day also staged a walkout, with the Lakers and the Los Angeles Clippers pushing to end the season entirely.
"Over the last few days in our home state of Wisconsin, we've seen the horrendous video of Jacob Blake being shot in the back seven times by a police officer in Kenosha, and the additional shooting of protestors," the Bucks said in a statement. "Despite the overwhelming plea for change, there has been no action, so our focus today cannot be on basketball."
The team was supported by its owners, Marc Lasry, Wes Edens and Jamie Dinan, who released a joint statement on Wednesday saying they "wholeheartedly agreed" with the Bucks' strike.
"We fully support our players and the decision they made. Although we did not know beforehand, we would have wholeheartedly agreed with them," the statement read. "The only way to bring about change is to shine a light on the racial injustices that are happening in front of us. Our players have done that and we will continue to stand alongside them and demand accountability and change."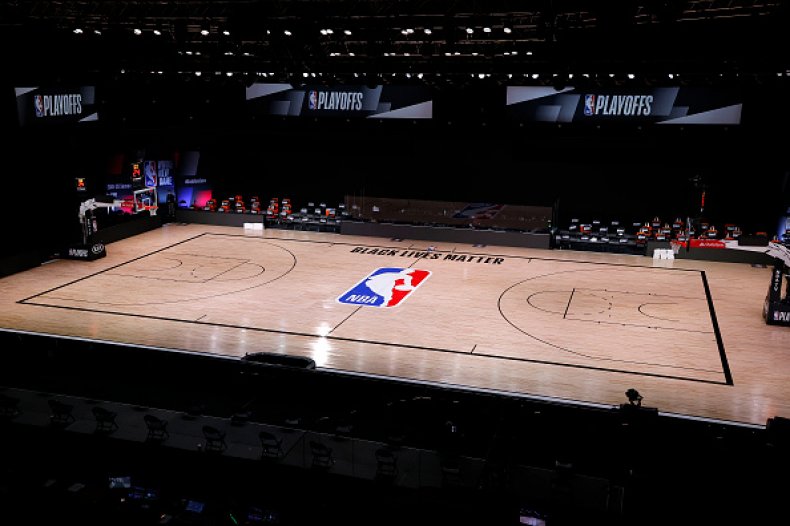 The same poll also found that 60 percent of Americans generally support professional athletes who publicly express their political opinions, while 30 percent of participants said they oppose these players' choices.
NFL player Colin Kaepernick first knelt during the national anthem in 2016 to protest racial injustice and police brutality in the U.S. Since then, a number of athletes have publicly supported the Black Lives Matter movement and joined Kaepernick in protest.
President Donald Trump has previously criticized these athletes. On Thursday, the president said that while he doesn't know much about the NBA protest, "their ratings have been very bad because I think a lot of people are a little tired of the NBA, frankly."
"They have become like a political organization, and that's not a good thing. That's not a good thing for sports or the country," he added.