More Than Half of Cosmetics Used in U.S. and Canada Contain Cancerous Chemicals, Study Shows
More than half of cosmetics products sold and used in the U.S. and Canada contain cancerous chemicals, according to a new study released by the University of Notre Dame.
The study, which was published in the journal of Environmental Science and Technology Letters, found numerous cosmetic products contain high levels of per- and polyfluoroalkyl substances (PFAS). The study states these substances, known as "forever chemicals" can be harmful to the environment and have also been linked to "kidney cancer, testicular cancer, hypertension, thyroid disease, low birth weight and immunotoxicity in children."
The study tested over 200 cosmetic products including concealers, foundations, eye and eyebrow products, and various lip products. The study looked at the levels of fluorine in each of the products, "which is an indicator of PFAS use in the product," a press release accompanying the study said.
According to the study, 52 percent of all products tested contained high levels of fluorine, including 55 percent of lip products, 62 percent of liquid lipstick, 63 percent of foundations (liquids and creams), 36 percent of concealers, 47 percent of mascara and 82 percent of waterproof mascara.
Fifty-eight percent of other eye products such as shadows, liners, creams, primers and pencils also contained high levels of fluorine, as well as 40 percent of other face products, including powders, blush, bronzers, highlighters, primers and sprays. The study did not name specific brands.
"These results are particularly concerning when you consider the risk of exposure to the consumer combined with the size and scale of a multibillion-dollar industry that provides these products to millions of consumers daily," said Graham Peaslee, physics professor at Notre Dame and principal investigator of the study.
"There's the individual risk—these are products that are applied around the eyes and mouth with the potential for absorption through the skin or at the tear duct, as well as possible inhalation or ingestion. PFAS is a persistent chemical—when it gets into the bloodstream, it stays there and accumulates. There's also the additional risk of environmental contamination associated with the manufacture and disposal of these products, which could affect many more people."
The study also noted they further tested 29 products that contained high levels of fluorine and discovered they contained between four and 13 specific PFAS. Only one of the products in this group listed the PFAS on the product's label, according to the study.
"Our measurements indicate widespread use of PFAS in these products—but it's important to note that the full extent of use of fluorinated chemicals in cosmetics is hard to estimate due to lack of strict labeling requirements in both countries," Peaslee said.
Newsweek reached out to the Food and Drug Administration for comment but did not receive a response in time for publication.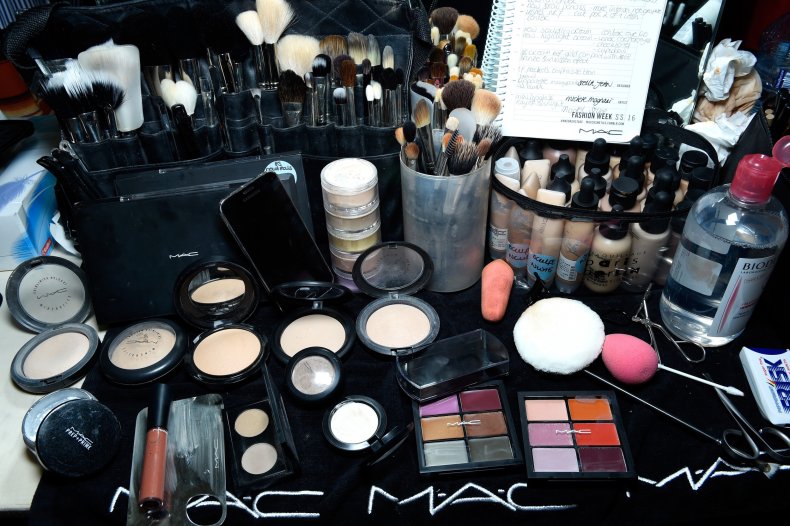 According to the Washington Post, on Tuesday, Senators Susan Collins (R-Maine) and Richard Blumenthal (D-Conn.) plan to introduce a new bill titled the No PFAS in Cosmetics Act.
"Our bill would require the FDA to ban the addition of PFAS to cosmetics products," Collins said in a statement according to the Post. "Americans should be able to trust that the products they are applying to their hair or skin are safe."
Collins wrote to Newsweek that, "Unfortunately, Maine has experienced considerable PFAS contamination, which has not only threatened our water supply, but adversely affected the livelihoods of farmers. In addition to these agricultural and water supply contaminations, we now also know that PFAS appear in products across the spectrum—including cosmetics."
In response to a request for comment, Blumenthal's office directed Newsweek to a recent press release in which he said, "This important legislation would purge poisonous PFAS chemicals lurking in makeup and cosmetics. Chemicals in cosmetics are currently almost completely unregulated, leaving many consumers and makeup wearers vulnerable to these toxic chemicals from everyday use of lipstick, mascara, and other products."
Updated 6/15/2021, 11:52 a.m. ET: This story has been updated to include comment from Senator Blumenthal.
Updated 6/15/2021, 12:02 p.m. ET: This story has been updated to include comment from Senator Collins.