More Than Half a Million Americans Have Tested Positive for Coronavirus
More than half a million people in the United States have tested positive for the novel coronavirus, while the death toll from COVID-19 is now just over 20,000, surpassing Italy's total for the largest number globally as of Saturday.
Since the outbreak began, there have been over 524,000 confirmed cases of coronavirus in the U.S., according to a tracker maintained by Johns Hopkins University. President Donald Trump warned that this week and potentially next will be particularly tough and it's possible--according to the most recent projections from the Institute for Health Metrics and Evaluation (IHME)--that 60,415 people could die from COVID-19 by August 4.
Every death is more than a statistic--it's a face, as New York Governor Andrew Cuomo phrased it, and 60,000 people is still a significant loss of life. But it's about half the number of deaths officials initially projected.
Dr. Deborah Birx, the Coronavirus Task Force coordinator, and Dr. Robert Redfield, director of the Centers for Disease Control and Prevention (CDC), said the revised numbers were a testament to the health care system and people following social distancing guidelines.
"I mean, this is a consequence of the commitment of the American people," Redfield said during Wednesday's press briefing. "What's been remarkable to watch here is how the American public has changed their behavior when it protects the vulnerable."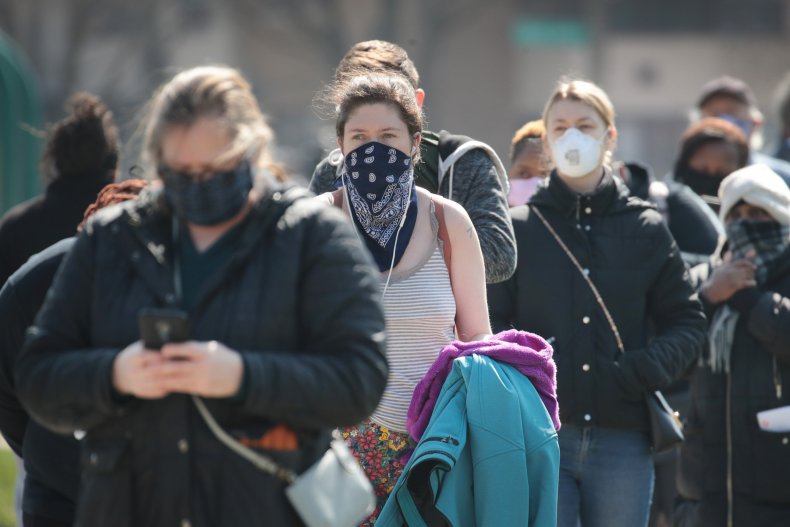 The outbreak has altered life for millions of people across the country. For many, ordinary activities such as going into an office or out to dinner have become a thing of the past. Families have been separated from each other and hugging a loved one seems like a foreign concept.
Human beings are inherently social creatures and people have started to grow frustrated with the "new normal." But officials are urging Americans to remain dedicated to social distancing measures in an effort to save lives.
"If every American continues to strictly adhere to social distancing guidelines, we can defeat the invisible enemy and save countless lives and we can do it much more quickly," Trump said on Wednesday. "At some point, that's going away. We'll be able to sit next to each other."
The virus has taken the largest toll on New York, where there have been more than 180,000 cases as of Saturday. The total number of COVID-19 deaths in that state currently stands at over 8,600.
"The good news is the curve of the increase is continuing to flatten," said New York Governor Andrew Cuomo during a press briefing Saturday. "The number of hospitalizations appears to have hit an apex and the apex appears to be a plateau which is what many of the models predicted, that it wasn't going to be straight up and straight down. It was going to be straight up, you time the top number and then you plateau for a period of time and that looks like what we are doing."
New York has had more than double the cases than China, where the outbreak originated, but officials have started to question if China's numbers are accurate. Since the outset, people questioned that country's ability to be transparent. However, the World Health Organization (WHO) has stood by China's response and praised their information sharing.
Florida Senator Rick Scott called for Congress to investigate WHO's role in "promoting misinformation and helping Communist China cover up a global pandemic." Arizona Senator Martha McSally claimed WHO Director-General Dr. Tedros Adhanom Ghebreyesus should resign over how the organization handled the outbreak.
"It's just irresponsible, it's unconscionable what they have done here while we have people dying across the globe," McSally told Fox Business.
Trump echoed similar criticism of the United Nations agency, writing on Twitter on April 7 that WHO "really blew it" and issued a "faulty recommendation" for countries to keep their borders open.
WHO told Newsweek it had "no comment" on Trump's tweet.
America's outbreak is expected to peak in April. Dr. Anthony Fauci, director of the National Institute for Allergy and Infectious Diseases, said getting back to "normal" life is dependent on the virus. Case and hospitalization trends signaled to Fauci that the country could be heading toward flattening the curve, but said people must be prepared to suppress the virus if it "starts to try and rear its ugly head."
Updated 7:41 PM ET