More Than Half a Million Health Care Workers Quit Their Jobs in August
More than half a million health care workers quit their jobs in August, according to a new report from the Labor Department.
The report, known as the Job Openings and Labor Turnover Survey, or JOLTS, showed that about 4.3 million Americans quit their jobs in August—the highest on record since December 2000.
About 534,000 health care workers quit their jobs in August, up from about 404,000 during the same month in 2020.
The numbers suggest health care workers handed in their resignations in droves—fueling ongoing concerns of staffing shortages—as the highly contagious Delta variant caused COVID-19 hospitalizations to soar across the U.S. over the summer.
Record-high numbers of Americans working in other public-facing roles also quit their jobs as coronavirus cases surged.
About 892,000 people quit their jobs in hotels, bars and restaurants, up about 21 percent from July and almost twice as many as in August 2020. Meanwhile, about 721,000 Americans quit retail jobs.
But in other industries such as manufacturing, construction, and transportation and warehousing, quits only slightly increased.
The number of Americans who quit their jobs was highest in the South and Midwest, the government said in a report on Friday. Those regions suffered the worst COVID-19 outbreaks in August.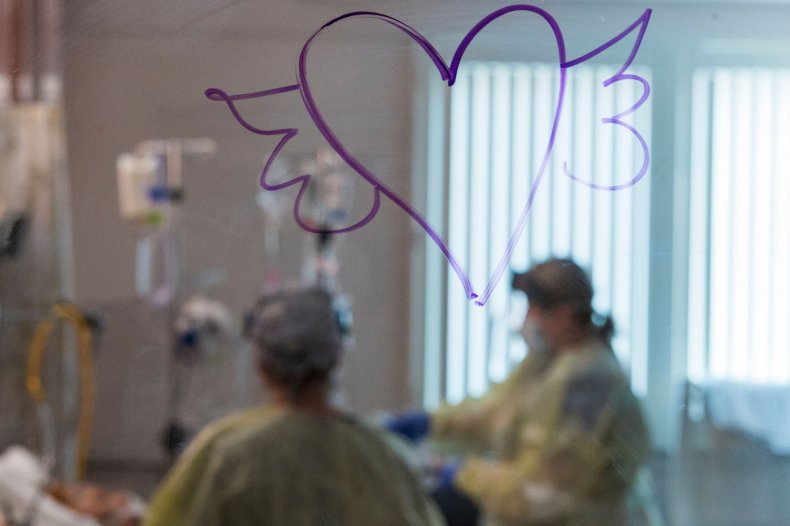 Tuesday's report showed that hiring slowed in August, while the number of jobs available fell to 10.4 million, from a record high of 11.1 million in July. The largest decreases in job openings were in health care and social assistance (-224,000); accommodation and food services (-178,000); and state and local government education (-124,000).
The date on quits is likely too early to show the impact of vaccine mandates. It wasn't until mid-September that President Joe Biden on Thursday announced sweeping new federal vaccine requirements for as many as 100 million Americans— private-sector employees as well as health care workers and federal contractors.
Friday's report from the Labor Department also showed that the unemployment rate fell from 5.2 percent to 4.8 percent in September.
The rate fell partly because more people found jobs but also because about 180,000 fewer people looked for work in September, according to the Associated Press.
Biden said the unemployment rate was "a significant improvement from when I took office and a sign that our recovery is moving forward even in the face of a COVID pandemic."
He said: "In total, the job creation in the first eight months of my administration is nearly 5 million jobs. Jobs up, wages up, unemployment down—that's progress.
"And it's a tribute to the hard work and resilience of the American people who are battling through this pandemic, working to keep their businesses afloat."