More Than Half of Protesters Arrested in Kenosha Do Not Live There
Updated arrest figures from Kenosha police show that more than half of protesters who have been arrested since the police shooting of Jacob Blake do not live in Kenosha County.
New numbers released by the Kenosha County Sheriff's Department on Thursday say that of the 252 arrests, 132 are of individuals from outside the Wisconsin county.
Protests against racial injustice and police brutality sparked three nights of civil unrest in Kenosha after Blake, a 29-year-old Black resident, was shot seven times in the back by a white police officer. The demonstrations have been known to draw crowds from out of town, which have included, most notably, 17-year-old Kyle Rittenhouse.
Rittenhouse, who came from his home of Antoich, Illinois, roughly 15 miles from Kenosha, was arrested after fatally shooting two protesters and injuring a third during the second night of protests.
The Kenosha County Sheriff's Department declined Newsweek's request for comment.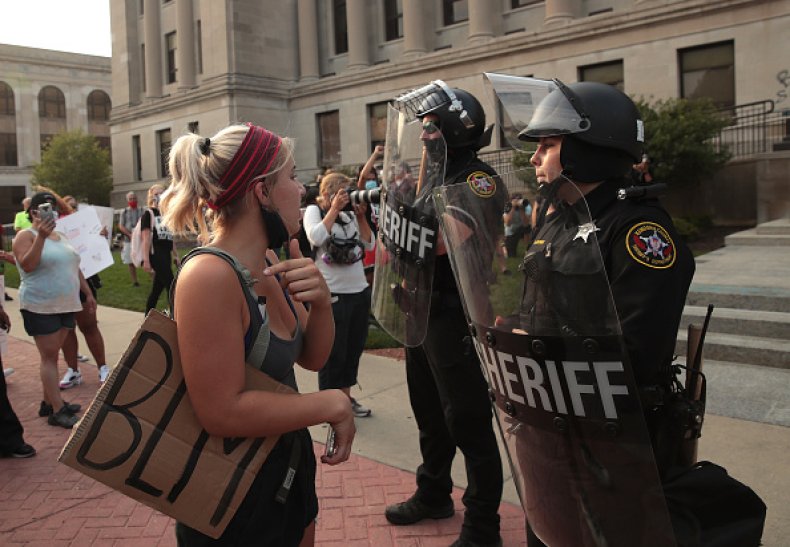 The statistical update noted that as of Thursday, the county has seen eight days and nights of "relatively peaceful activity." Kenosha Mayor John Antaramian lifted the citywide curfew, which had been in place since August 24, on Wednesday after consulting with local law enforcement.
That same day, four protesters filed a federal civil rights lawsuit against the city and county of Kenosha, alleging that police are selectively arresting those breaking curfew. The lawsuit argues that pro-police demonstrators were not being jailed and that their First Amendment rights violated when they were arrested.
In the two videos mentioned in the complaint, officers are "heard providing support and supplies to the militia members while simultaneously enforcing the curfew against protesters."
"The video makes clear that there are two sets of laws—one for those whose message the police support, and one for those whose message the police oppose," the complaint reads.
Kenosha police also reported that the city is facing $1.95 million in damages after the Bureau of Alcohol, Tobacco, Firearms and Explosives found more than 23 fires of interest. The update said damage to county property was an additional $385,000.
During his visit to the city on Tuesday, President Donald Trump thanked law enforcement officials and met with a number of business owners in Kenosha whose properties were damaged during protests. The president pledged $4 million to small business owners whose property was damaged during the violence. Trump also pledged another million to the city's law enforcement.
Trump did not meet with Blake's family during his visit. However, members of Blake's family met Democratic nominee Joe Biden during his stop to the city on Thursday. Blake's attorney Ben Crump said Biden and his wife "had a very engaging 90-minute in-person meeting with the Blake family, including Jacob's father sisters and brother."