More Than Half of Republican Voters Think Donald Trump Should Run Again in 2024
More than half, 56 percent, of Republican voters believe that former President Donald Trump should either probably or definitely run for president again in 2024, according to a Wednesday Politico-Morning Consult poll.
Just over a third of Republicans, 36 percent, however, believe he should not run again.
Republican Representative Marjorie Taylor Greene echoed the poll's findings in a January 20 tweet.
She said that the "vast majority" of Republicans "are no longer loyal to the GOP," but that their "loyalty now lies with Donald J. Trump."
In his final remarks as president before leaving Washington, D.C., on January 20, Trump said "we will see you soon" and "we will be back in some form."
According to the U.S. Constitution, a president can't serve more than two terms of four years each. However, the Constitution doesn't prohibit an individual from serving non-consecutive terms as president.
Former President Grover Cleveland served two non-consecutive terms as the 22nd and 24th president from 1885 to 1889 and 1893 to 1897.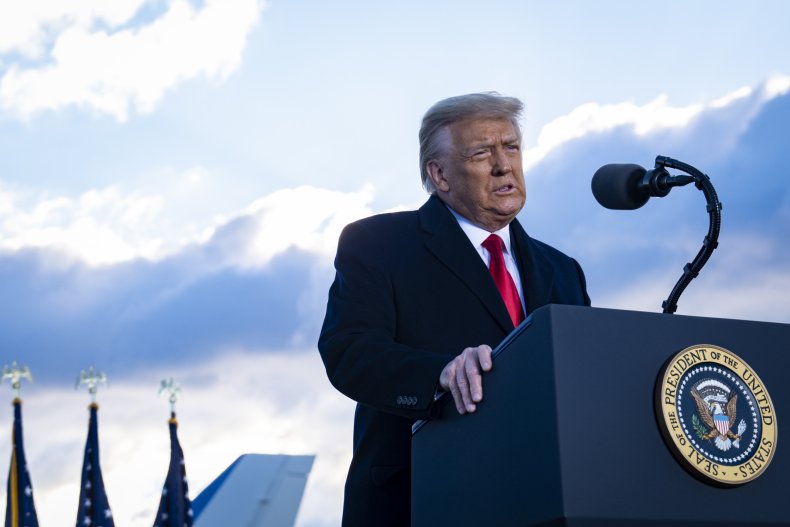 The poll also revealed that Republican and Republican-leaning Independent voters are split between support for the Republican Party and the rumored Patriot Party.
Of those surveyed, 33 percent said they are more interested in being a member of the Republican Party, while 30 percent responded in favor of the Patriot Party; 11 percent of those polled said they don't have an interest in either party.
The poll was conducted from January 22 to January 25 and has a margin of error of 4 points.
Trump has entertained the idea of a third political party, called the Patriot Party, in recent weeks, according to The Washington Post.
Multiple people in Trump's orbit told the Post that the former president said the third-party threat gives him leverage to prevent Republican senators from voting to convict him during the Senate impeachment trial.
The House of Representatives impeached Trump earlier this month for his role in inciting the Capitol riot, which left five dead.
Senate leadership, however, agreed to delay Trump's impeachment trial until the week of February 8 to allow President Joe Biden time to start his legislative agenda and legal teams space to prepare their arguments.
Senate Democrats are expected to vote for Trump's impeachment, but at least 17 Republicans would need to join them to convict the former president. If Trump is convicted, he would not be able to run for office again.
Despite his impeachment, the former president announced the opening of the Office of the Former President on Monday.
The office located in Palm Beach County, Florida, and is tasked with overseeing Trump's post-presidency life.
"The office will be responsible for managing President Trump's correspondence, public statements, appearances, and official activities to advance the interest of the United States and to carry on the agenda of the Trump administration through advocacy, organization and public activism," the office said in a statement.
"President Trump will always and forever be a champion for the American people," the statement added.
Newsweek reached out to Trump's office, but didn't hear back in time for publication.