More ISIS Attacks Expected in Afghanistan After Multiple Explosions in Kabul
General Kenneth McKenzie, the commander of the United States Central Command, said he is aware of more "imminent" threats to the Kabul airport, and wouldn't rule out taking military action against ISIS if the militant group is found to be responsible for Thursday's bombing.
Twelve U.S. service members were killed and 15 were wounded when a suicide bomber detonated an explosive near the airport on Thursday. Officials believe the Islamic State militant group's Khorasan branch (ISIS-K) was behind the attack, a threat they warned about hours earlier, and the military is working with the Taliban to try to prevent more attacks.
"If we can find who is associated with this we will go after them," McKenzie told reporters. "We expect those attacks to continue and we are doing everything we can to prepare for those attacks."
McKenzie said among the options that ISIS-K is reportedly considering to attack the base are rocket attacks, using vehicles for a bombing and suicide bombers. Along with a system to defend the base against rocket attacks, the military is deploying aircraft to survey the area in an attempt to dissuade future attacks.
"They know that if we can see them do it we are going to strike them immediately. We are prepared to do that should it become necessary to defend the base," McKenzie said.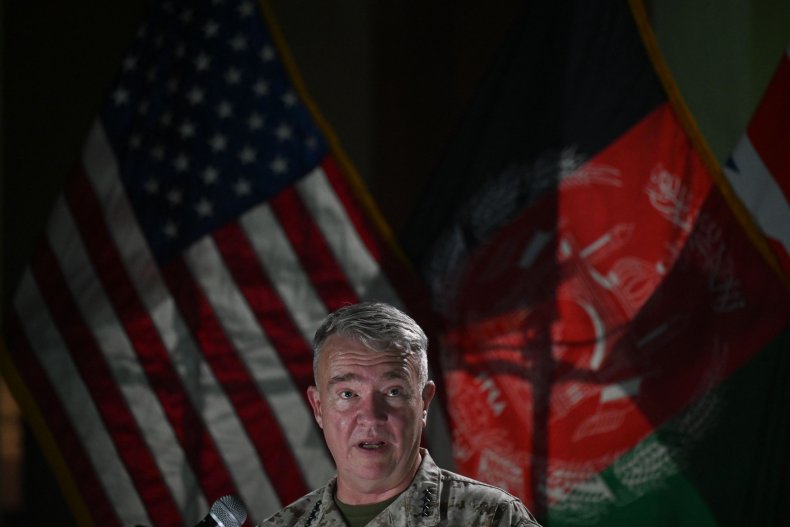 Confident that he had the troops necessary to secure the base, he added that the U.S. military is working with the Taliban and using them as a "tool" for protection. U.S. officials have told the Taliban to "push out" the security perimeter around the airport and close roads to prevent a vehicle attack.
McKenzie said the Taliban may have thwarted other attacks and that as long as their missions remain aligned, they've been useful to work with. When asked if he trusted the Taliban, he noted it's a word he doesn't use lightly, but said the Taliban have a vested interest in the U.S. completing evacuations and leaving the country by the August 31 deadline.
Zabihullah Mujahid, a spokesperson for the Taliban, condemned the bombing at the airport in a tweet and said "evil circles will be stopped in full force."
Believing that an attack would happen at some point, McKenzie said the evacuation plan was designed to withstand this kind of stress. He vowed to continue the mission, which is a top priority for the United States.
Even worse than today's attack would be if a person was able to get past U.S. forces at the gate and bring a bomb or another weapon onto an evacuation flight, McKenzie noted.
Update - 8/26/2021 - 4:10 PM EDT - This story has been updated with additional information and also to specify the identity of the Islamic State militant group's Khorasan branch (ISIS-K), which is believed to have carried out the attack.