More Jehovah's Witnesses Arrested in Russia After Conviction of Danish Man
One day after a Danish man was sentenced to six years in a Russian prison for being a practicing Jehovah's Witness, Russian police began to round up more of the religious group's adherents.
Russia's Supreme Court banned Jehovah's Witnesses in April 2017, labeling the religious organization an extremist group. Russian authorities have perpetrated widespread persecution of the group ever since, including breaking into the homes of practicing Jehovah's Witnesses and arresting them. The policies have caused some of the religious group's adherents to flee the country and seek refuge in neighboring nations.
In a statement released on February 7, officials in the Khanty-Mansiisk region in northwestern Siberia said that they had arrested another group of Jehovah's Witnesses for preaching their superiority over other religious organizations. It is unclear exactly how many people were arrested. A police statement claimed that they were "propagating extremist ideas and recruiting new members to the banned religious group."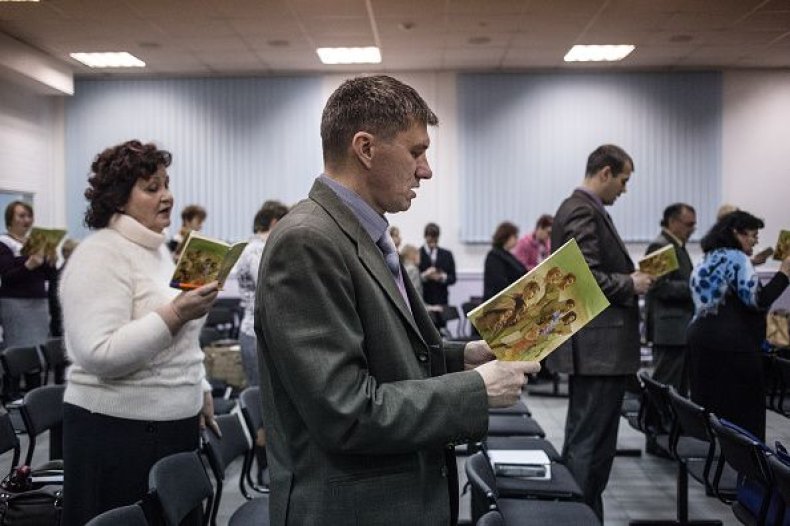 In a separate incident that same day, police in Russia's Mordovia region released a statement confirming that they had carried out an operation "to stop the illegal activities" of the Jehovah's Witnesses, during which "organizers of the group were detained, and an investigation was opened." In that case as well, it is unclear how many people were arrested and whether charges had been pressed against them.
Dozens of the group's members were estimated to have been jailed in Russia.
Representatives of the Jehovah's Witnesses say that Dennis Christensen, the Danish man convicted on Wednesday, and the rest of the group's adherents, were not committing any crime by practicing their religion.
"Everyone acquainted with Dennis Christensen knows that he has committed no crime. He received a six-year prison sentence merely for practicing his Christian faith. This verdict reveals just how fragile religious freedom has become in Russia. Jehovah's Witnesses will continue to appeal for justice while supporting their fellow worshippers," Paul Gillies, international Spokesman for Jehovah's Witnesses, told Newsweek.
Both the U.S. government and international human rights organizations have called on Russia to guarantee the rights of Jehovah's Witnesses to practice their religion without fear of persecution.
"The Russian authorities' ruthless persecution of Jehovah's Witness adherents has been picking up steam," Rachel Denber, deputy Europe and Central Asia director at Human Rights Watch," said in a statement about Christensen's case. "Dropping the case against Christensen would be a good first step toward ending the raids and other criminal cases against people who are merely practicing their faith."